Mario Balotelli considers himself to be at a similar level to "Neymar, Antoine Griezmann and Paulo Dybala", with only Lionel Messi and Cristiano Ronaldo on another tier of quality.
The enigmatic striker is set to drop into the free agent pool this summer, with his contract at Ligue 1 side Nice running down.
His agent, Mino Raiola, has suggested that the 27-year-old would fetch around €100 million were he to be available on the open market.
Balotelli doubts that he would justify such a lofty valuation, but does believe that he will be quite the catch for whoever secures his signature.
He told Gazzetta dello Sport: "I don't think anyone is worth €100m. For the last four years, all the big transfers have been based on crazy figures.
"Mino wanted to say that some players were bought for that sum, so I'm on roughly the same level as them.
[embedded content]
"Whoever gets me will get a great deal, because my contract with Nice expires in June, so I'll be a worth zero! But if I were to have a price tag, it'd be the highest it's ever been, because my goals speak for themselves.
"I do think I'm in the top 10 in the world. Cristiano Ronaldo and Leo Messi are on a different level to everyone else, but I could be in there with Neymar, Antoine Griezmann and Paulo Dybala. They are only ahead because they've won more. Dybala has been in two Champions League finals and I haven't."
Various landing spots have been mooted for Balotelli, with his exploits at Nice having helped to rebuild a tarnished reputation.
On the back of forgettable stints at AC Milan and Liverpool, the Italy international has netted 39 times in just 58 appearances across two productive years in France.
A return to his roots in Serie A is expected this summer, but Balotelli admits he is unable to predict where he will end up with so many teams reported to be in the running – including a couple of former employers at San Siro.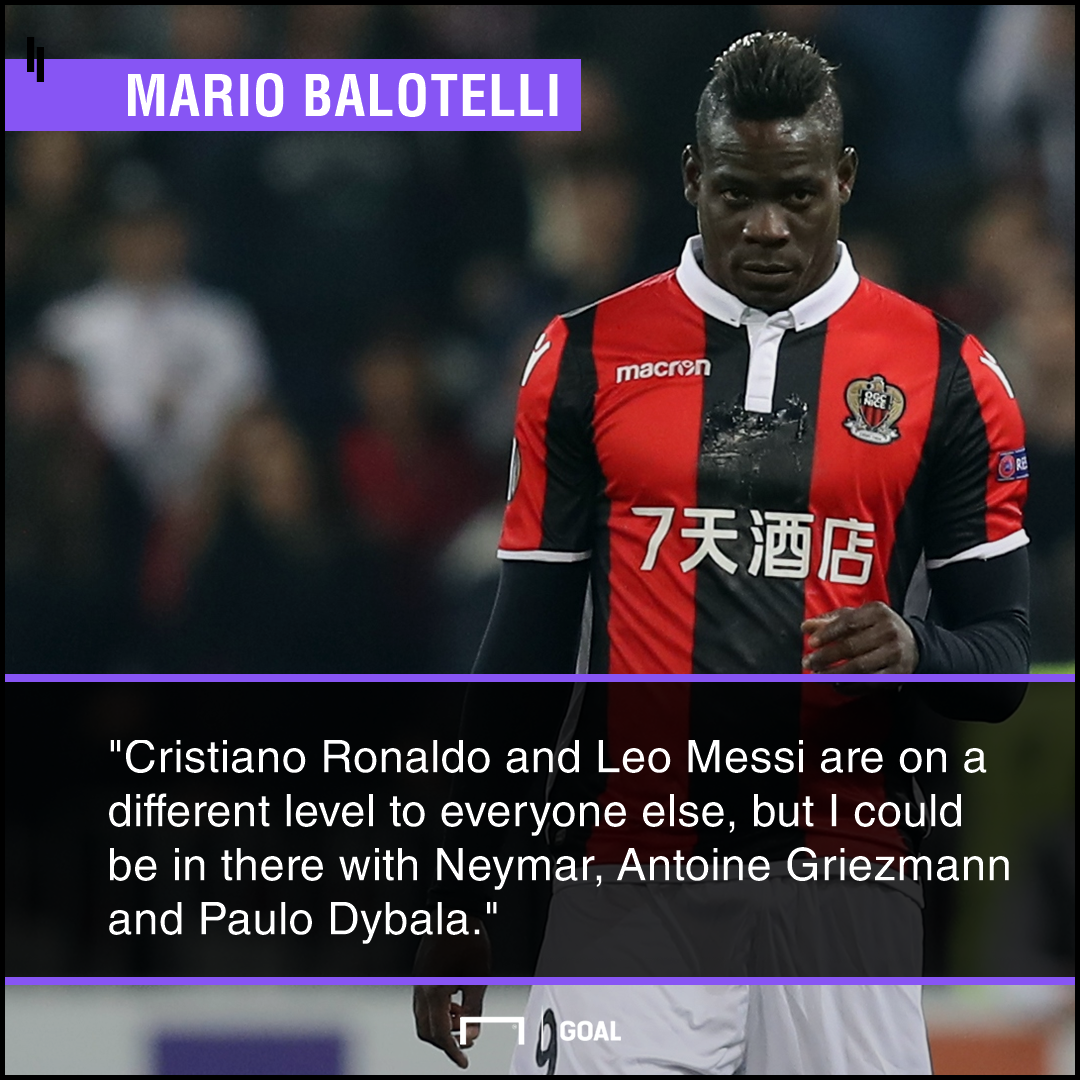 He added on his future: "Chances that I join Napoli? I don't think so. [Aurelio] De Laurentiis never liked me.
"Inter? I would go back there because they're a great club with fantastic fans.
"I wouldn't go back to Milan right now. Nothing against the fans, as I am crazy about them, but the club kicked me out in a nasty way, as if I was of no use there and just kind of wandered in.
"I'd only go back if Adriano Galliani returned, but seeing as Galliani won't return…
"I would go to Roma because of the club's management, the players and the fans.
"I was close to joining Juventus just one time, when the Bianconeri's management wanted me, but I said no."
Let'