Carlo Garganese sparked a big debate by arguing that Balotelli is being bullied by the football fraternity. Here Greg Stobart counters with a damning assessment of the Italy man

COMMENT
By Greg Stobart
Mario Balotelli finally scored his second goal for Liverpool in the League Cup win over Swansea City on Tuesday but an exasperated Brendan Rodgers is already giving a nod and a wink to ditching the Italian in January to sign a new striker.
Balotelli has dominated the narrative during a difficult start to the campaign at Anfield which has produced just two goals in 12 appearances for his new club.
Rodgers is learning why so many warned him to stay far away from the forward in the summer; the Liverpool manager is remembering why he "categorically" ruled out signing the Italian before performing a U-turn just weeks later.
There is no witch-hunt surrounding Balotelli. He has not, as Carlo Garganese wrote on Tuesday, been bullied or made a scapegoat for Liverpool's poor performances.
His eccentric personality naturally commands headlines but, when all the off-field baggage that comes with Balotelli is forgotten, the fact is that the 24-year-old's career is one of hype over reality. He is no longer a gifted but troubled teenager, just an average striker.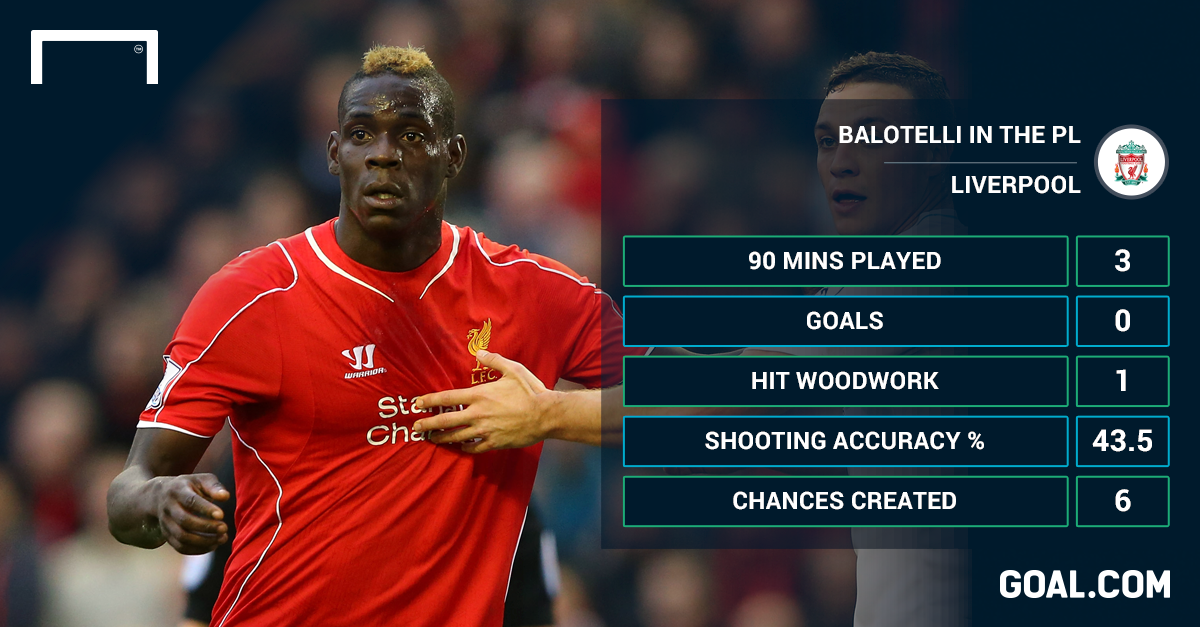 For £120,000-a-week, you expect far, far more. Balotelli was signed, ultimately, as the Reds' direct replacement for Luis Suarez but he does not hold a candle to the club's great strikers. On current form he belongs in the same bracket as Neil Mellor and El-Hadji Diouf.
Why else were AC Milan so desperate to ditch him for 'just' €20m million in the summer? As Jamie Redknapp put it on Sky Sports following Liverpool's 3-0 defeat to Real Madrid, there is a reason why items are sold at half-price in the supermarket. Balotelli is damaged goods.
He is not very good and the glimpses of his talent have become increasingly rare as his career has progressed – or rather regressed.
Balotelli has scored just one Premier League goal in his last 23 appearances for Liverpool and Manchester City in the top flight so what exactly did Liverpool think that they were getting? They made one of the worst signings of the century when Andy Carroll arrived for £35m in 2011 but, at this rate, Balotelli will run him close.
In the context of the weird world of Mario Balotelli, his transgressions in recent weeks – the shirt-swap with Pepe and allegedly threatening a woman who tried to take photos of his Ferrari – barely register.
There have been few signs of the disruptive and divisive character who was deemed totally unmanageable by Cesare Prandelli, Jose Mourinho and even Roberto Mancini, his so-called father figure, but there has been plenty of evidence of the overrated and overhyped forward whose only goals for Liverpool have come against a no-mark Champions League opponent in Bulgarian side in Ludugorets Razgrad and in the League Cup.
Tuesday's goal against Swansea City, coming off the bench to volley home an equaliser before Dejan Lovren turned in a stoppage-time winner, is a start. But Balotelli has missed better chances in much more important games.
It's not like he can blame poor service from team-mates when he is missing sitters on a weekly basis. In the final moments of Saturday's goalless draw with Hull City, he struck straight at the goalkeeper from six yards while a week earlier he missed an open goal against QPR.
That Milan chose to replace Balotelli with Fernando Torres should have set alarm bells ringing on Merseyside as soon as they signed him.
In a 'moneyball' sense, Balotelli's statistics look decent. He scored 28 goals in 86 games for Inter, 30 in 80 for City and 30 in 54 for Milan. Yet 10 of those strikes for the Rossoneri were from the penalty spot and his lack of movement and work-rate outside the penalty box last season convinced the Italian club to sell him.
That has repeated itself at Liverpool where Balotelli has startled supporters with his poor movement and effort in the final third, his weak link-up play and, of course, his wayward finishing.
The Italian is damaged by comparisons with Suarez, who scored 31 in 33 league appearances last season and does not take penalties, but there has never been any sign, throughout his career, that Balotelli is on the same planet as the Barcelona man.
Suarez is a £70m forward, Balotelli is nothing more than a decent-yet-flawed £16m player. You get what you pay for.
Rodgers appears to have realised that very quickly and has surprised many with his lack of backing for Balotelli, often praising the striker's work-rate while simultaneously demanding more from him.
"We brought in the player to give him a chance and we will continue to do that," Rodgers said earlier in October. "He is working hard to try to fit into the team ethos here but only time will tell. We will see come January what the team needs."
Newcastle are next up, the Magpies side who unexpectedly turned over League Cup holders Manchester City the day after Balotelli's second goal, and the pressure is really on the Italian to make sure that he can score in more consequential games.
Given the startlingly little amount of faith in him to do so shown in public by Rodgers, the signs are pointing towards a very short Liverpool career for a player who just is not very good.