COMMENT: The Rossoneri have looked more creative in attack in two games since selling the Italy star than they ever did when he wore the red and black stripes

By Kris Voakes | International Football Correspondent
It was clear that Mario Balotelli was no longer wanted by AC Milan months before the Italy striker eventually arrived in Liverpool.
Their desire to get shot of the problem striker was so blatant that the Premier League side capitalised to take the ex-Inter man off their hands for just €20 million. For a club struggling to make ends meet, it was hardly the greatest of sales patter.
Had they been able to play hard ball, the extra cash that would have brought for them might have been able to help fill some of the gaps left in Filippo Inzaghi's first-team squad.
Persistent issues in defence remain, with five goals conceded in two games so far this term – even despite Diego Lopez's penalty save from Antonio Candreva against Lazio in week one.
The Spaniard's error against Parma though, as well as an inability to retain the ball convincingly in winning positions, showed that there are also problems to patch up still in goal and in midfield. Due to Balotelli's cheap sale, there is little to no money left to spend on those issues.
But that's about as far as regrets will go over the 24-year-old's exit right now, because up front Milan have been magnificent in his absence.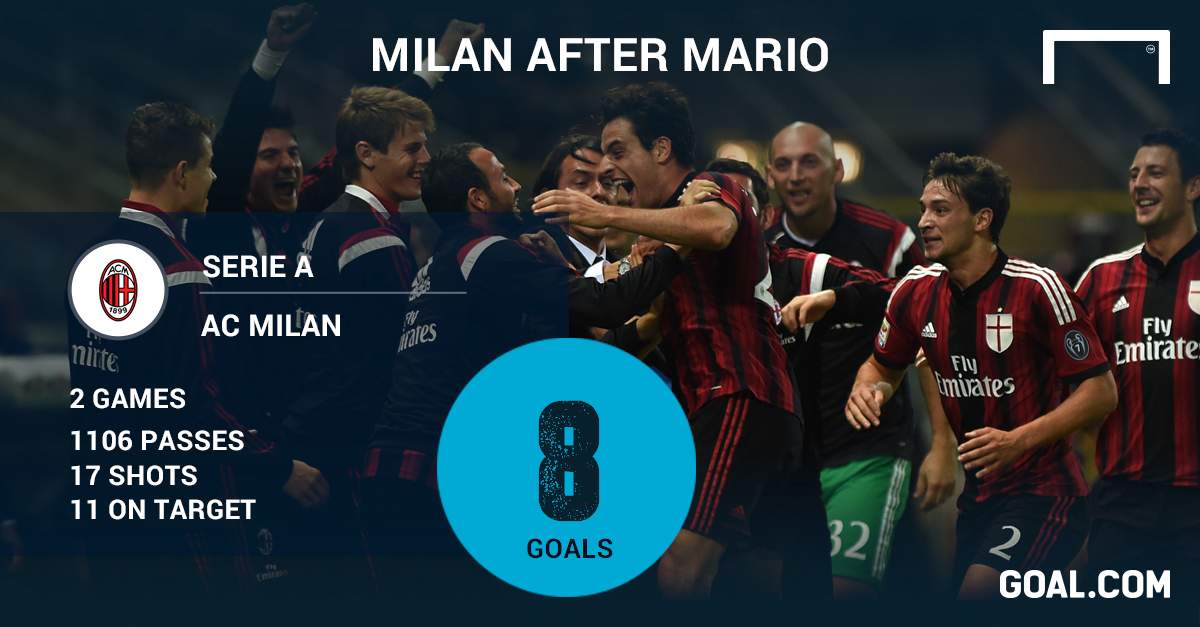 During Balotelli's stay at Milanello, the Rossoneri were one-dimensional, predictable, unattractive and lacking in any discernible creativity. Where previously they had a plan A of lumping the ball up to Zlatan Ibrahimovic, they had simply switched their focus to a different striker.
That tactic would have worked had Balotelli been the kind of No.9 to fulfil the obligations required. But instead he remained the rather workshy, surly, often disinterested enigma who was previously seen causing frustration for team-mates, coaches and fans at Inter and Manchester City.
In the post-Mario Milan, Inzaghi has found a magnificent mix of excitement, flair and a willingness to work. It was no coincidence that Stephan El Shaarawy turned in his best performance since the pre-Balotelli days when Lazio came to town on opening night.
Moreover, Keisuke Honda has finally looked like a fine signing, with a new understanding of when and where to contribute in the final third. Add in the wise addition of Atalanta wide man Giacomo Bonaventura, and Inzaghi has made the very most of the new vibe about Milan's attack.
Yet it is Jeremy Menez who has stolen the show so far. His performances as a false nine in Pippo's 4-3-3 setup have led many to wonder whether the loan signing of Fernando Torres wasn't a superfluous move.
The Frenchman was in sensational form in last week's thrilling 5-4 win over Parma, providing a snapshot of exactly what was missing in the centre-forward position for a year-and-a-half. Milan players are now looking up to find a series of options where previously they would have seen none.
Interchanges are more frequent and fluid. The majority of shots are coming from more realistic positions thanks to more creative build-up play. More goals have arrived as a result.
As quick turnarounds in fortune go, Milan's has been one of the most stunning. And the entire group is revelling in the positivity.
Serious questions remain, as opponents will begin to find resolutions to the Rossoneri's attacking verve – beginning with Juventus at San Siro on Saturday night. But Inzaghi and his men have at least bought themselves some time with six early points won using an approach that fans can enjoy.
A continuation of the magnificent start they have made against the champions this weekend would be just reward for the brash, bold way they have so far gone about covering their significant weaknesses.
And the fact that this is all being done thanks in large part to the offloading of Balotelli should not be forgotten for one second.
"We are certainly losing a great player, but we gain something more in team spirit and hunger," Inzaghi said upon the striker's sale in August.
He has already been proven right.
Follow Kris Voakes on