Just over an hour before Italy's European Championship final with England, Gianluca Vialli stood alone in the centre circle of Wembley Stadium. A moment of calm before the storm which was to follow. A moment to reflect.
It had been an incredible journey to get to this point.
Vialli already had a storied history with this venue. In the old stadium, Vialli had lost the 1992 European Cup final in extra-time with Sampdoria, before returning to win the FA Cup, twice, the League Cup and the Charity Shield representing Chelsea.
After two decades away from official roles inside football, he was back.
Just a few miles from his home in London, where he had lived since his Chelsea days, Vialli was at Wembley to help an old friend and his countrymen create another piece of history at the national stadium.
Italy boss Roberto Mancini – the man Vialli described as his hero since the age of 14, his 'brother', and his Sampdoria strike partner from that crushing European Cup defeat to Barcelona 29 years earlier – had invited him to take on a leadership role with the team. To act as a mentor to both players and staff, to bring his energy and enthusiasm to the camp and inspire this generation.
Vialli accepted. It was an opportunity to support his "Goal Twin", as he and Mancini were called in their Sampdoria days, but also a chance to move into a new chapter of his life.
In 2018, Vialli revealed he had been battling pancreatic cancer. A little over a year before this 2021 Wembley final, he was given the all-clear; his return to football and work with Italy was a distraction from the disease which had weakened him.
There was plenty to think about during those quiet minutes of contemplation by the centre spot.
Around four hours later he was back out on the turf – this time in wild celebration.
After an exhausting duel, Italy eventually clinched victory in a penalty shoot-out. Vialli, ever one to wear his heart on his sleeve, couldn't bear to watch. A bag of nerves, he'd stood apart from the Italy staff, facing away from the goal.
Relief, joy, elation – it was all there when the win was confirmed and he embraced Mancini, full of emotion.
Another huge Wembley moment in his life. Another glorious achievement in his illustrious career.
It would be his last great triumph in football.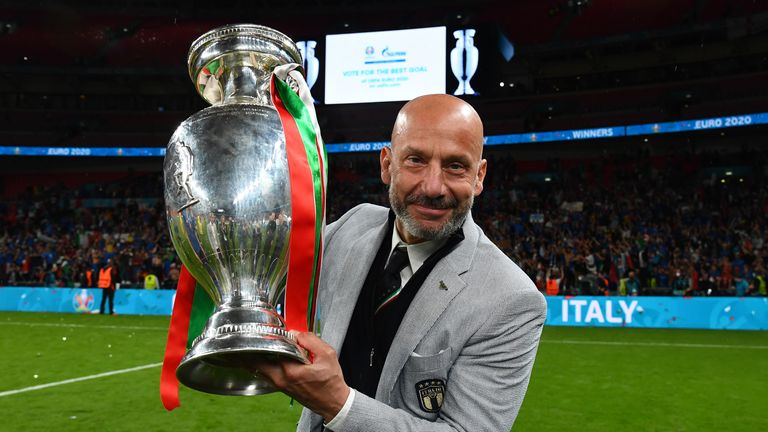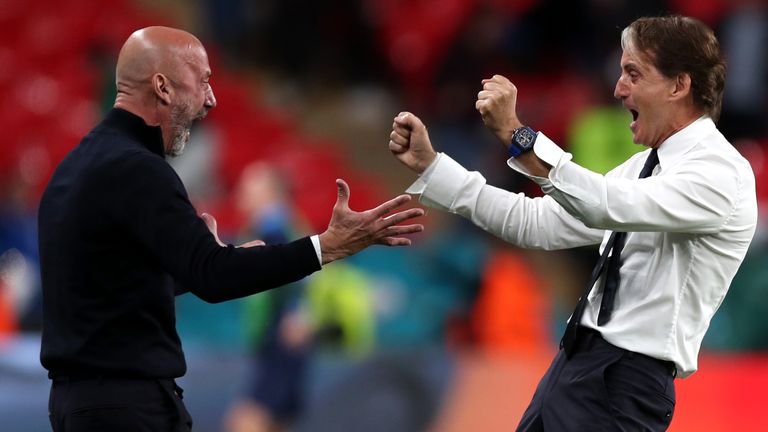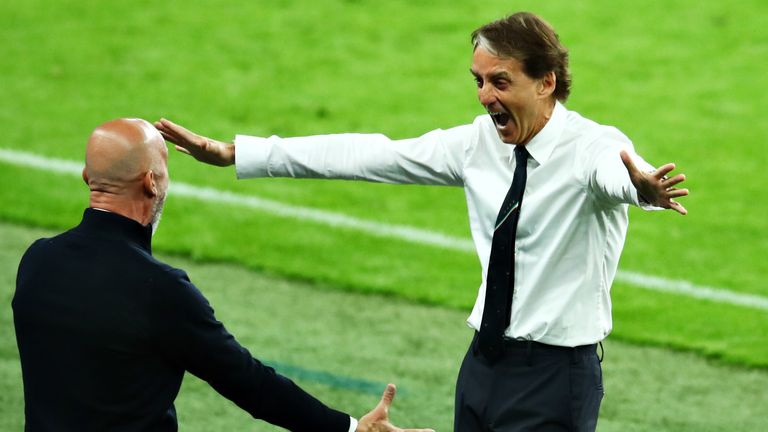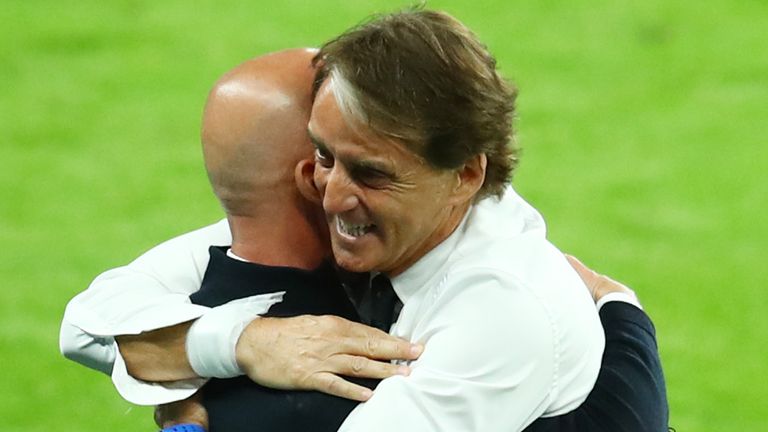 Five months after that Wembley win, Vialli announced his cancer was back. This December he was forced to step away from his national team role to focus on his fight, which sadly ended on January 6 2023, at the age of 58.
That Vialli died in west London, 22 years on from his sacking as Chelsea manager, underlines the long-lasting connection and affection he felt for the club, the fanbase and the area. For Chelsea supporters the feeling is mutual. He is an adored figure at Stamford Bridge; his name sung to the tune of 'Amore'.
A Champions League winner. A Serie A winner. A multiple European trophy-winning striker, with four Italian Cups to his name. The most expensive player in the world… Vialli had done the lot by the time he joined Chelsea in the summer of 1996.
He had been a teen sensation at Cremonese, firing them up the leagues, before he and Mancini provided the goals to deliver five major trophies to Sampdoria, the greatest era in the club's history.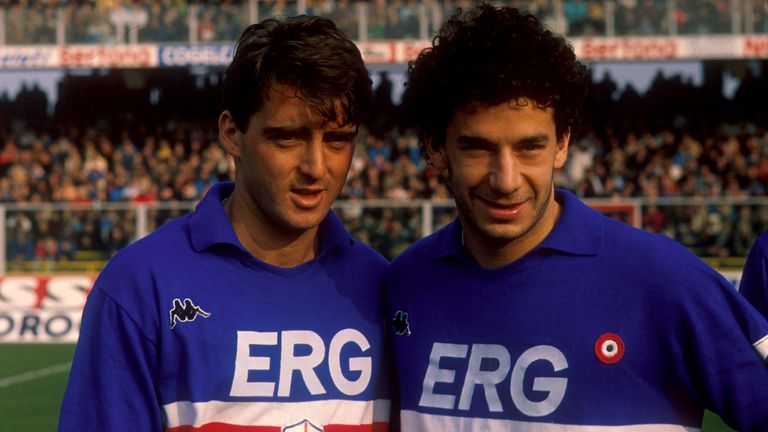 A record-breaking £12.5m switch to Juventus in 1992 led to more silverware – including that long-awaited Champions League title to avenge his personal pain of Ronald Koeman's winner at Wembley.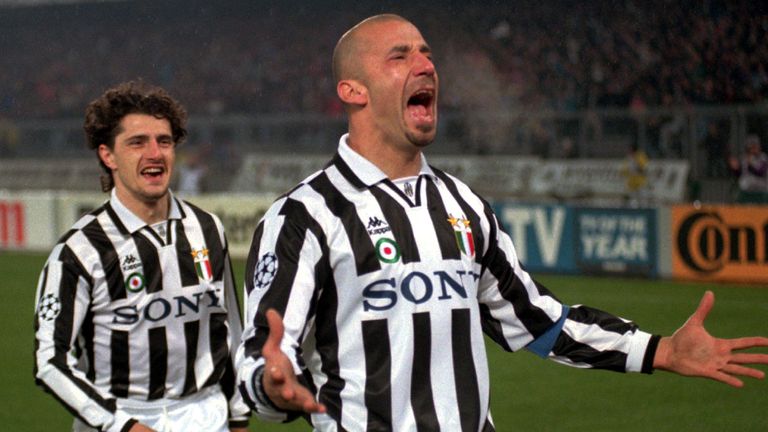 With the Azzurri, he'd gone to three major competitions and been named in the team of the tournament at Euro 88.
And yet it is Vialli's time with Chelsea which will be foremost in the minds of English football followers in the wake of his passing.
That is in part due to an inward-looking culture but also testament to the revolutionary role Vialli played during a changing dynamic in English football in the mid-to-late 1990s.
An influx of foreign players gathered pace during that period. Some 122 players from outside of the UK and Republic of Ireland appeared in the league during the 1996/97 season, up by more than a third in the previous year.
Vialli was one of seven Italians in the division when he joined – there had only been one the season before.
And with his thrilling playing style, charismatic personality and distinctive look, with his shaved head and Chelsea sweatband, Vialli captured the imagination.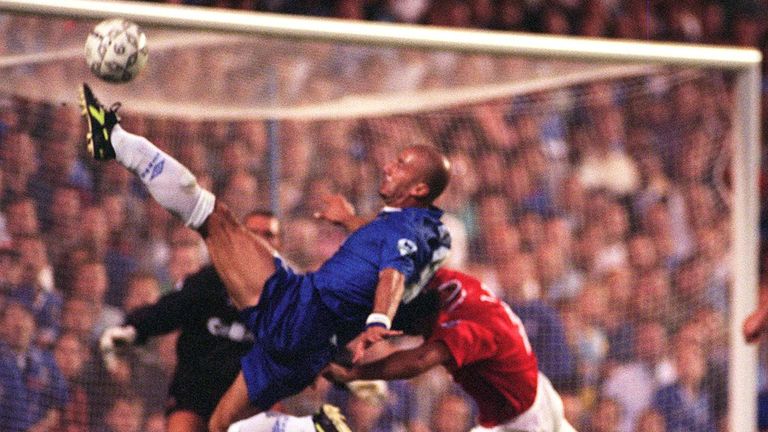 His run-ins with Chelsea player-manager Ruud Gullit grabbed headlines too. There were digs from the Dutchman about Vialli's smoking habit and a falling out between the pair led to the forward being given just a few minutes of game time at the end of the 1997 FA Cup final win over Middlesbrough, despite Vialli memorably scoring twice to turn a tie with Liverpool earlier in the competition.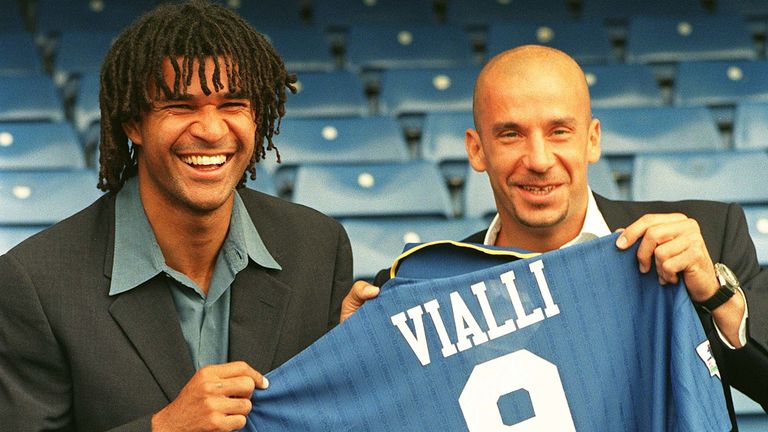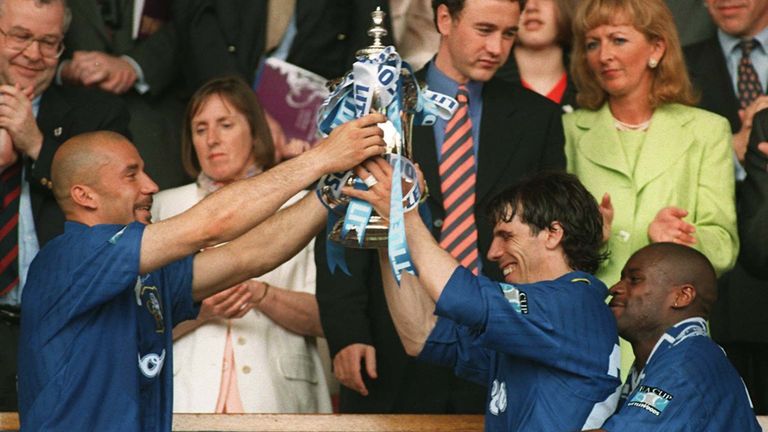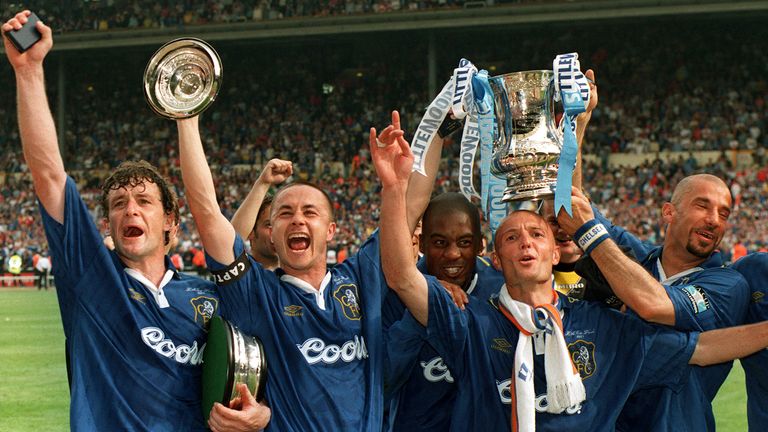 It wasn't the first time Vialli had clashed with a coach. His international career effectively ended in 1992, with Arrigo Sacchi never selecting him again after rumours of a prank.
But his big personality was part of his charm and, besides, Vialli would have the last laugh at Chelsea, picking up the mantle from Gullit as player-manager himself in February 1998, and capitalising on the progress his predecessor had made in the cup competitions to lift the League Cup and UEFA Cup Winners Cup within the space of a few months.
Star striker, trophy-winning manager and a stylish Italian – it's no wonder the Chelsea fans fell for him. With Gianfranco Zola and Roberto Di Matteo in his side, the trio of 'il Tricolore' were carving out their place in Chelsea history.
Vialli had been a standout talent as a young player, shining for Italy's U21s and then topping the Serie A scoring charts at 20 years old. And he proved to be a quick learner in the coaching game, too.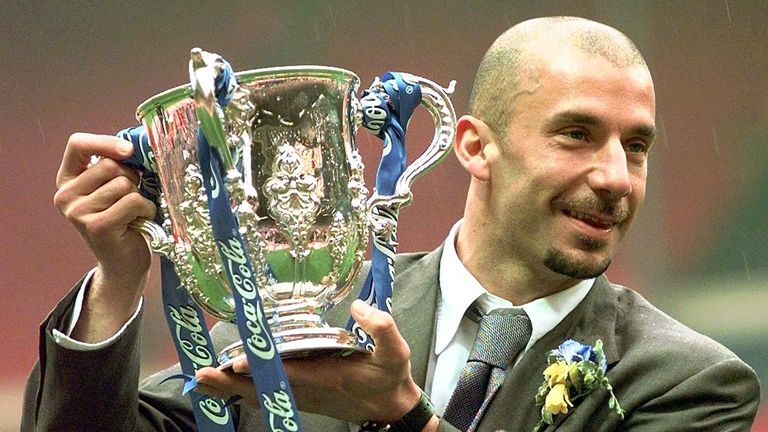 He was just 33 years old when he delivered those first two trophies, breaking a UEFA record as the youngest manager to win one of their titles. His reputation continued to grow in 1998/99.
The season began with an impressive Super Cup win over Champions League holders Real Madrid and finished with Chelsea third in the league, their best placing since 1970.
It was a feather in the cap for the first Italian manager in the Premier League but ambitious Vialli wanted more. He'd talked up the team's title ambitions before the campaign and steered them to top spot at Christmas. They eventually ended up four points off champions Manchester United.
His inflation of aspirations at Stamford Bridge would cost him in the end but Chelsea's first-ever qualification for the Champions League was reward for his good work during his first full season in charge.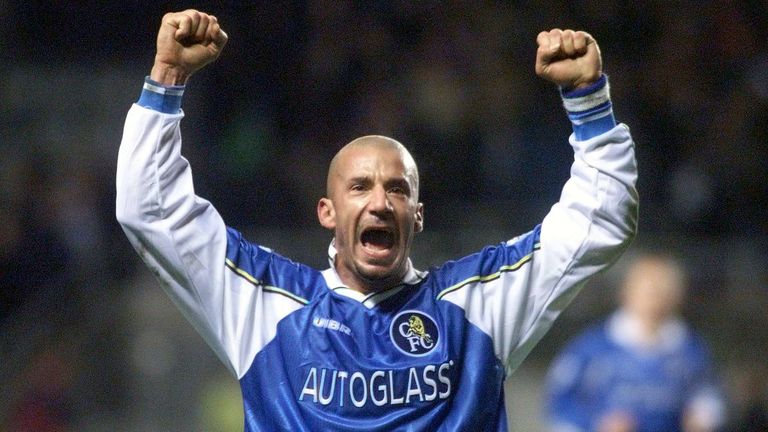 Vialli's shift in focus to coaching brought about his retirement in May 1999 at the age of 35 – but 10 goals in 20 appearances, including a goal against Derby at Stamford Bridge on the final day of the season, was a fitting example of his enduring quality. That was goal number 40 in his 83rd game for Chelsea, a formidable strike-rate, especially as 35 per cent of those goals came when he was managing the team as well.
With the turn of the century, his legend in west London was enhanced further by a memorable Champions League quarter-final first leg win over Barcelona and then more so with FA Cup final victory against Aston Villa.
Vialli and Chelsea claimed the Charity Shield the following August, too. It was the final club game played at the old Wembley – that venue inextricably linked with Vialli's career – and the fifth and final trophy of his short but successful time in management. With no second title tilt materialising in 1999/00, he was brutally dismissed after a slow start to the following campaign.
Vialli was unable to recreate the magic during a season in charge at Watford and so his somewhat unusual managerial career faded away as he moved into the world of media and business, until Mancini came calling in 2019.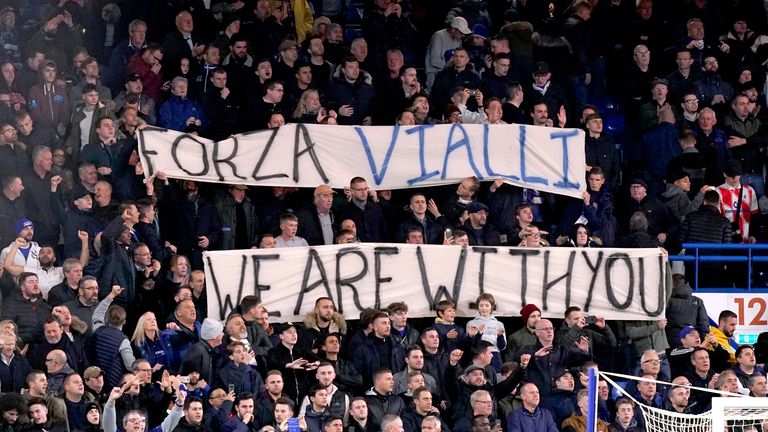 By then his illness had given him a clear perspective on life. He called cancer his "unwanted travel companion," in an interview with Italian TV channel RAI 1. "It got on the train with me and I have to travel with my head down, never giving up, hoping that one day this unwanted guest will get tired and leave peacefully for many years because there are still so many things I want to do in this life."
Perhaps when he stood in the middle of that Wembley pitch, he appreciated – after all the highs and lows he'd experienced in that part of London – the chance he'd been given, with respite from his illness, to help Italy towards a first European title since 1968, alongside his great friend Mancini.
But Vialli had hoped to have an even wider impact with how he dealt with cancer.
"I realise that people can look at me, see that I am doing alright, and hope that they might do the same – maybe because I was a footballer and a strong man, but also fragile and vulnerable at the same time, so I think someone may have recognised themselves in this," he said.
"I'm here with all my faults and my many fears, but also with the desire to do something important."
As a player and player-manager, Vialli was an icon, a top performer who helped revolutionise English football. But with his big personality and dignified battle with cancer he became an inspiration for those on and off the pitch, too.
Adblock test