Spain and France meet at the San Siro stadium on Sunday in the Nations League final after a week in which the competition, in just its second edition, truly delivered on its promise.
UEFA launched the Nations League in 2018 amid much puzzlement about the format and scepticism about whether such a competition was needed or desired given the prominence of the European Championship and World Cup for national teams.
The argument from European football's governing body was that replacing friendly matches with competitive games in a mini-group format, with a Final Four tournament at the end, would deliver better entertainment value for fans and more meaningful action for the players.
This week's games, delivered in a rapid play-off format, certainly provided the quality and excitement fans crave and no one who witnessed them, either in the venues or watching on television, would have considered they were in any way 'meaningless' for the players.
In fact, in this concentrated format, the competition delivers the business end of a tournament without all the labouring through a group stage, the travel between multiple venues and the slow burn build-up throughout a month of games.
Highlights of the UEFA Nations League semi-final between Italy and Spain

Highlights of the UEFA Nations League semi-final between Belgium and France

Spain's 2-1 win over European champions Italy in Milan on Wednesday, followed by France's thrilling comeback to beat Belgium 3-2 in Turin a day later, were games which could have graced the latter stages of either of the established international tournaments.
Sunday's final promises more of the same.
France are world champions and possess a front three that is arguably unmatched in the game: the brilliance and speed of Kylian Mbappe, the deadly finishing of Karim Benzema, and the craft and guile of Antoine Griezmann.
Spain have been going through a transition period under coach Luis Enrique, not only in terms of personnel but also style, and against Italy they offered clear evidence of their direction of travel.

Live UEFA Nations League



Sunday 10th October 7:30pm

Luis Enrique has been willing to turn to the most inexperienced of young players, with Barcelona's 17-year-old midfielder Gavi enjoying an impressive debut against Italy, having made only three starts for his club Barcelona.
Injuries mean that Spain are without their recognised forwards in Alvaro Morata and Gerard Moreno this week, but in their absence Manchester City's Ferran Torres, nominally a winger, played in the middle and scored both goals against Italy.
While Spain still treasure possession, they transition through midfield much more quickly than in the past and have a refreshing directness in the wide areas where Mikel Oyarzabal and Pablo Sarabia shone against the Azzurri and another teenager, Yeremi Pino, impressed off the bench.
France coach Didier Deschamps has switched his team to a 3-4-3 formation with attacking wing backs in Benjamin Pavard and Theo Hernandez dangerous throughout against Belgium and it will be fascinating to see who takes control of the wide areas in the final.
At the end of Sunday night, one team will raise the Nations League trophy and while that silverware does not carry the prestige of the European Championship won by Italy in July, it will be hard for anyone to claim it is meaningless.
Torres to show he can be City's No9? | Expect more transfer talk around Kounde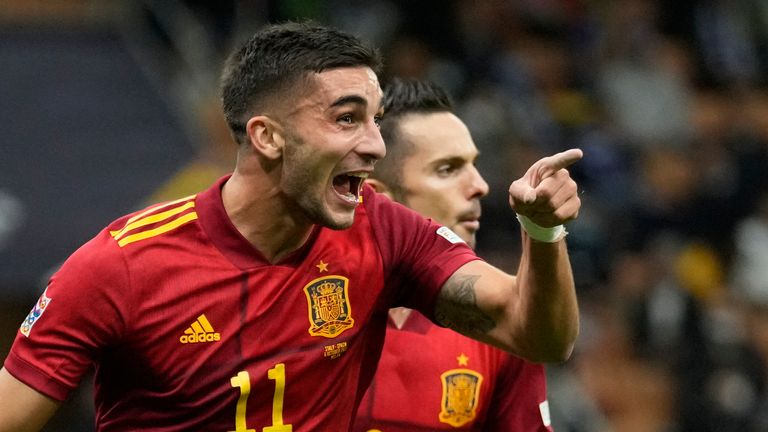 A running theme of Manchester City's season so far has been, after the failure to land Harry Kane, how will they cope without a recognised number nine? They managed to win the Premier League title without one last season and their performances against Chelsea and Liverpool in recent weeks have shown they can still produce scintillating attacking play without a traditional centre forward.
But it is unquestionably an area which could improve Pep Guardiola's already remarkable side. And yet, perhaps they have the answer within their ranks already. Step forward Ferran Torres.
The Spaniard has played through the middle for City this term but featured just once in their previous five games. However, his performance against Italy in the Nations League semi-final on Wednesday highlighted why Guardiola must surely harness Torres' ability in central attacking areas.
His volleyed finish from a left-side cross for Spain's first was exquisite, his header back across goal for his second was textbook centre forward play. At 21, Torres is still developing, but he's already shown he has the assets to step in from his previous roles out wide and be a central figure for club and country.
Ferran Torres volleys in the opener for Spain against Italy in the UEFA Nations League semi-final

Ferran Torres nods in Spain's second against Italy on the stroke of half-time

However, he will come up against one of Europe's most sought-after centre-backs on Sunday in France's Joules Kounde. The Sevilla defender, only a year older at 22, was targeted by Chelsea in the last transfer window, when the Blues couldn't get the Spanish side to budge on their £68m asking price. But there are likely to be plenty of other rivals for his signature in the future.
Playing on the right side of France's new-look back three, Kounde, who can also play right-back, caught the eye up against Belgium's formidable attacking trio of Romelu Lukaku, Eden Hazard and Kevin De Bruyne.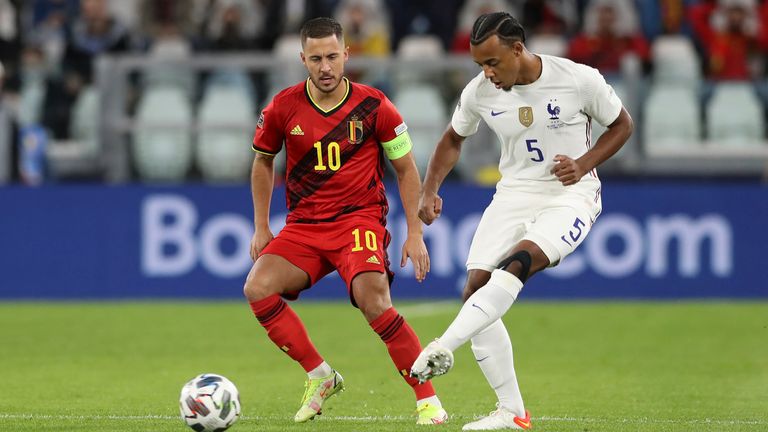 Excellent tackles on Hazard and Yannick Carrasco were vital interventions, while he made more interceptions and clearances than any other France player.
Marry that with the fact he combined having more touches than any French player with the best passing accuracy (99 per cent) and even created a chance, too, and the picture of an elite-level defender emerges.
Spain's attack – led by Torres – and France's defence – assisted by Kounde – are set for an intriguing battle.
What does the winner get?
The Nations League trophy, of course!
And not forgetting the prize money, with the winner landing $12.1m, the runner-up scooping $10.4m and the winner of the third-place play-off $9.2m.
Don't forget the third-place play-off!
That's right, there's a third-place play-off, too, with Belgium – who after the last World Cup must be getting fed up of these games – and Italy going head-to-head in Turin.
Time is running out for Belgium's Golden Generation to get their hands on silverware but Romelu Lukaku – who looked sharp against Spain following his slight drought for Chelsea – underlined ahead of these games what an important stepping stone they'd be for the World Cup next year.

Live UEFA Nations League



Sunday 10th October 1:55pm

With this Belgium group likely to disband after that tournament, Sunday at least offers them the opportunity to add a major scalp to their collection in Italy and continue their preparations for the World Cup.
As for Italy, they will be focused on beginning a new unbeaten run after their 37-game streak was ended by Spain – and don't be surprised if the European champions, who were forced to play much of their semi-final with 10 men, deliver a reminder of why they've been such a force under Roberto Mancini.
How to follow the action with Sky Sports
You can watch the third-place play-off live on Sky Sports Football from 1.55pm on Sunday; kick-off 2pm. The final will then be on Sky Sports Football from 7.30pm; kick-off 7.45pm.
You can also follow the action across our digital platforms with in-game match highlights free to watch on the Sky Sports website and App.
Adblock test