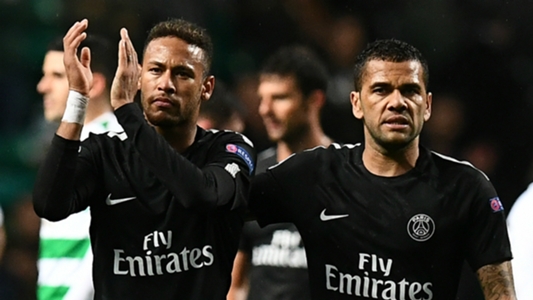 The return of autumn and the Champions League marks the coming of a stage in the football season when the games arrive thick and fast at the top level. All of the big clubs have played three times over the last week, and as such their stars have had little opportunity to think of anything but football.
For Paris Saint-Germain, it was once again a highly-successful week. Not only did they start their Champions League campaign with a thumping 5-0 win over Celtic in Scotland, a result celebrated by many of their stars on Instagram, they also increased their grip on Ligue 1 by seeing off Lyon 2-0 at home. "Great work from the team, this is the way forward," Dani Alves posted to his Instagram account following the victory over Brendan Rodgers' side in Glasgow.
Grande trabalho equipe, esse é o caminho a seguir!! #GoodCrazyishere

A post shared by DanialvesD2 My Twitter (@danialves) on
Sunday's encounter with Lyon was Kylian Mbappe's first home match as a PSG player and was decided by two own goals, the second of which arrived after the young striker's shot cannoned back off OL goalkeeper Anthony Lopes, onto team-mate Jeremy Morel and into the net.
It was cruel on a Lyon side that deserved a share of the spoils for a dogged performance. The nature of the two goals did not stop Mbappe from enjoying his evening, though, as he posted a picture of the game to his Instagram account after the match.
Victoire 2-0 contre Lyon

A post shared by Kylian Mbappé (@k.mbappe29) on
Meanwhile, Neymar was again a chief protagonist for his side, although he had a hard match against Lyon full-back Kenny Tete. Indeed, for once the Brazilian was prevented from either scoring or being credited with an assist.
He was, however, on target in PSG's win over Celtic, blasting his team into the lead with a fierce finish in the first half. For Neymar, it has been customary to post himself a good luck message to social media before his matches, and he has done so twice over the last week. "May God bless and protect us," both read.
Que Deus nos abençoe e nos proteja

A post shared by Nj neymarjr (@neymarjr) on
The striker has been doing his bit for charity, too. He took to Instagram to raise awareness of an organisation called Handicap International France, who seek to act to protect vulnerable people.
Neymar became an ambassador for the organisation earlier this week and posted a simple picture of himself with the word 'Hi' written on the palm of his hand.
@hi_france @institutoneymarjr

A post shared by Nj neymarjr (@neymarjr) on
#StopBombingCivilians @hi_france @institutoneymarjr

A post shared by Nj neymarjr (@neymarjr) on
In another post, he offered a similar picture, albeit one with 'STOP' written on his hand. This is a message that is designed to raise awareness of civilians in war-torn areas being the target of bombs.
PSG team-mate Dani Alves has been in a philosophical mood, as usual. "If you make your base strong, your structure will never shake with turbulence, its principles will be what strengthens your consciousness, will give you the ability to run and excel! If at some point you think about changing something in life, change your actions, change your attitudes and they will be reflected in those around you. Take care of your emotions, they bring love for life and peace for the hearts," he posted.
Dependendo da sua base, sua estrutura nunca se abalará com turbulência, os seus princípios serão o que fortalecerá sua consciência, te dará a capacidade de execução e competência! Se em algum momento pensar em mudar algo na vida, muda a suas ações, mude suas atitudes e elas se verão refletidas nos que te rodeiam. Cuide das suas emoções, elas que trazem amor pela vida e paz para os corações. #BomFinalDeSemanaMeuPovo #GoodCrazyPower

A post shared by DanialvesD2 My Twitter (@danialves) on
One of the big stories in the French media this week has been the decision to award the 2024 Olympic games to Paris. It was a decision met with joy from many involved in sport in the country, with Mbappe among those to post about the vote on social media.
After his face was portrayed in lights around the city just a couple of weeks ago, he gave coverage to the altogether different event.
Hâte d'y être #PARIS2024

A post shared by Kylian Mbappé (@k.mbappe29) on
"Can't wait for it," he said, perhaps with one eye on tackling club-mate Neymar in the competition, after Brazil famously won the title for the first time in Rio 2016. Mario Balotelli is another star who has had an excellent week.
He was on target as Nice recorded a thumping win over Zulte Waregem in the Europa League on Thursday and then scored the winner as they went to Rennes on Sunday to pinch a 1-0 success. "It's only the beginning," the Italy international forward promised as his fine form continued.
Alass !! Nice assist ! Allez nice.. bravo le gars It's only the beginning ! Focus on next match guys. #issanissa

A post shared by Mario Balotelli (@mb459) on
Bravo les gars @dantebahia but And thank you supporters . Now focus on next match ! Andiamo!!

A post shared by Mario Balotelli (@mb459) on
Someone not having such a good time of it currently is Patrice Evra, who was dropped for Marseille's victories over Konyaspor and Amiens this week. However, the veteran defender seems to be taking it all in his stride, showing his usual upbeat attitude on Facebook.
Only LOVE on my instagram!!! Where the grumpy are ??where the grumpy are ?? HAPPY #monday Send this video to all the negative people and just clean your shoulder always thanks god I'm alive God is good I love this game hahaahhahahahaha #ilovethisgame #grumpy #godisgood #love #life #happy #share #funny

A post shared by Patrice Evra (@patrice.evra) on
There is some welcome respite over the next week for the players, with no Ligue 1 sides in midweek action.
Let'