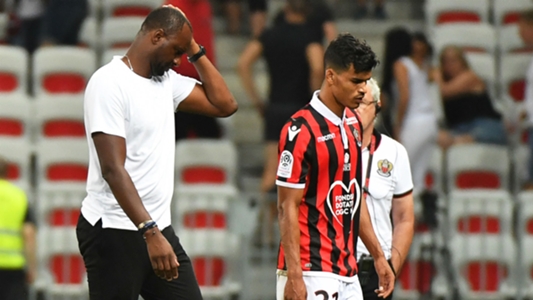 Nice manager Patrick Vieira bemoaned a lack of aggression from his side after they slumped to a "catastrophic" 4-0 defeat to Dijon in Ligue 1.
The top-flight French outfit have taken just one point from their opening three games of the new campaign, with their loss at the Allianz Riviera to Olivier Dall'Oglio their heaviest defeat of the season so far.
Naif Aguerd put Dijon ahead in the 67th minute before the visitors made the game safe late on through Oussama Haddadi and a late Jules Keita double to keep the visitors at the top alongside Paris Saint-Germain.
It is a harsh contrast to Vieira's first triumvirate of matches, and the former New York City boss was left to rue his side's inability to take their chances.
"This is a catastrophic scenario for us," the 42-year-old said. "Losing 4-0 at home is hard to accept.
"We have created many opportunities without scoring. We were shy. The message to the players at the end of the match was this: Playing well is not enough. We need more. We did not get it tonight.
"Defeat is due to lack of success and aggression. We lack character, personality and aggressiveness.
"That's why this scenario has become catastrophic. We do not have enough players to carry the team up.
Vieira however remains confident that his current crop of players, including star forward Mario Balotelli, have more than enough composure to turn around their fortunes.
"It is when one is in difficulty that you see the character of each one," he added. "It's a nice challenge to take up.
"This lack of rigour and aggressiveness summarises the first matches. We are in difficulty, but I believe in this group, in the players.
"We will work to react from the next match."
Nice next travel to Lyon, seeking their first win of the season, on August 31 before a fortnight off for the international break. They then return to action at home to Rennes on September 15.
Let'