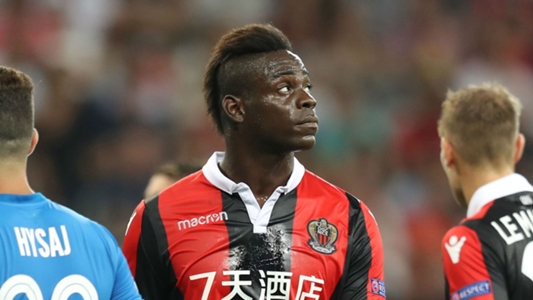 Nice coach Lucien Favre was not happy with Mario Balotelli following Tuesday's 2-0 loss to Napoli in Champions League play-off qualifying.
Balotelli had a quiet night on the pitch, but Favre appeared upset with his striker speaking to a referee due to a jewelry infraction, leaving his team-mates down a man before Jose Callejon's opening goal.
Balotelli was replaced by Ignatius Ganago in the 77th minute, and the Ligue 1 side suffered a 4-0 aggregate defeat to end their Champions League hopes.
After the match, Favre was in no mood to discuss his Italian star.
"I don't want to talk about his performance," Favre told Mediaset Premium.
He added during the post-match press conference: "Mario did not play well and I should've replaced him earlier. I call it the way I see it, he wasn't good enough tonight. I don't know what happened on the first goal. I just saw there was something between Balotelli and the officials."
Favre believes the Champions League competition may be too much for his team to handle.
"The Europa League is the right level for Nice and it'll be a difficult tournament," Favre said..
"Napoli are strong, they have been at the top for a while and playing the same style of football for years. Tactically and physically, they were fantastic tonight. From the moment we got them in the draw, I knew it was going to be very difficult."
Let'