The Barcelona team-mates have been caught on camera almost coming to blows, but they are by no means the first to see tempers flare off the field
Football would be nothing without emotion – be that in the stands, on the field or at the training ground.
When throwing an eclectic mix of personalities and temperaments into one giant melting pot, it is inevitable that tempers will occasionally fray.
dabblebet: Get the latest PL title odds
There have been countless examples of that happening down the years, with Barcelona the latest in a long line of clubs to have seen the boundaries of acceptable behaviour blurred in the heat of the moment.
Here, Goal takes a look at six such incidents, starting with the most recent addition to the roll of shame…
---
Neymar v Nelson Semedo – 2017
---
A clear footage of Neymar and Semedo clash in training. pic.twitter.com/aFT8vnEYg8

— Harsh Dave (@ArsenalPoper) July 28, 2017
Having joined Barcelona in a £26.8 million deal from Benfica, Semedo was given a baptism of fire in his first training session.
Firstly, he became the unwitting subject of a cheeky nutmeg from new team-mate Neymar, which is unlikely to have gone down well as the Portuguese full-back sought to make a positive first impression.
Semedo then almost came to blows with his Brazilian colleague during a practice game, with Neymar taking exception to being grappled after finding the target.
A heated exchange was eventually broken up, but ended with Barca's Samba striker ripping off his bib, lashing a stray ball away in frustration and storming from the field – all of this amid speculation suggesting that his days at Camp Nou may be numbered!
---
John Hartson v Eyal Berkovic – 1998
---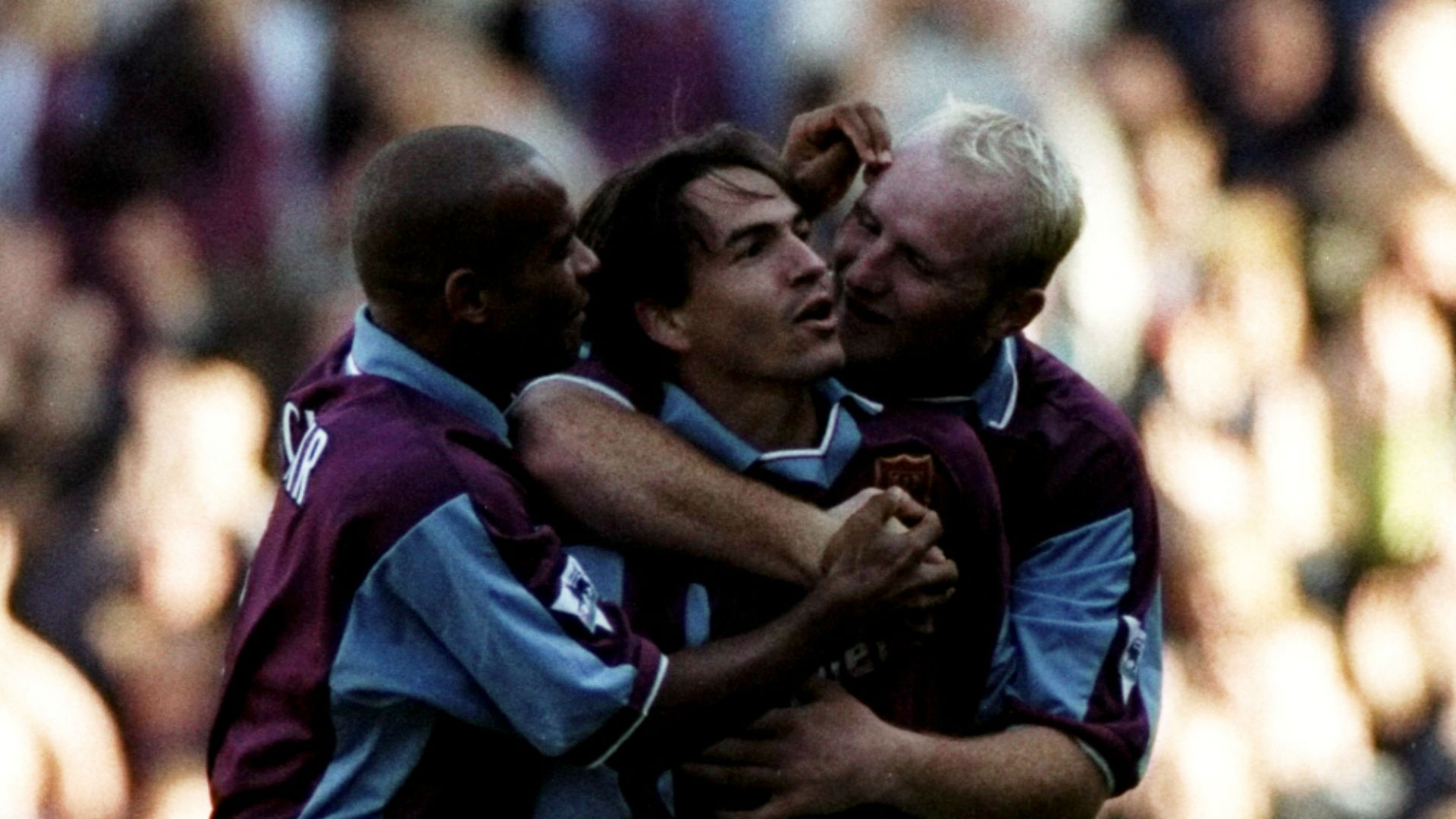 Hartson was caught on video dishing out some serious punishment to then West Ham United team-mate Eyal Berkovic on the training ground in 1998.
The Welshman took down Berkovic with a sliding tackle before trying to help his colleague up off the grass.
The Israeli was not content with the apology and lashed out at Hartson, who took exception by kicking his team-mate square in the kisser.
Hartson explains his moment of madness: "Suddenly I have no control over my legs. I am absolutely blazing with fury. My left boot cracks out and cracks Eyal under the jaw. I kick him hard like I am trying to score a goal with his head. I wish I could turn the clock back and erase the memory. I will always deeply regret it."
---
Joey Barton v Ousmane Dabo – 2007
---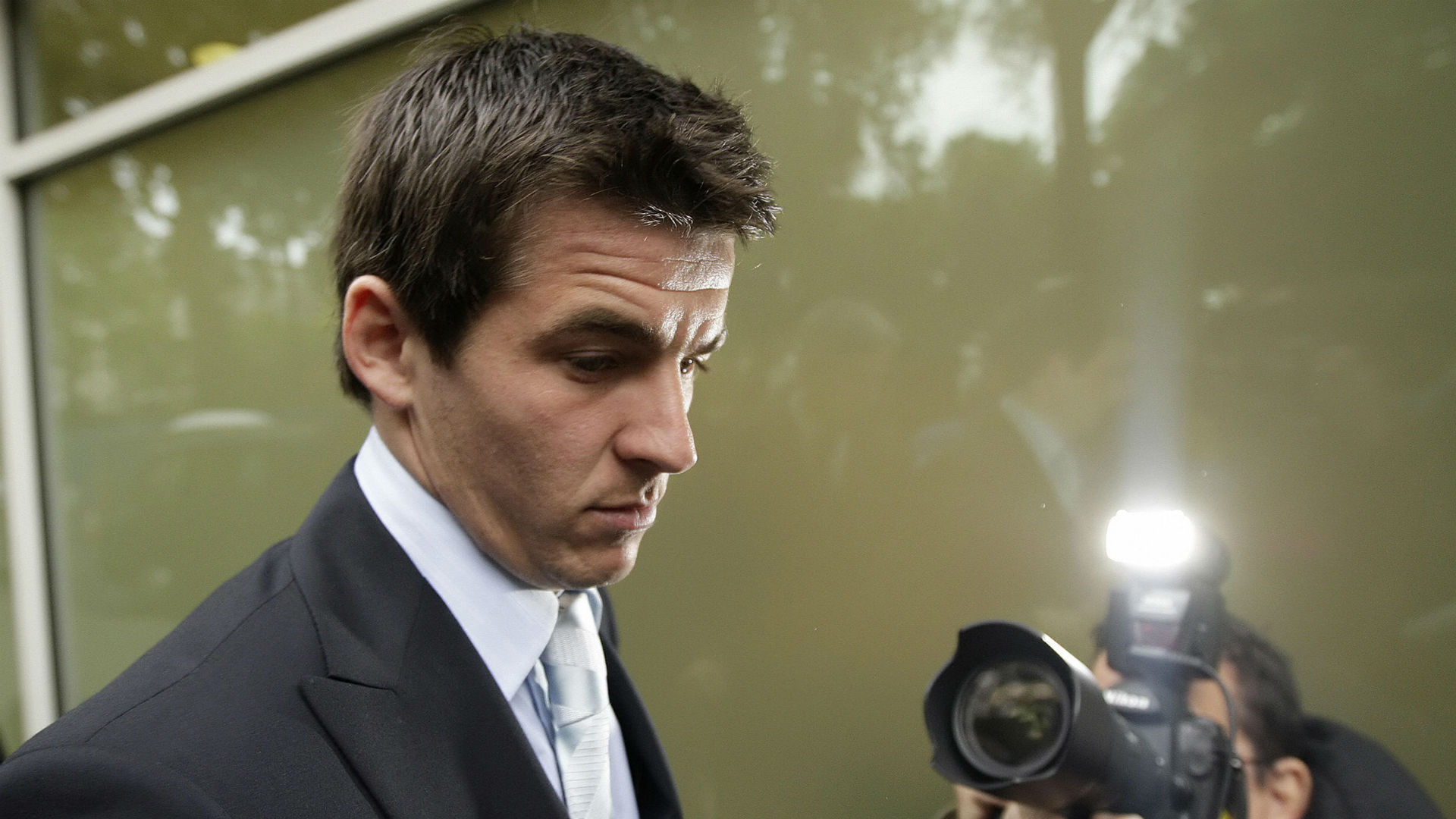 Barton has earned a reputation for being a loose cannon who embraces confrontation, and his rap sheet on and off the field makes for grim reading.
One of his most infamous punch-ups occurred when he was with Manchester City in 2007.
Barton attacked Dabo and left the Frenchman bloodied and battered during a training session. Dabo pressed charges and Barton received a suspended four-month sentence.
The Englishman never played for City again after the incident and was sold to Newcastle later that summer.
Barton finally gave his side of the story years later labelling Dabo a "pussy" and stated that "where I come from there is no rule. You fight until it's over."
---
Patrice Evra v Robert Duverne – 2010
---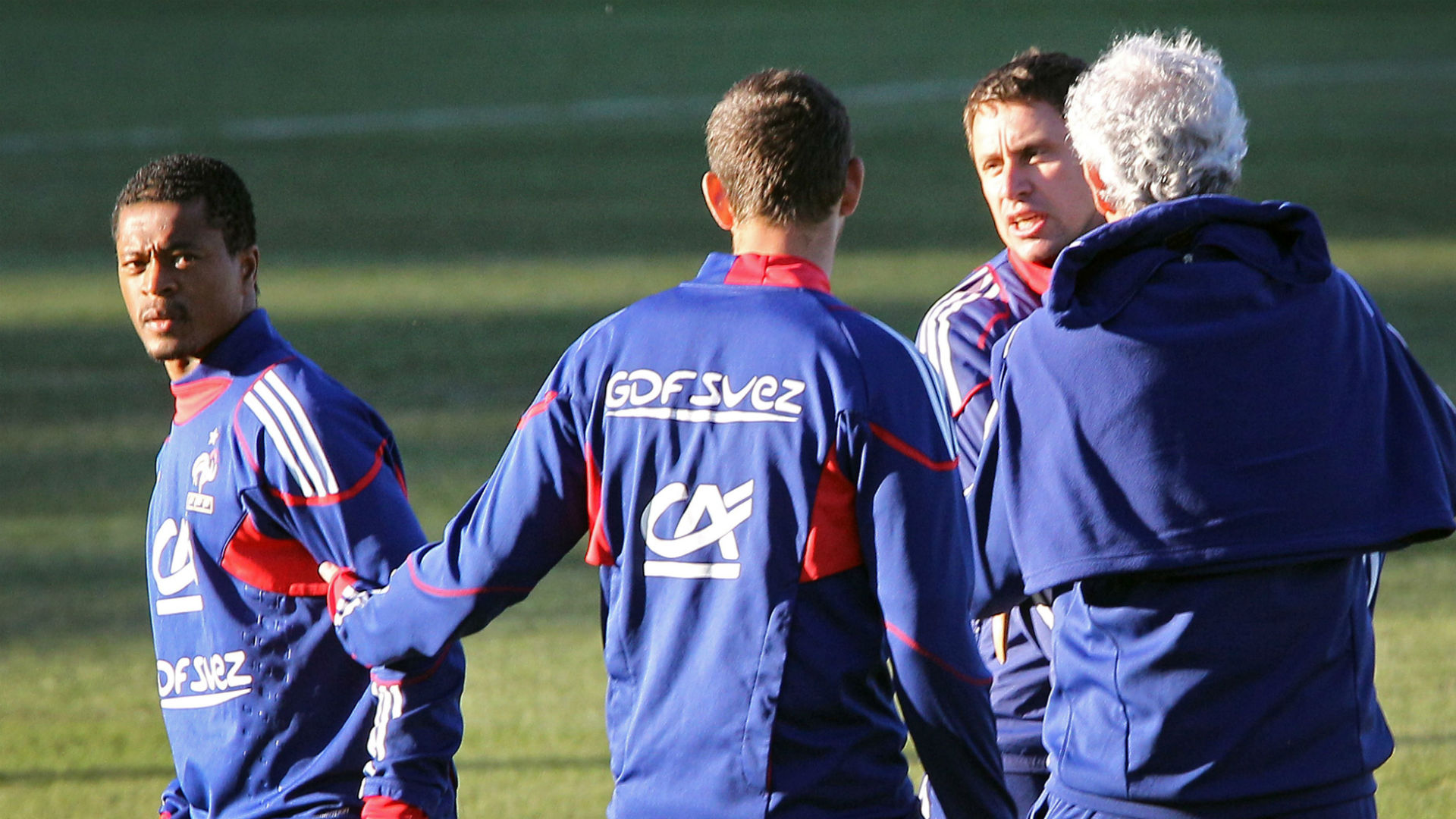 Then on the books of Manchester United, Evra's usually cheery demeanour momentarily deserted him during a now infamous row at the 2010 World Cup.
With the France squad unhappy at the decision to remove Nicolas Anelka from the ranks, following an alleged half-time disagreement with coach Raymond Domenech, the playing staff decided to take matters into their own hands.
Tempers were already at boiling point when national skipper Evra became involved in a furious exchange with fitness trainer Duverne.
Domenech ended up having to separate the warring duo, with Duverne storming off and throwing his accreditation badge to the turf.
Evra and the rest of the Les Bleus squad then went on strike and refused to train.
They would eventually return to professional duty, but Evra was stripped of the armband and a 2-1 defeat to hosts South Africa confirmed a humbling group stage exit.
---
Mario Balotelli v Roberto Mancini – 2013
---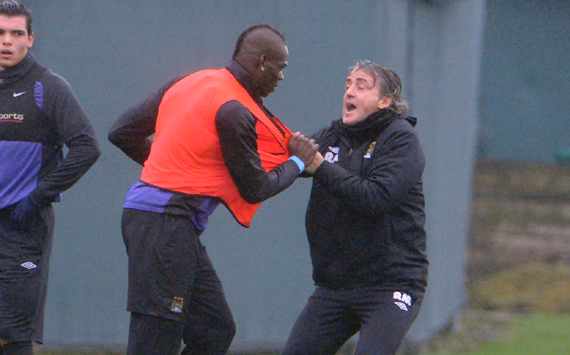 In December 2011, fiery Italian frontman Balotelli was involved in an unsightly training ground scrap with Manchester City team-mate Micah Richards.
The enigmatic striker clearly did not learn from the incident as a little over 12 months later, in January 2013, he was involved in another bust-up – this time with his own manager!
Mancini lost his cool with a fellow countryman after seeing Balotelli commit a crude foul and then refuse to leave the field as requested.
WATCH: Balotelli's dizzy penalty fail
The pair squared up, forcing assistant manager Brian Kidd to step in as mediator, but Mancini was quick to brush the incident under the carpet afterwards and pledge his unwavering support to a man many considered to be a lost cause.
He said: "I will give him another 100 chances if possible, if I think he can change. I am here for this. Sometimes I am upset with him because he doesn't do everything [I ask], but I give him another chance, sure. He is 22 and he can do a mistake."
---
Andy Carroll v Steven Taylor – 2010
---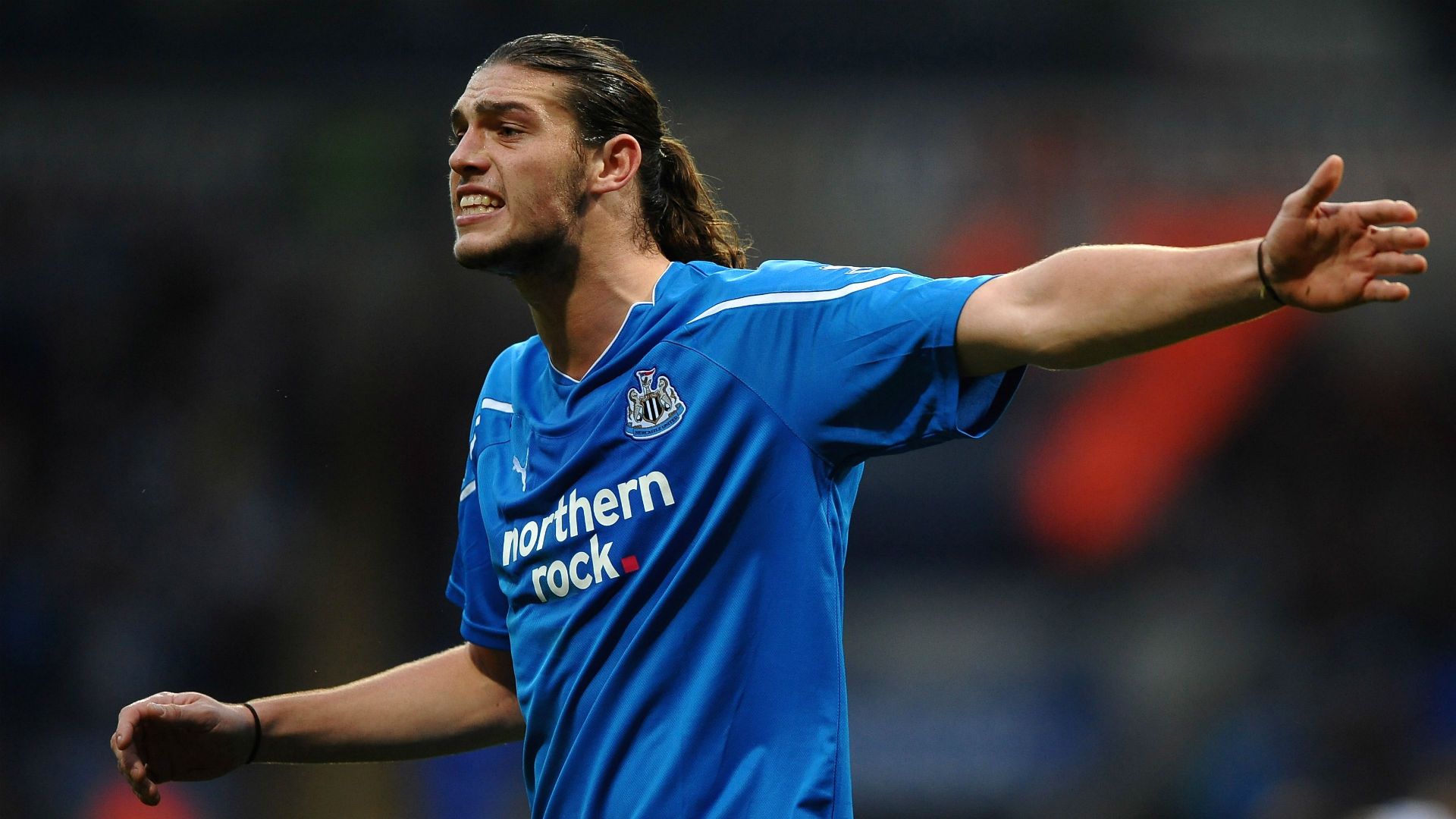 Two north east natives got a little hot under the collar during a Newcastle United training session in March 2010.
Carroll was said to have confronted his colleague after discovering that Taylor had been texting his ex-girlfriend.
Things then spiralled out of control, with the latter suffering a broken jaw and the former a busted hand.
Taylor would need to have his jaw wired, keeping him out of action for the rest of the season, while Carroll was also forced under the knife.
Remarkably, at the time of the incident, the now West Ham United striker was already on bail and awaiting a Crown Court trial over an alleged assault at a city centre nightclub.
Let'