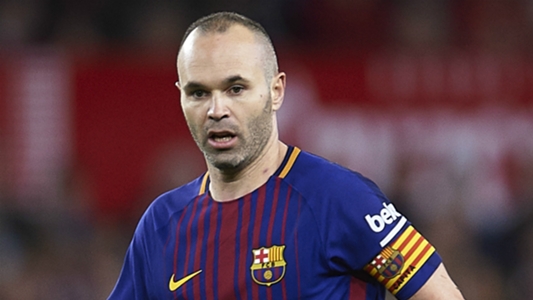 As the season draws to a close in Europe, it is not only a time to celebrate current champions, but also a time to hail the achievements of those who are moving on.
Perhaps the biggest change over the summer will come in Barcelona, where an era will end as Andres Iniesta leaves the club.
Although that may not have a direct impact on Ligue 1, many stars who have crossed paths with the iconic midfielder have taken the time to praise the contribution that he has made over the years.
Among those to do so was Neymar, who took to social media to praise the man who was a team-mate during his time at Camp Nou.
"Maestro, I was honoured to be part of your career at Barcelona," he said. "I had already admired you from afar and when I had the chance to be closer I fell in love with your football, and more for the person you are away from the field.
Maestro, que honra fazer parte da sua trajetória no Barcelona, já te admirava de longe e depois que passei a estar mais perto me apaixonei ainda mais pelo seu futebol e muito mais pela pessoa que você é fora de campo… Sempre vou contar aos meus amigos, filhos e família que tive o prazer de celebrar gols e títulos ao seu lado. Barcelona te agradece, eu te agradeço e os amantes de futebol agradecem por tudo que fez !!! Muita sorte na sua caminhada sempre, abraço CAPI !! @andresiniesta8

A post shared by Nj neymarjr (@neymarjr) on
"I will always tell my friends, children and family that I had the pleasure of celebrating goals and titles at your side.
"Barcelona thanks you, I thank you and football thanks you for everything you have done. Lots of luck for your future."
Similarly, Mario Balotelli hailed the Spaniard.
"The best in his position. We are going to miss you on the pitch!" he said. "Amazing, amazing, amazing player!"
@andresiniesta8 El mejor en su posición.. Vamos a echarte de meno grande en el campo! grande grande jugador! The best in his position.. We are going to miss you in the pitch ! Amazing amazing amazing player!

A post shared by Mario Balotelli (@mb459) on
Back on the field, Memphis Depay is the hottest player in Ligue 1 at present.
The former Manchester United man has seven goals and six assists in his last six appearances. On Saturday against Nantes, he turned in another virtuoso performance to lead Lyon closer to the Champions League, scoring one and setting up another in a 2-0 home success over Nantes.
He celebrated his achievement in characteristic style, putting his fingers in his ears and made sure his Instagram followers got the message.
 

A post shared by Memphis Depay (@memphisdepay) on
PSG have already wrapped up the title but their failure to impress in Europe has led to Unai Emery announcing his departure in the summer.
Kylian Mbappe praised his coach for the last eight months with a message simply saying: "Thanks."
Merci @unaiemery_

A post shared by Kylian Mbappé (@k.mbappe29) on
Mbappe has been out and about enjoying himself over the last week, taking a trip to Parc Asterix to meet the famous French comic book hero.
@parcasterix

A post shared by Kylian Mbappé (@k.mbappe29) on
Meanwhile, Dani Alves appears to have been intoxicated by Paris, the city of love.
He has posted a picture of himself with his partner, stating: "Images are worth more than words, feelings are worth more than arguments – and love? Ahhh love, nothing is worth more than love."
Imágenes valem mais que palavras, sentimentos valem mais que argumentos e amor? Ahhh, amor?nada vale mais do que amor!! #LOVE #SMILE #LIFE #alwaystogether #GoodCrazycouple

A post shared by DanialvesD2 My Twitter (@danialves) on
The veteran has been in a romantic and reflective mood this week. He posted a picture of himself as a youngster back in Brazil.
"One day you dream, the other day you realize ok?" he said.
"Um dia você sonha, no outro dia você realiza ok?" #thekingcrazy #GoodCrazy #tamoactivo #saopaulodosalitre

A post shared by DanialvesD2 My Twitter (@danialves) on
There are three weeks left before the end of the campaign, with PSG heading to Amiens next Friday before the rest of the games are played on the Sunday.
Let'