Paolo Rossi, the star of Italy's victorious 1982 World Cup campaign, has died at the age of 64.
His passing was announced on Wednesday evening by Italy's state TV channel RAI Sport, where Rossi had been working as a pundit.
"Such terribly sad news: Paolo Rossi has left us," RAI Sport presenter Enrico Varriale tweeted.
"Unforgettable Pablito, who made all of us fall in love in that summer of 1982 and who was a precious and competent work colleague in RAI over recent years."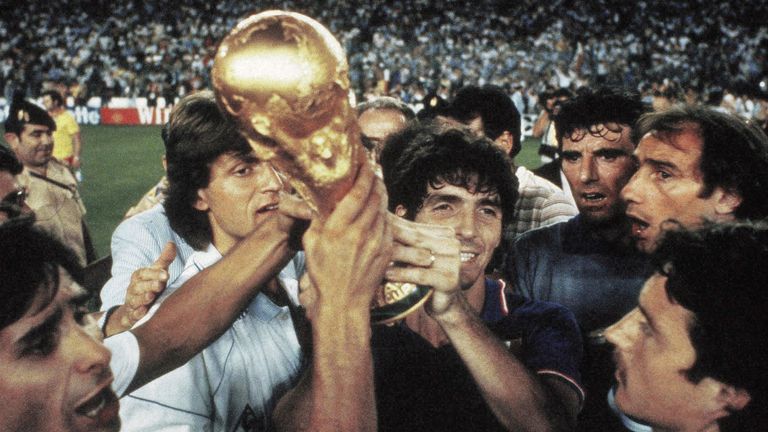 Rossi's wife, Federica Cappelletti, posted a photo of herself and her husband on Instagram along with the words "per sempre" – "forever".
She later posted a picture of him alongside their three children on Facebook and captioned: "There will never be anyone like you, unique, special, after you sheer nothingness."
Rossi won two Serie A titles, a European Cup and a Coppa Italia during his playing career but will be most fondly remembered for his six goals at the 1982 World Cup in Spain – where his exploits earned him the endearing nickname "Pablito".
After failing to score in the opening four games of the tournament, Rossi netted a hat-trick in Italy's iconic 3-2 win over Brazil in the second group stage, a match considered one of the greatest in World Cup history.
Italy topped a group containing the Brazilians as well as Diego Armando Maradona's Argentina and progressed to the semi-finals, where Rossi scored two more goals in a 2-0 win over Poland.
The former Juventus and AC Milan striker opened the scoring in the final too as Italy beat West Germany 3-1 to claim their third World Cup – and their first since 1938.
He was awarded the Ballon d'Or in 1982, becoming only the third Italian to win the award at the time.
Born in Prato, Tuscany, Rossi played his entire club career in Italy. He was banned for three years in 1980 as part of the "Totonero" match-fixing scandal but always denied any wrongdoing.
The ban was later reduced to two years, allowing him to return to the Italy squad ahead of the victorious 1982 World Cup campaign, where he was called up by head coach Enzo Bearzot ahead of Serie A top scorer Roberto Pruzzo.
He also scored three goals at the 1978 World Cup in Argentina, and with a total of nine goals, he remains Italy's joint-highest scorer at the World Cup with Roberto Baggio and Christian Vieri.
UEFA say a moment of silence will be held ahead of all Europa League matches on Thursday to remember Rossi.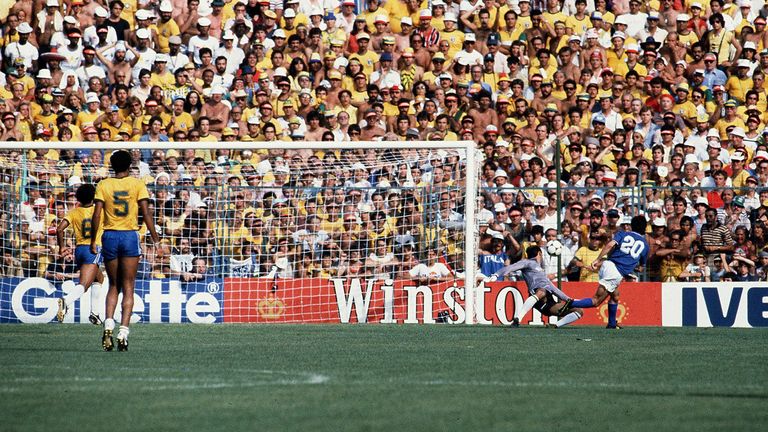 'Rossi will rejoin with Bearzot and Scirea'
"His smile, his kindness and his way of life will be sorely missed," 1982 team-mate Giuseppe Bergomi told Sky in Italy.
"I speak for all of us, because I think he brought joy in houses throughout Italy and the world. When you went around the world, mostly in the eighties and the nineties, it was all "Paolo Rossi, Paolo Rossi". Everyone would remember that World Cup, and this person.
"Last night, we were woken up at 3.40am by our World Cup winners group chat and we got the news. We will miss him so much, but he will be in our hearts forever.
"On December 21 this year it will be 10 years since Enzo Bearzot's passing, so he will rejoin Bearzot and the poor Gaetano Scirea. And we will miss him so much.
"In 1982 he brought us to win that World Cup with six goals and after the game against Argentina I remember we were there next to each other and he said "I'm not playing very well, maybe now Bearzot will drop me," they would write in the papers that maybe the "Baron" [Franco] Causio would play instead of him.
"And all of us would tell him that the gaffer doted on him, so he just needed to stay calm. So he went and scored three goals against Brazil, two against Poland and one in the final against West Germany. This is how we like to remember him: on the pitch."
Former Juventus team-mate Zbigniew Boniek also paid tribute to Rossi and said their relationship went far beyond the football pitch.
"I'm sad, and I admit with all honesty that this morning, when I saw I had a call from Michel Platini at 7.20am, I told my wife "what happened? He's never called me this early," Boniek told Sky in Italy.
"When I learnt about this story, really, I shed a few tears. With Paolo Rossi I haven't just won trophies, with Paolo Rossi I lived through the best things in my life, the best days of my life.
"We spent three years together in an amazing team, when you're in a big team and you start winning then a lot of beautiful things start happening.
"Winning trophies is not the only important thing. We know each other inside out, we knew about his issues, his state of mind, and a lot of other things.
"Paolo was fantastic. He was the one that, when I joined Juventus, had his room next to mine in Villar Perosa [Juve training centre]. He would come over every afternoon, he was the one that taught me how to play scopa [card game]. He was really a fantastic lad.
"We kept in touch, not very often but often enough, I knew almost everything about him. He always invited me to his holiday farm.
"I am distraught because of the simple fact that I didn't know that he was ill, that he had issues. I saw him before the first lockdown, at the beginning of the year here in Rome, he was here in Parioli.
"Paolo was always smiling, always available. He was the No 9, but sometimes as a No 9 he would rejoice more for Platini's goals than for his own."
Let'