Italy kept alive their hopes of reaching the Euro 2022 quarter-finals by coming
from behind to take a point in a 1-1 draw with Iceland on Thursday.
Le Azzurre suffered a nightmare start to their campaign when they were beaten 5-1 by France, and they were staring at an early exit when Karolina Lea Vilhjalmsdottir gave Iceland the lead inside three minutes at the Academy Stadium in Manchester.
But Valentina Bergamaschi equalised in the 62nd minute and, although Italy could not find a winner, victory over Belgium in their final group game could be enough to send them through. The draw kept Iceland second and Italy bottom in Group D, which also includes France and Belgium.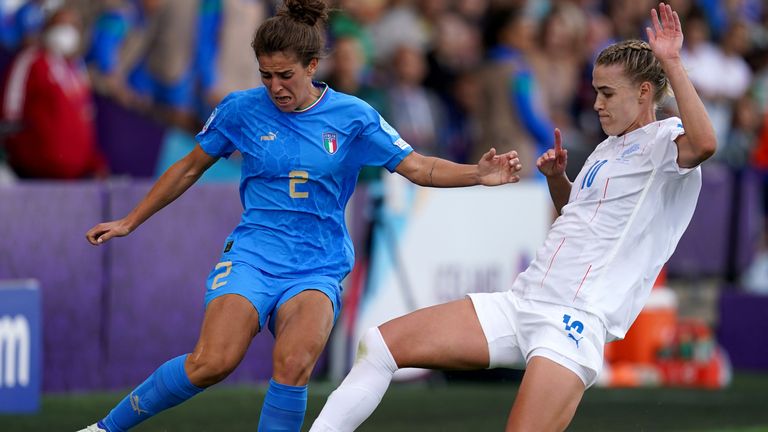 Iceland, who drew with Belgium in their first game, took the lead from the first chance of the game. Sveindis Jane Jonsdottir's long throw caused panic in the Italy box and Bayern Munich midfielder Vilhjalmsdottir let fly with a shot that flew inside the post.
Italy, quarter-finalists at the 2019 World Cup, pressed for the equaliser and finally found it just after the hour-mark when AC Milan's Bergamaschi timed her run perfectly to meet substitute Barbara Bonansea's pull-back.
The equaliser frustrated Iceland as it came just a minute after Alexandra Johannsdottir scuffed an opportunity to double their lead, hitting her shot wide from inside the box, despite having plenty of space.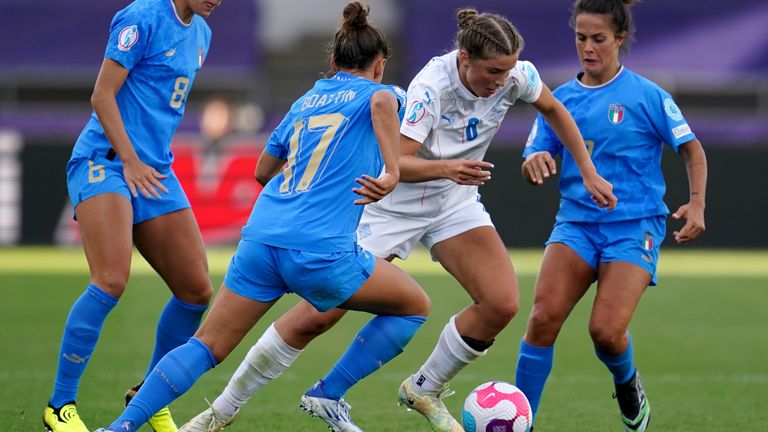 Italy pushed hard for a second goal as Bonansea's low shot hit the woodwork in the 73rd minute, while Iceland were left to rue their missed chances as Vilhjalmsdottir failed to convert an easy opportunity three minutes from time.
Vilhjalmsdottir knew her miss was a costly one for Iceland as she was seen in tears on the bench after going off.
What's next?
Group D concludes on July 18 with all still to play for. France, emphatic winners in their opener, are in prime position to top the group but second spot is up for grabs. Iceland face France, while Italy will fancy their chances against Belgium after a much-improved performance in matchday two.
Follow Euro 2022 across Sky Sports
Keep up with all the latest from Euro 2022 across Sky Sports and Sky Sports News this summer.
Coverage will be anchored by Sky Sports WSL presenter Caroline Barker, alongside Jessica Creighton and Kyle Walker. Meanwhile, Karen Carney, Sue Smith, Courtney Sweetman-Kirk and Laura Bassett will give analysis throughout the tournament.
They will also be joined by experienced England goalkeeper Karen Bardsley and Manchester City defender Esme Morgan.
The pundits and presenters will work from the Sky Sports Women's Euro 2022 Mobile Presentation Bus, which will follow the Sky Sports News team around the country to the various stadiums where matches are being played.
In addition, Sky Sports' Essential Football Podcast will be rebranded for the tournament to Sky Sports Women's Euros Podcast from 21 June. Hosted by Charlotte Marsh and Anton Toloui, it will feature exclusive news and player interviews in addition to a strong programme line-up around the tournament.
Euro 2022: The groups…
Group A: England, Austria, Norway, Northern Ireland
Group B: Germany, Denmark, Spain, Finland
Group C: Netherlands, Sweden, Portugal, Switzerland
Group D: France, Italy, Belgium, Iceland
Euro 2022: The schedule…
Group stage
Wednesday July 6
Group A: England 1-0 Austria
Thursday July 7
Group A: Norway 4-1 Northern Ireland
Friday July 8
Group B: Spain 4-1 Finland
Group B: Germany 4-0 Denmark
Saturday July 9
Group C: Portugal 2-2 Switzerland
Group C: Netherlands 1-1 Sweden
Sunday July 10
Group D: Belgium 1-1 Iceland
Group D: France 5-1 Italy
Monday July 11
Group A: Austria 2-0 Northern Ireland
Group A: England 8-0 Norway
Tuesday July 12
Group B: Denmark 1-0 Finland
Group B: Germany 2-0 Spain
Wednesday July 13
Group C: Sweden 2-1 Switzerland
Group C: Netherlands 3-2 Portugal
Thursday July 14
Group D: Italy 1-1 Iceland
Group D: France vs Belgium – kick-off 8pm, New York Stadium
Friday July 15
Group A: Northern Ireland v England – kick-off 8pm, St Mary's
Group A: Austria vs Norway – kick-off 8pm, Brighton and Hove Community Stadium
Saturday July 16
Group B: Finland vs Germany – kick-off 8pm, Stadium MK
Group B: Denmark vs Spain – kick-off 8pm, London Community Stadium
Sunday July 17
Group C: Switzerland vs Netherlands – kick-off 5pm, Bramall Lane
Group C: Sweden vs Portugal – kick-off 5pm, Leigh Sports Village
Monday July 18
Group D: Iceland vs France – kick-off 8pm, New York Stadium
Group D: Italy vs Belgium – kick-off 8pm, Manchester City Academy Stadium
Knockout phase
Quarter-finals
Wednesday July 20
Quarter-final 1: Winners Group A v Runners-up Group B – kick-off 8pm, Brighton and Hove Community Stadium
Thursday July 21
Quarter-final 2: Winners Group B v Runners-up Group A – kick-off 8pm, London Community Stadium
Friday July 22
Quarter-final 3: Winners Group C v Runners-up Group D – kick-off 8pm, Leigh Sports Village
Quarter-final 4: Winners Group D v Runners-up Group C – kick-off 8pm, New York Stadium
Semi-finals
Tuesday July 26
Semi-final 1: Winners quarter-final 1 v Winners quarter-final 3 – kick-off 8pm, Bramall Lane
Wednesday July 27
Semi-final 2: Winners quarter-final 2 v Winners quarter-final 4 – kick-off 8pm, Stadium MK
Final
Sunday July 31
Winners semi-final 1 v Winners semi-final 2 – kick-off 5pm, Wembley
Adblock test