EXCLUSIVE: The 2006 World Cup winner spoke to Goal about two of his former clubs, while also offering his opinion on Mario Balotelli

By Rahul Bali
Silvio Berlusconi's failure to spend heavily in the transfer market has become a "real problem" for AC Milan, says former Rossoneri star Gianluca Zambrotta.
The media tycoon turned Milan into the biggest club in the world after buying the San Siro outfit in 1986, regularly splashing the cash on superstars such as Ruud Gullit, George Weah and later Kaka and Zlatan Ibrahimovic.
However, the spending has dried up in recent years – leading to Milan finishing a disappointing eighth in Serie A last season.
"Berlusconi doesn't want to spend like he did in the past," Zambrotta told Goal at Eracle Sports Center in Como.
"It's a real problem when you consider how Italy used to be and the current wealth of clubs like Barcelona, Real Madrid, Manchester City, Manchester United and PSG.
"[New coach] Pippo Inzaghi has arrived and he has what it takes to do a good job despite the limits of his squad. But, of course, Milan can't afford to buy top champions like in the past.
"As a whole, Serie A has less appeal than the Premier League. The main issue is budget. We can't afford to spend €80 million on a transfer. Top players are attracted to lucrative deals."
Zambrotta, who won one Scudetto with Milan during four years at the club, also commented on Mario Balotelli's failed spell with the Rossoneri, which led to the controversial striker being sold to Liverpool this summer.
"Balotelli tried to return to Italy after his first experience with Inter and he wanted to make an impact at Milan," the former full-back explained.
"But he's still young and he needs to improve and become more mature. He's skilled and talented, but he has some way to go.
"He needs to improve his mentality. If he manages to do that, he can become a top player."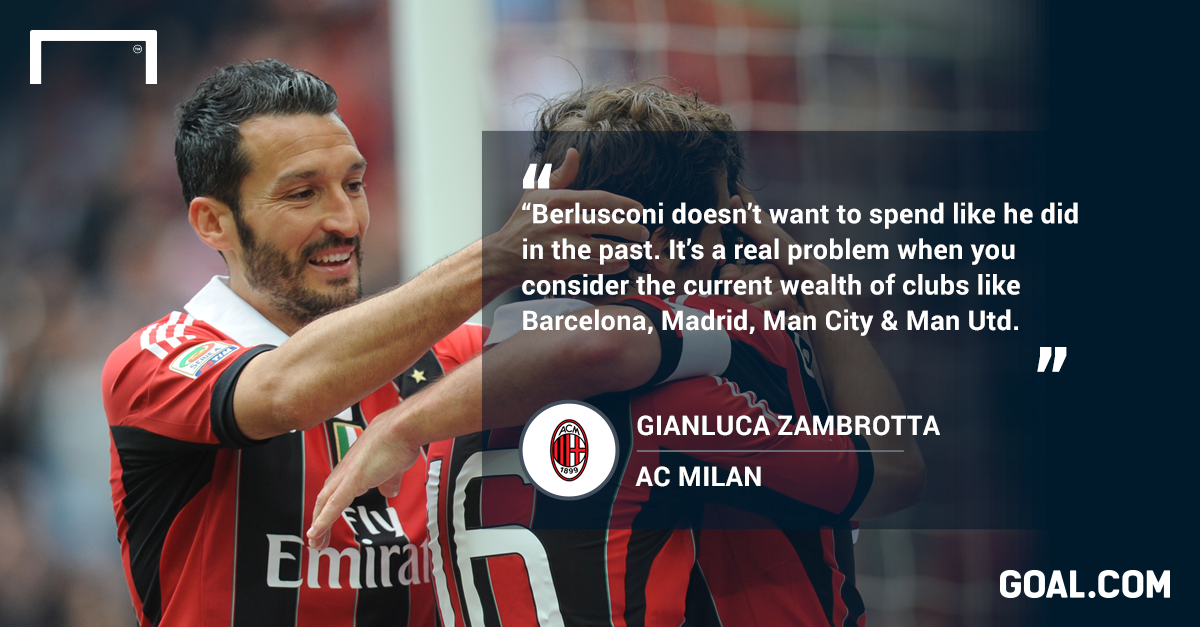 On Saturday evening, Milan host another of Zambrotta's former clubs Juventus in the big Serie A match of the weekend.
The Bianconeri are now managed by Massimiliano Allegri, who coached Zambrotta at Milan during their 2011 Scudetto success.
"Allegri had his own style and system at AC Milan. At Juventus he hasn't yet changed [predecessor] Antonio Conte's style," he explained.
"In my opinion, if a coach is good enough to make his team play in different ways, he has more chance of managing the issues he may face during each game. Juventus have won three consecutive titles, so they're very competitive.
"I rate Allegri very highly because he is a very well-prepared coach, but he has a difficult task as after three consecutive titles even second place would be considered as a failure."
Zambrotta is currently a player-coach at Swiss club Chiasso and he has set his sights on managing a top team in the future.
"Since last December I have been helping with coaching at Chiasso," the 2006 World Cup winner noted.
"This is just the beginning, and I am at a club where I can quietly improve and grow. Then in the future I hope to be able to coach a bigger team in Italy or abroad. Little by Little, step by step, I hope to reach higher targets."
Follow Rahul Bali on