Mario Balotelli smashed a plasma TV after being sent off and left a collection of parking tickets in his locker when departing Manchester City, Les Chapman has revealed.
A former kit man at the Premier League club has lifted the lid on the antics of an enigmatic striker who spent two-and-a-half years at the Etihad Stadium.
Man City -2 21/20 v Southampton
Balotelli's misdemeanours throughout his colourful career are legendary, with the 27-year-old never far from the headlines.
That was certainly the case during his time in England, with Chapman – who made the famous 'Why Always Me' t-shirt displayed against Manchester United in October 2011 – left bemused by most of the Italian's behaviour.
He told the Daily Mail on Balotelli: "He was a complete one-off, the most unpredictable man on the planet. When he got sent off at Arsenal he threw his boot through the plasma TV in the dressing-room!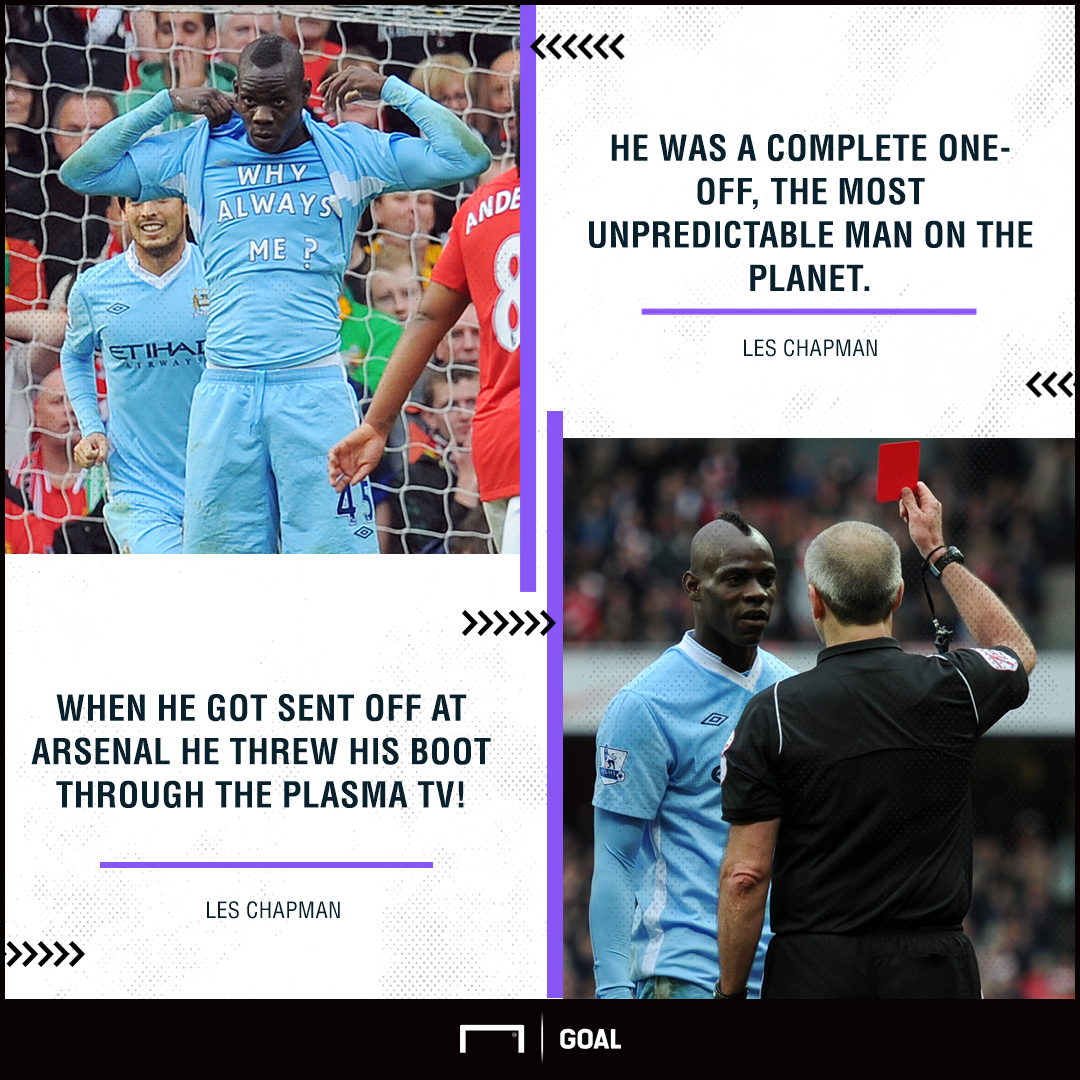 "But he was bright, he wasn't stupid, and he was very generous. He would go into a garage and pay for everyone's petrol or give a homeless guy a wad of cash.
"Then he used to wonder why his car was impounded 27 times… because it was painted in camouflage and he parked it on double yellows outside San Carlo restaurant in the middle of Manchester every day.
"I opened his locker after he left and all his parking tickets just fell out!"
Among those Balotelli clashed with during his time at City was former manager Roberto Mancini – a coach he also worked with at Serie A giants Inter.
Chapman believes falling outs were inevitable, with a Premier League title-winning boss a difficult man to work with.
He added on Mancini: "We won the Premier League and FA Cup and he is a legend to the fans, I understand that, but he was too confrontational. He was irrational.
"I saw him fall out with Joe Hart, Joleon Lescott, Samir Nasri, Edin Dzeko, Vincent Kompany, Carlos Tevez… when Manuel Pellegrini came in it was the opposite, he actually spoke to you and shook your hand."
Balotelli left City to join AC Milan in January 2013, before returning to England with Liverpool in the summer of 2014.
A forgettable spell at Anfield followed, but he has rebuilt his career and reputation in France with Nice.
Let'