The Italian took the ball from his captain on Thursday, but it is hardly the first time team-mates have gone head-to-head over spot-kicks

By Kris Voakes | International Football Correspondent
Who would have thought Liverpool's Europa League clash with Besiktas could make such headlines? That's what happens whenever Mario Balotelli is involved, it would seem.
The Italian striker caused new controversy on Thursday by taking the ball from skipper and allotted penalty-taker Jordan Henderson ahead of the crucial 85th-minute spot-kick which decided the contest at Anfield. Balotelli scored, but the fall-out has only just begun.
The incident was the clear talking point after the match, with injured club captain Steven Gerrard – who had previously confirmed Balotelli as his understudy from the spot – telling ITV that the 24-year-old had shown disrespect to Henderson with his behaviour.
"Jordan Henderson should have taken that penalty," said Gerrard. "I think Mario is being a bit mischievous by stepping in front of him and going against what the manager's planned.
"Mario would have seen on the board that Jordan was on the penalties and I think he's shown Jordan a bit of disrespect there."
Henderson later tried to play down the tiff, which also saw Daniel Sturridge's claims to the job rebuffed, insisting: "I wanted the penalty, Mario felt confident and he has taken big penalties before. Everyone wants to take them. I felt confident in Mario, he has taken big penalties before and he got the nod."
And Balotelli took to Twitter to thank the stand-in captain for relenting.
Thank you hendo for let me take the penalty.. Stop drama now. We won that's what it count. We are a… http://t.co/aUtsFglN6g

— Mario Balotelli (@FinallyMario) February 19, 2015
But Gerrard was also right to bring up the fact this was far from the first time such a situation has occurred.
"Credit to Mario, he's finished the penalty off but it would have been very interesting if he'd missed it," added the 34-year-old. "I think we'd have had a similar situation to what we saw at Everton a few weeks ago."
That incident saw Kevin Mirallas take it upon himself to step up to the spot against West Bromwich Albion instead of regular taker Leighton Baines, only for the Belgian to miss the penalty and suffer the indignity of a half-time substitution as Everton went on to draw 0-0.
Balotelli has himself been involved in a previous spot-kick argument, standing over Inter team-mate Samuel Eto'o as he prepared to take a penalty against Palermo in 2009. It took the strong leadership of Javier Zanetti to settle the dispute, dragging Mario away to allow Eto'o to slot home the opening goal in a thrilling 5-3 win.
Other instances of penalty-spot head-to-heads have led to very costly misses.
Anderlecht have history when it comes to missing penalties in recent years, leading 17-year-old midfielder Youri Tielemans to challenge designated taker Nathan Kabasele against Genk earlier this season. Goalkeeper Silvio Proto eventually had to travel the length of the pitch to settle the dispute in favour of Kabasele, only for him to then miss and Anderlecht to be held to a 0-0 draw.
There have been plenty of other occurrences which have resulted in red faces and hurt pride, including scuffles between Paolo Di Canio and Frank Lampard at West Ham, Roma's Pablo Osvaldo and Francesco Totti, Juventus' Arturo Vidal and Mirko Vucinic, and Didier Drogba and Lampard at Chelsea. Meanwhile, Nathan Dyer was denied the chance of a unique League Cup final hat-trick when he was told not to take a penalty when Swansea City led Bradford City 3-0 at Wembley in 2013.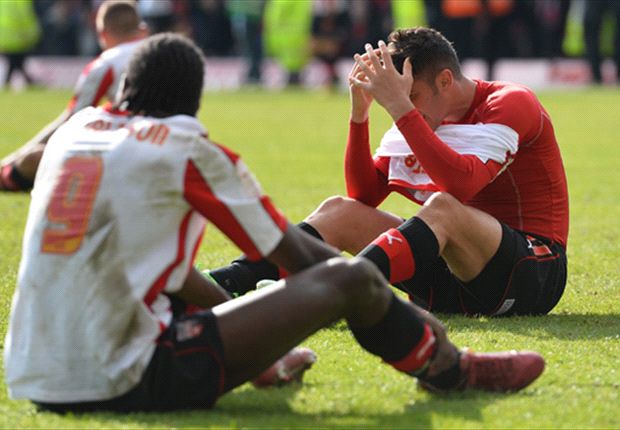 Despair | Brentford were left devastated when Trotta's miss cost them promotion
But two of the most astonishing penalty squabbles happened within 24 hours of each other.
A penalty dispute cost Davide Lanzafame a red card in 2013 when playing for Honved Budapest against PMFC Matias in the Hungarian leagues. His prolonged attempts to wrestle the ball from team-mate Leandro Martinez delayed the contest so much that the referee ordered the Italian off the field. Martinez netted the kick for the 10 men in a 3-0 away win.
Amazingly, that incident took place just one day after Brentford's entire season was turned on its head by a similar argument. The Bees needed a win against Doncaster Rovers to secure promotion to the English Championship and were awarded a 94th-minute penalty.
But after Marcello Trotta snatched the ball from regular taker Kevin O'Connor and insisted on playing the role of hero, the Italian's shot came back off the bar with Doncaster scoring from the resulting breakaway to win the game. Brentford were consigned to the play-offs, where they would lose to Yeovil and miss out on promotion.
So while there might well be recriminations in the air in Liverpool at the moment, it could have been far more costly. Not just games, but seasons too, have been won and lost on such in-fighting.
Follow Kris Voakes on