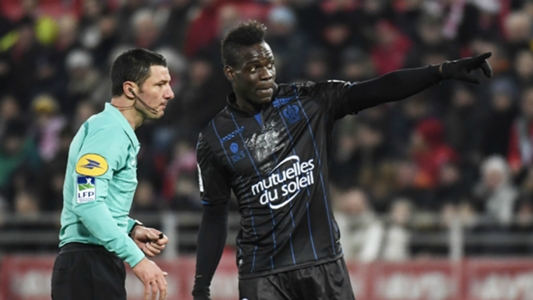 Mario Balotelli was booked after complaining to the referee about racist abuse from supporters in Saturday's 3-2 defeat to Dijon, Nice have alleged. 
With Nice leading 2-1 in the second half, Balotelli became the target of jeers from the crowd after seeing an audacious overhead kick attempt fly wide.
Unbelievable! Mario Balotelli gets booked for complaining about racist abuse…

What is the referee playing at? pic.twitter.com/jAnmGEodgO

— Goal (@goal) February 11, 2018
The 27-year-old complained to the referee about racist abuse coming from the home end, but was shown a yellow card for his troubles – his eighth in Ligue 1 this season.
Nice tweeted: "Meanwhile, Mario Balotelli has picked up a yellow card, after… getting annoyed with racist insults from the public."
The club's president Jean-Pierre Rivere lashed out at Ligue 1 refereeing in the aftermath of the incident and suggested such decisions were to blame for their poor run in form.
"It's a scandal," Rivere told the club's official website. "It's been four consecutive games that we have the feeling of playing at 11 against 12.
"The differences of officiating from one match to the other are incomprehensible."
Dijon goalkeeper Baptiste Reynet said he spoke to Balotelli about the incident, and suggested a small handful of supporters may have been involved.
"I told Mario I didn't hear any racist chanting but he said there were some," he told reporters. "Apparently two or three supporters provoked him."
The home side's Olivier Dall'Oglio pointed out that there is no history of racism at the club but reiterated that such chants are unacceptable.
"That is the first time that you hear about something like this at the Gaston-Gerard. We have a lot of players of colour and foreigners in our team, and we are very happy to have them.
[embedded content]
"There has never been a problem with racism here. If these taunts existed, they are completely out of order… I didn't hear anything."
Saturday's defeat was Nice's third in a row in Ligue 1 and leaves them eighth in the table. They face Lokomotiv Moscow in the Europa League on Thursday before returning to league duty with a game against Nantes.
Let'