The Rossoneri president's brother committed a huge error in judgement, calling into question once more the relationship between Italy, its racism and its football
COMMENT
By Kris Voakes | Italian Football Writer
There's just no stopping the Berlusconi family right now. Just days after AC Milan CEO Adriano Galliani tried to rewrite history by suggesting club president Silvio had not called Mario Balotelli a bad apple, question marks are being raised about his brother Paolo following an amazing gaffe at a political rally during which he called the Italy striker the "little n****r of the family".
Only five weeks ago, most of the civilised world was praising Milan for their support of Kevin-Prince Boateng following the Ghanaian's very public stand against racist boo-boys during a friendly match in Busto Arsizio. Yet Paolo Berlusconi's words have undone much of that good work, and the lack of condemnation from both Milan as a club and Italy as a country is depressing in the very least.
The Azzurri has long been a national side which has embraced players with diverse backgrounds. From players with dual-nationality, to those with an Italian passport but no bloodline linked to the bel paese, there is a long list of representatives who would have missed out on top level international football were it not for the sense of inclusion they felt thanks to the Italian game's governing body. Just 15 months ago, Angelo Ogbonna joined Balotelli in the famous blue shirt as Italy beat Poland in a friendly international. It was the first time two black players had finished a game for La Nazionale and was rightly seen as a big step in the right direction.
However, the country as a whole continues to take its time in catching up. Too often in regular social situations, this correspondent has been left explaining to very fair-minded and liberal Italians why it is that a certain comment they passed in conversation would not be considered appropriate if uttered in another language or another country.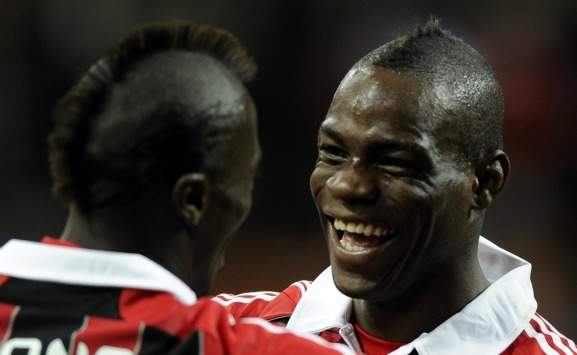 Niang & Balotelli | Two great future hopes in the Milan squad
Does this make Italy an inherently racist country? Most definitely not. Does it mean Italy has some catching up to do? Very much so.
Piara Powar, executive director of the FARE (Football Against Racism in Europe) network, was quick to turn the spotlight on the peninsula's issues as a whole after the incidents surrounding Boateng last month.
"Italy, as much as any country in Europe, has a serious problem of racism," said Powar. "Football infrastructure is in need of renewal and at serious odds with the changing nature of Italian society."
Just as countries such as the USA, UK, Germany, etc. have had their issues with racism before – and to a lesser degree, still do – nations including Spain and Italy continue to have theirs now. Education, rather than condemnation would be a preferable way to right the wrongs of attitudes to racist jokes and slurs in those nations in which they are still commonly used, but what are the chances of that when notable figures such as Paolo Berlusconi can refer to Balotelli as a "little n****r" and be met with laughter?
Ok, so it was hardly raucous laughter, but nor were people trying to admonish him for his blatant show of racism. The laughs were muffled, almost as if those present realised they probably shouldn't be finding fun in it, but they were anyway. Berlusconi was in the wrong, and so were those present.
And by not condemning Berlusconi for what he said, Milan are in the wrong too. Just as I celebrated them for their stand against racism in Busto Arsizio and insisted that they be celebrated for their actions, today I must call into question their judgement. Galliani blatantly lied at Balotelli's official presentation on Friday when he claimed that his boss Silvio had not called the striker a bad apple, despite the fact the quote was recorded for posterity. Now how will they choose to address Paolo's misdemeanour?
Paolo is not officially part of AC Milan in the way that Silvio is, making it less necessary for them to make a statement on the matter, but surely the close ties he has to the club demand something be said, especially given the nature of the quote.
In the 1970s and 1980s, a TV sitcom in the United States called 'Diff'rent Strokes' told the story of two poor black children, Willis and Arnold Jackson, being taken in by a wealthy white man, Phillip Drummond, to be a part of his family. It was a revolutionary step, exploring at great length America's relationship with racism. But 35 years on from its first season on television sets, there are some countries which remain off the pace when it comes to addressing the great taboo.
And whereas last month it appeared that AC Milan and Italian football were ready to take the next step forward in the fight against racial discrimination in our great game, once more we are left to wonder when Italy will wise up to such ills. Not once in 'Diff'rent Strokes' did Drummond refer to Willis or Arnold as "the little n****r of the family" and there is no excuse for Paolo Berlusconi giving Balotelli the same moniker.
As an outspoken ambassador against racism, one can only hope that 'Super Mario' is already asking questions of his own about the crassness of his boss' brother.
Follow Kris Voakes on