ANALYSIS: The north Londoners go into Sunday's clash buoyed by Mauricio Pochettino's 100 per cent winning start, while Brendan Rodgers has added nine new faces to his team

By Ewan Roberts
Liverpool's last visit to Tottenham marked the beginning of the Anfield club's emergence as a genuine title contender, as well as the end of Andre Villas-Boas' reign in north London. The 5-0 thrashing back in December highlighted two sides on starkly contrasting trajectories but significant changes this summer mean that Sunday's game should be a more even contest.
The new Premier League season may only be two games old but already there are dramatic differences apparent for both clubs – one of style and philosophy for Spurs, and one of personnel for Liverpool.
Luis Suarez's move to Barcelona has seen Brendan Rodgers spend in excess of €120 million on nine new players this summer and there are obvious parallels with the upheaval endured by Tottenham when Gareth Bale pushed to join Real Madrid.
The Northern Irishman noted the difficulties in the wake of that five-goal demolition: "It shows you that, when you have someone with that X-factor, sometimes eight, nine or 10 players can't replace that. That was why we fought like tigers to keep Luis Suarez here because he is a top player. He is a performer."
Fast-forward just a few months and now it is Rodgers who is trying to cope in the absence of an "X-factor" and overseeing a period of transition following the departure of the outstanding player of last season's Premier League campaign.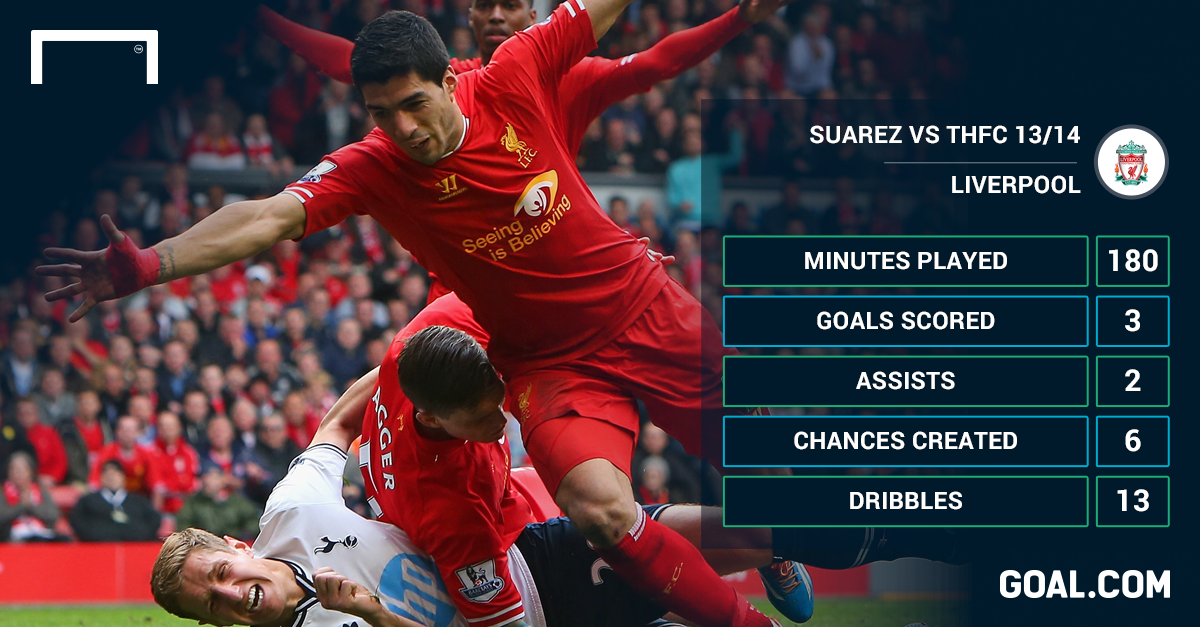 The onus will predominantly be on Mario Balotelli, who could feature on Sunday, to fill the Uruguayan's enormous void, though he will take time to adapt to the Reds' style of play. The sort of relationship that he strikes up with Daniel Sturridge is likely to make or break Liverpool's season and there is a strong suspicion that the Italian is ill-suited to providing the creativity and movement that Sturridge craves from his strike partner.
The England international had fewer touches and played fewer passes than Simon Mignolet against Southampton and was similarly peripheral for much of the match against Manchester City. Balotelli is unlikely to bring Sturridge into the game to the extent that Suarez could, while his seven goals from open play – a quarter of the tally that the new Barca forward notched – hints at a lack of cutting edge.
But Sturridge, and the entire Liverpool attack, also thrive on space in behind and that was something they were afforded in abundance at White Hart Lane previously, with Villas-Boas deploying his makeshift back line in a suicidally high line. While new boss Mauricio Pochettino also asks his defenders to push up, he has made important and already evident changes to the way the side press and harry the opposition.
Under Villas-Boas there was little pressure applied to the ball-carrier, leaving the back four exposed as passes were threaded in behind – Liverpool were granted the time and space to play 10 through-balls back in December.
But Pochettino's Marcelo Bielsa-esque approach has already highlighted the merits of a high line when used appropriately and in tandem with an equally high press. With the defence stepping up and the forward line closing down relentlessly, the play is congested and errors are drawn from the opposition.
PRESSING CONCERNS | Tottenham won possession in the final third on eight occassions against QPR
It is astonishing how quickly the Tottenham squad have taken to this new approach, while the arrival of Federico Fazio – who recorded significantly more interceptions (88) in La Liga last season than any Spurs player did over the same campaign – will further help the back line step forward and gobble up the opposition.
Against QPR, albeit in an incredibly one-sided contest, Spurs made eight tackles or interceptions in the attacking third, more than in any game under Villas-Boas last season (who averaged 3.0 per match last term).
In fact, only on five occasions last season did Spurs win more tackles than they did against Harry Redknapp's men. There is a key distinction to be made, though, with Tottenham much more on the back foot when they posted those numbers last season. They averaged just 48.8 per cent possession and 20.2 passes per successful tackle in those five games, compared to 65% possession against QPR and 36.1 passes per successful tackle.
Tottenham are evidentially winning possession back far, far quicker than they did previously and in turn that meant that QPR only played 41 passes into the final third – the fewest Spurs to which have limited a side in over two years.
Pochettino has not just overhauled the off-the-ball organisation but the attacking setup too. The side are capable of speedy transitions, winning the ball high up the pitch and firing off a shot within seconds, or building up play with more measured purpose, as highlighted by the 48 passes that preceded Nacer Chadli's second goal against the Rs.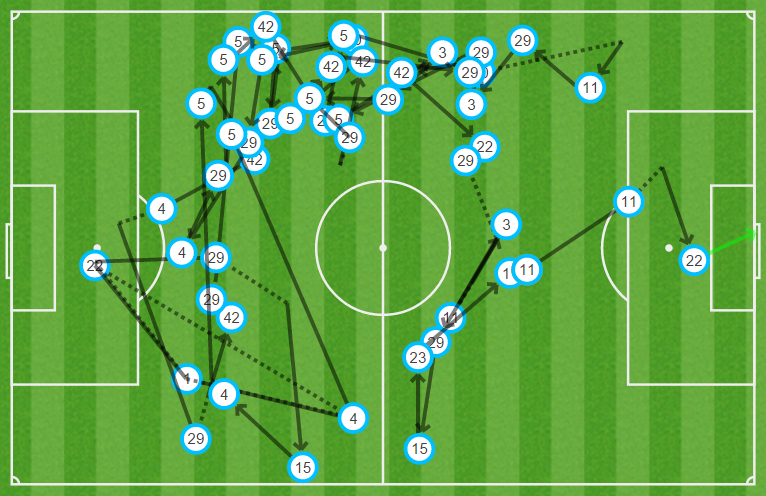 SLOW BURNER | Spurs' third goal against QPR came after 48 passes, with every player involved
Spurs' front line is now more fluid and interchanging, not dissimilar to how Liverpool have set up, with players rotating positions.
"We have [Emmanuel Adebayor] at the top and then, behind him, we had me, Christian [Eriksen] and Erik [Lamela], who are all encouraged to change position during the game," explains Chadli. "It's like we have three No.10s, which means we can also get the full-backs forward in wide positions, which makes five players supporting Ade in attack. It is very different and I have never played this way before."
There is a better quality of chance being created as a result, with Spurs having already scored five times from open play from inside the box – it took them until October 20 to record that many last season.
This fresh attacking style will meet a new-look Liverpool defence on Sunday. Last term the Reds' back line was their Achilles heel – they conceded 50 goals, just three fewer than 16th-placed Hull City – but Dejan Lovren has been brought in at centre-back while Europa League winner Alberto Moreno, a former team-mate of Fazio's, is likely to line-up at left-back if he can shake off an ankle injury.
The two sides, then, are both in the process of making significant changes, with Liverpool rebuilding and integrating a host of new players while Tottenham install a new way of playing that marries both structure and freedom. The teams will be dramatically different when they meet but it is as yet unclear whether or not they are moving in different directions again too.
Follow Ewan Roberts on