The Italy international was AC Milan's top scorer last season but there is a good possibility that the Euro 2012 star could be on his way out of San Siro this summer
ANALYSIS
By Mark Doyle
Six years ago agent Mino Raiola received a phone call from his most prized client, Zlatan Ibrahimovic. "There is a phenomenon here at Inter," the Swede enthused. "He's a black guy who does what he wants with the ball at his feet. You have to come to see him." That even a player as extravagantly gifted as Ibrahimovic was blown away by the ability of a teenage Mario Balotelli underlines just how prodigiously gifted the Italian was.
But then, Balotelli's talent has never been in doubt. Unlike his temperament. Indeed, when AC Milan were linked with a move for the then-Manchester City forward in January of last year, club owner Silvio Berlusconi castigated the Palermo native's character. "The name of Balotelli never came into my thoughts," the media mogul declared. "He is a rotten apple and could infect every group where he goes, even Milan."
In a wholly unsurprising development, the Rossoneri signed the player for a reported deal worth up to €25 million (£22m) a matter of weeks later. Berlusconi, of course, had an excuse for his character assassination, claiming that his comments had been part of a master plan concocted by CEO Adriano Galliani designed to drive down City's asking price.
However, just under 18 months later, it seems that Berlusconi believes that he was right all along; that SuperMario is indeed a rotten apple – and one capable of spoiling the whole barrel.
Balotelli was Milan's top scorer last season, netting 14 goals in Serie A – twice as many as any other Rossoneri player. But, as they say, there are lies, damn lies and statistics. And Balotelli's numbers are deceiving. His form has been maddeningly erratic. His mood likewise. There were tears on the bench after his substitution against Napoli in February, prompting the Gazzetta dello Sport to ask on their front page: "Are we losing Mario?"
Balotelli then lost it himself. After a woefully lethargic showing against Roma in April, he lashed out at Sky Sport Italia analyst Giancarlo Marocchi and former AC Milan players-turned-pundits Christian Panucci and Zvonimir Boban during a shocking and explosive post-match interview.
Rotten apple? | Balotelli rowed with both coach Clarence Seedorf and his team-mates last season
Boban had some sympathy for Balotelli the man but was scathing in his appraisal of Balotelli the player. "It's a shame, as he is a good guy," the Croat lamented. "But he lacks self-criticism. He will go along his path as always. We are paid to talk, but he doesn't seem to understand these situations. His performance against Roma was shameful. He just walked around the pitch annoying all his team-mates."
And there's the rub. According to the latest reports, the pervading feeling at Milanello is very much that Balotelli is now more trouble than he's worth. He has, it is said, become a divisive element within the dressing room.
Indeed, as far back as December, Berlusconi had been expressing his dissatisfaction not only with Balotelli's behaviour but also that of his vast entourage. "I've had enough and the decision is made," he was quoted as saying by Secolo XIX. "Mario is officially on the market and we need to sell him before the end of January."
Milan subsequently denied that the striker would be sold midway through the season but it now seems that Balotelli is bound for the exit door.
The widely held view is that the striker will either move to Monaco or return to England. Milan are understandably delighted that Monaco are in the running, given the vast wealth at the disposal of club owner Dmitry Rybolovlev.
The proposed transfer also appeals to Balotelli. The 23-year-old has, of course, been a Milan fan since he was a child but without any form of European football to look forward to next season, the Rossoneri have nothing to offer him. Monaco, by contrast, boast Champions League football and an increasingly impressive squad, while Monte Carlo benefits from favourable tax rates.
However, Balotelli could easily go back to England. Manchester United were linked with the forward earlier this year but they have other striking priorities. However, both Arsenal and Liverpool are considered serious contenders for his signature.
Arsenal's lack of an alternative to Olivier Giroud ultimately undermined last season's Premier League title challenge. Liverpool, of course, had no such problems scoring goals thanks to the prolific partnership of Luis Suarez and Daniel Sturridge but manager Brendan Rodgers is keen to add to his attacking options, the paucity of which were so painfully underlined by Iago Aspas's already infamous cameo appearance in the crunch clash with Chelsea during the title run-in.
There is also a third less likely but far more intriguing scenario: that Balotelli could stay in Italy. In recent days, it has emerged that Juventus are monitoring his situation closely. The Serie A champions took a calculated risk on another City misfit last season, Carlos Tevez, and it paid off spectacularly. They are tempted to do likewise with Balotelli, particularly as Mirko Vucinic, Sebastian Giovinco, Fabio Quagliarella and loanee Pablo Osvaldo have all been deemed surplus to requirements.
Of course, whether Milan will actually allow the one and only superstar within their ranks leave is still unclear. Raiola claims that Galliani has already assured him that the player will not be sold this summer. However, things change and money talks. Particularly when it comes to Milan, who are in dire need of funds to overhaul their squad. As even Raiola admitted, "from here to August 31 we'll hear many rumours on his future."
As ever with Balotelli, it seems that the only certainty is constant uncertainty.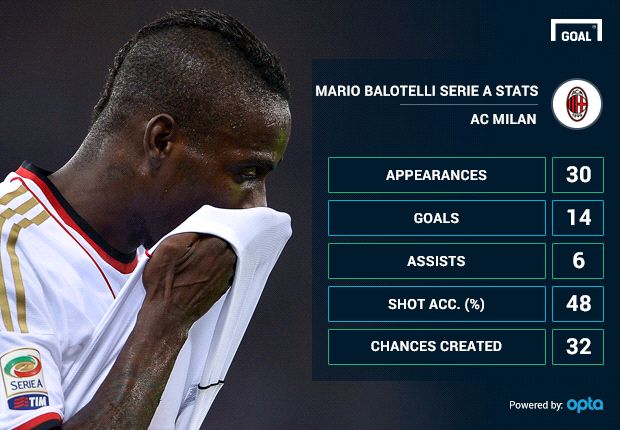 Follow Mark Doyle on