It has been a year packed with tension, drama and no shortage of controversy – Goal looks back at the words of wisdom that made headlines across the football world

By Mark Doyle
The turn of the year is always an ideal time to reflect on what's gone before, so Goal has decided to take advantage of this most opportune occasion by trawling through the most memorable quotes of 2014.
Some are amusing, some are touching, some are controversial, while some are downright bizarre. All of them, though, made headlines around the footballing world. So, sit back and enjoy, and be sure to let us know if we've missed any crackers in the space provided at the foot of the page …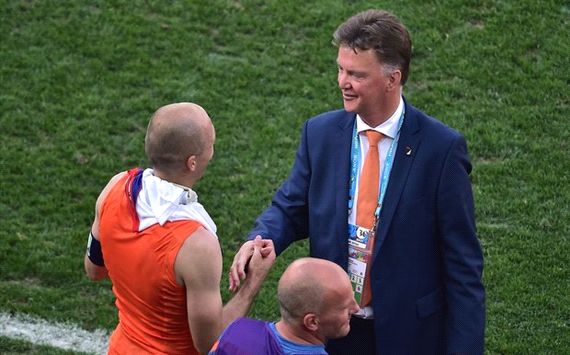 "Maybe Louis does have a golden willy."
– Arjen Robben comments on the bizarre rumours regarding the key to Louis van Gaal's success as Netherlands coach.
"It's nothing but masturbation for conditioning coaches."
– Andrea Pirlo dismisses the importance of pre-match warm-ups with typical creativity.
"One day we won't have the World Cup, we will have inter-planetary contests."
– Say what you will about Fifa president Sepp Blatter but he is nothing if not an ideas man.
"Action replays in a match situation isn't real football. We all dream of seeing Monica Bellucci naked, but don't want to see her x-rays."
– Italian Referees' Association (AIA) president Marcello Nicchi argues that it is possible to get too close to the action. Or that some things are better left to the imagination. We're not quite sure.
"A stadium without fans in the curva is like a woman without breasts."
– Sampdoria boss Sinisa Mihajlovic argues against closing stands as a punishment for crowd trouble, in his own inimitable fashion.
"If we beat Costa Rica I want a kiss – obviously on the cheek – from the UK Queen."
– Unfortunately, Mario Balotelli was unable to inspire Italy to a World Cup win over Los Ticos.
"As amazing as it sounds, the ball hit my moustache. It was a moustache goal."
– Brazil striker Fred reminds everyone of the old adage that 'they all count' after ending his World Cup goal drought with an unorthodox finish against Cameroon.
"I was with the national team at the time. I called Andrea Pirlo over and said: 'F**k, look who we've hired!' But now I thank God every day that we hired Porompopero!"
– Daniele De Rossi admits that he was less than impressed when he googled Rudi Garcia after the Frenchman's appointment as Roma coach and found a Youtube clip of his new boss playing guitar and singing 'Porompoper'.
"I got Robbie's mobile number and rang him. It went to his voicemail: 'Hi, it's Robbie – whazzup!' Like the Budweiser ad. I never called him back. I thought: 'I can't be f****** signing that.'"
– Former Sunderland boss Roy Keane reveals why he decided against making a bid for Robbie Savage.
"Take someone like (Parma striker) Antonio Cassano. He says he's slept with 700 women but he doesn't get picked for Italy any more. Can he really be happy? I wouldn't be."
– Pirlo reveals that he has always preferred scoring on the field to off it.
"It was like being in a barbecue. In these moments you realise what a fascinating thing a cactus is for not withering away."
– Thomas Muller marvels at the resilience of nature after Germany's win over France in the searing heat of Rio de Janeiro.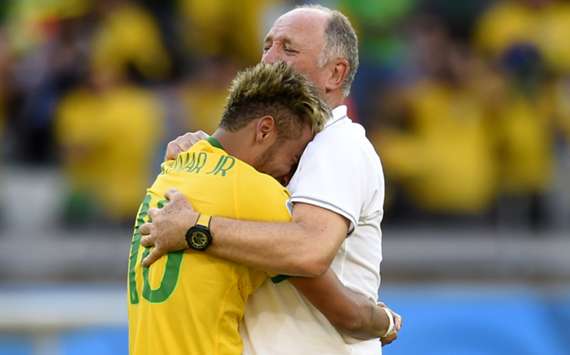 "This is the worst day of my life."
– Luis Felipe Scolari. July 8, 2014.
"At no stage has it looked like we won't go through. I knew we would score, but the impressive thing has been not conceding and it has never looked likely to happen. I don't want to jinx it, but … Oh, you're f***ing joking! F***! Don't f***ing do this! How unfair, man! Mother of God!"
– Former Valencia ace David Albelda is left in a state of shock after Los Che are denied a place in the Europa League final by a last-minute strike from Sevilla.
"Everything is s*** because we lost."
– Ronald Koeman offers a wonderfully blunt appraisal of Southampton's situation after an unlucky 2-1 loss to Manchester United.
"You can't go to a three-star restaurant with €10 in your wallet."
– Antonio Conte takes a not-so-subtle dig at Juventus over the size of his summer transfer kitty shortly before parting company with the Italian club by mutual consent.
"The best news today is that football is over for 2014. Any criticism that we receive now is justified. We are standing here like complete idiots and it's completely our own fault."
– Coach Jurgen Klopp calls it like he sees it as Borussia Dortmund end the year inside the Bundesliga relegation zone.
"It's a breach of human rights that a player cannot go into a stadium where there are 80,000 people or into a hotel with his team-mates, that he cannot work for four months, he has committed a crime, but this is barbarity. Not even a criminal would receive this penalty."
– Uruguay captain Diego Lugano was more than a little bit upset by Luis Suarez's suspension for biting Giorgio Chiellini.

"It's probably been the worst three months of my life."
– Steve Gerrard opens his heart after leading England to an embarrassing first-round exit at Brazil 2014 just over a month after Liverpool blew the chance to win a first Premier League title in 24 years.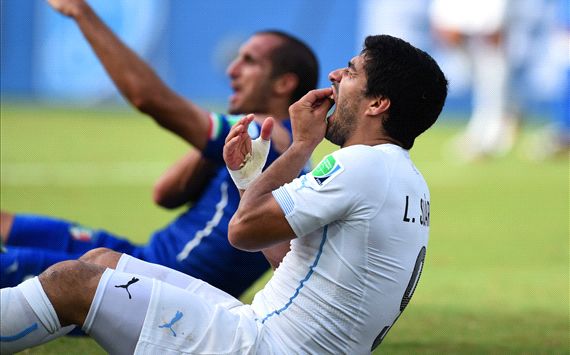 "I lost my balance, making my body unstable and falling on top of my opponent. At that moment I hit my face against the player leaving a small bruise on my cheek and a strong pain in my teeth."
– Luis Suarez proves himself as creative and inventive off the field as he is on it, after being accused of biting Chiellini during Italy's World Cup win over Uruguay.
"The worst of everything is the attitude of Chiellini. He's a great player, with an enormous status. It doesn't correspond with Italian football. A sportsmen leaving the field, crying and appealing against a rival. As a man, he disappointed me totally."
– Uruguay captain Lugano inexplicably blames Chiellini for a making a meal out of Suarez trying to make a meal out of him.
"My fellow players are sometimes occupying the spaces I want to play in. That forces me to adjust my runs, based on the position of my fellow players. Unfortunately, they're often playing in my zones. I think that's a shame."
– Manchester United striker Robin van Persie explains that his team-mates are to blame for his dismal goals return during the 2013-14 Premier League season.
"It is clear that when you are the best team in the world there is envy in some places. We at Real Madrid suffer from that and must fight against it."
– Sergio Ramos attributes his club's 4-3 Clasico loss to Barcelona to biased refereeing from jealous officials.
"The team underperformed in the second half but that was normal because it started to rain."
– Ex-Inter boss Walter Mazzarri takes excuse-making to another level after another poor performance, against Verona. Four days later he was fired.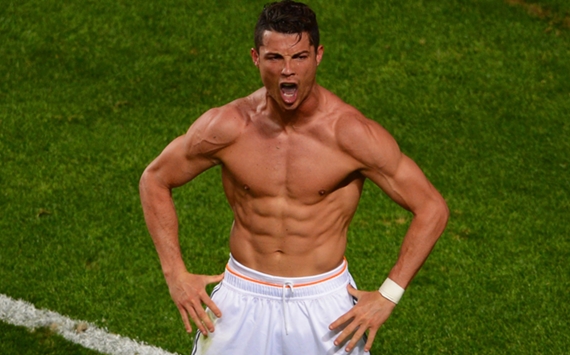 "He scored the 4-1 goal in the 120th minute of the Champions League final and celebrated like he was insane. That was the ultimate proof that he loves himself. The headlines should be about the team, not about Ronaldo… It's a sad thing that a team loses its identity because of an unbalanced captain, both for Ronaldo and for an entire generation."
– Zvonimir Boban lays into Ballon d'Or holder Cristiano Ronaldo after Portugal's first-round elimination at World Cup 2014.
"The reality is he's a specialist because eight years without a piece of silverware, that is failure."
– Mourinho takes an umpteenth swipe at old rival Arsene Wenger, who would go on to end his trophy drought with Arsenal by lifting the FA Cup.
"It could end up like the Dog & Duck against the Red Lion."
– TV pundit Gary Neville was not exactly excited by the prospect of having to watch former side Manchester United face Liverpool, in light of the two sides' underwhelming Premier League performances.
"An old jerk, arrogant, repulsive, conceited and ridiculous."
– Neymar's agent, Wagner Riberio, bids farewell to Luiz Felip Scolari after his resignation as Brazil boss.
"I am a sportsman, not a brand ambassador. I am not the sort of person who poses in underwear."
– Manuel Neuer stresses in no uncertain terms that he has nothing in common with Cristiano Ronaldo other than a Ballon d'Or nomination.
"It gave the title to Manchester City – it's as simple as that."
– Jose Mourinho unsurprisingly refuses to sugarcoat things for Steven Gerrard's benefit after being asked about the midfielder's infamous slip in Liverpool's loss at home to Chelsea in May.
"They went home from Brazil with no emotion, as if such failure is normal. Typical for losers… They just stare at smartphones, with big earphones and PlayStation in their brains. They don't even know who they represent or what they are part of."
– Boban turns his attention to England and their underperforming players, who bowed out of the World Cup at the group stage and without a victory to their name.
"I like Arsene for his principles, but principles are sort of a restriction. And restrictions are always lost possibilities."
– Arsenal shareholder Alisher Usmanov makes it obvious that he no longer has any faith in Arsene Wenger's methods.
"Icardi shouldn't have played today. He doesn't belong to the football family!"
– Diego Maradona expresses his outrage at Inter striker and love-rat Mauro Icardi being invited to partake in a friendly game arranged to promote world peace.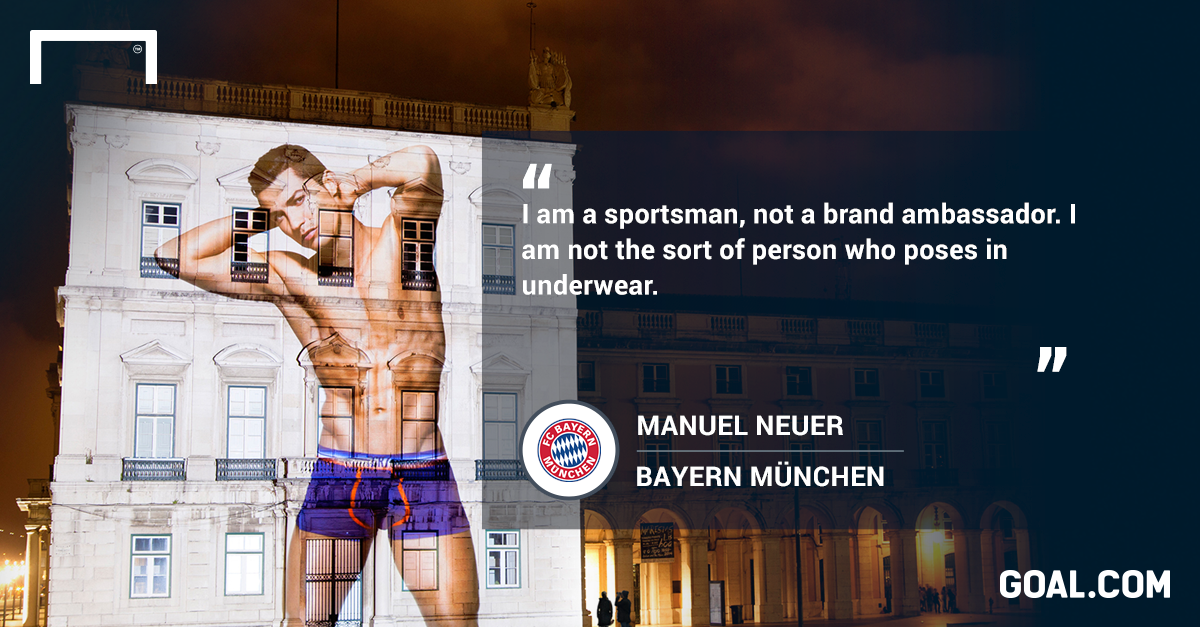 "It was like something out of Swan Lake – it's that blatant."
– Hull boss Steve Bruce was astounded by the fact that Gary Cahill escaped a second yellow card for his theatrics in a 2-0 loss to Chelsea.
"If one day I go to a game and I don't feel I can win, maybe I don't go."

– Mourinho aims another verbal volley in the direction of Anfield, this time mocking Liverpool boss Brendan Rodgers for controversially fielding a weakened team for a Champions League clash with Real Madrid.
"He's worse than Dracula because at least Dracula comes out of his coffin now and then. He seems to stay on his line and that's it."
– Former Liverpool goalkeeper Bruce Grobbelaar addresses Simon Mignolet's alleged fear of crosses.
"You can win the Champions League in the worst season."
– Mourinho undermines Roberto Di Matteo's 2012 European Cup triumph with the Blues ahead of a meeting with the Italian's current club, Schalke.
"Rooney looks a bit chubby."
– Norway defender Vegard Forren is less than impressed by the physical condition of England's captain.
"He cannot play football. I'm serious: he cannot play football."
– The one and only Boban launches a stinging attack on the limited footballing ability of Manchester United's Marouane Fellaini.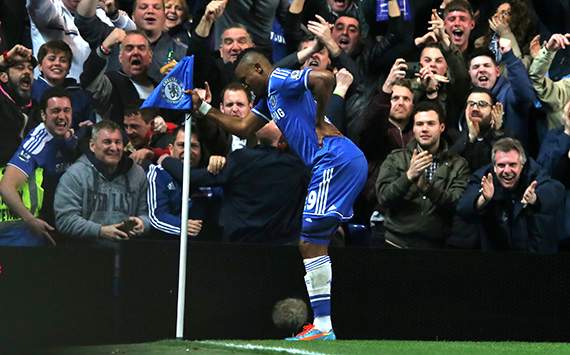 "I'm Samuel Eto'o. I really don't care."
– Former Chelsea striker Samuel Eto'o shrugs off Jose Mourinho's comments about his age before then demonstrating a fantastic sense of humour by celebrating a goal at Stamford Bridge like an old man.
"You don't understand anything about football. Trust me, you really don't."
– Mario Balotelli loses it on Italian TV after being criticised by Sky Sport Italia pundits for a poor performance in AC Milan's loss at Roma.
"I couldn't give a s***! He just can't take it. Good old Jose, moaning again."
– Sam Allardyce savours Mourinho's enraged reaction to the "19th century" football West Ham employed in securing a draw at Chelsea.
"Sergio Ramos is a fantastic football player, but he is not a doctor."
– Chelsea boss Mourinho defends Diego Costa and Cesc Fabregas against insinuations that they pulled out of a Spain squad with phantom injuries.
"We would not judge a city like Newcastle on the basis of MTV's 'Geordie Shore': we do not think all of that city's inhabitants are rude, gym-addicted and sociopathic. It is a shame to see The Guardian did not afford Napoli the same courtesy."
– Napoli director of communications Nicola Lombardo issues a fantastic response to an English newspaper's use of some lazy and offensive Mafia-related cliches in a story about the Italian city.
"Pirlo is that good he meant to hit the crossbar."
– Thierry Henry pays tribute to the infallible Andrea Pirlo, after the midfielder strikes the woodwork with a swerving free-kick in Italy's World Cup clash with England.
"I would like to congratulate the mothers of these players because they have big cojones."."
– It's fair to say that Atletico Madrid coach Diego Simeone was pleased with the belief and resilience his troops showed in their Champions League win over Chelsea at Stamford Bridge.
"Messi would be the best player in the world – if he were human."
– Carlos Queiroz salutes the otherworldly Lionel Messi after the No.10 earns Argentina a 1-0 victory over Iran with a sensational last-minute strike.
"Guardiola is crazy about football. You can call him at three in the morning to discuss tactics with him."
– Arjen Robben reveals just how committed Bayern Munich boss Pep Guardiola is to his job.
"I don't know if he is the best player of all time, but he's the best right now. With him, and the stats are showing it, you start the game at 1-0."

– Real Madrid boss Carlo Ancelotti expresses his gratitude for star forward Cristiano Ronaldo, scorer of a frankly ridiculous 25 goals in 14 Liga games.
"Compared to Sven Bender, Chuck Norris is a sissy."
– Borussia Dortmund sporting director pays defender Sven Bender the ultimate compliment.
"At the start of the season, Zlatan asked me about the goals I scored during my Valenciennes loan. I told him I scored two goals in 21 games. And he then replied: 'Pff, you think that's good? Bahebeck: two goals, 21 games. Zlatan: two games, 21 goals.'"
– Paris Saint-Germain youngster Jean-Christophe Bahebeck enhances Zlatan Ibrahimovic's reputation as the most amusingly conceited character in football today.
"Thank you, but to finish second is like finishing last. On that list I would have been number 1, 2, 3, 4 and 5, with due respect to the others."
– Ibrahimovic expresses his 'gratitude' after coming second to tennis legend Bjorn Borg in a vote for the top 150 Swedes.
"I do not look to beat records. This happens naturally."
– Cristiano Ronaldo responds with his characteristic lack of humility to yet another history-making goal.
"If you go and sit with Van Gaal, you'll come out thinking, 'I'm 12 years old.' He will speak to you as if you have no clue."
– Rene Meulensteen freely admits that he is no fan of Louis van Gaal's people skills.
"I taught Romero how to stop penalties, so that hurts."
– Even in defeat, Van Gaal still manages to big himself up, with the Dutchman reminding everyone after Sergio Romero's heroics in Argentina's shootout success against Netherlands that he coached the goalkeeper at AZ.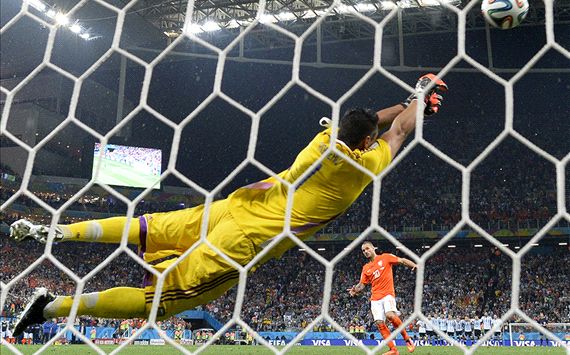 "Today. Today you become a hero."
– Javier Mascherano's words to Sergio Romero before Argentina's World Cup semi-final shootout with Netherlands. The goalkeeper saved two spot-kicks as the Albiceleste triumphed 4-2 on penalties.
"It was Tottenham at home. I thought, 'Please don't go on about Tottenham, we all know what Tottenham are about: they are nice and tidy but we'll f**king do them.' Alex came in and said: 'Lads, it's only Tottenham.' And that was it! Brilliant!"
– Whatever his issues with Alex Ferguson, Roy Keane retains the utmost respect for the former Manchester United manager's ingenious team talks.
"Go out and show the world that you are better than Messi!"
– Joachim Low reveals what he told Mario Gotze before sending the attacker on to win the World Cup for Germany.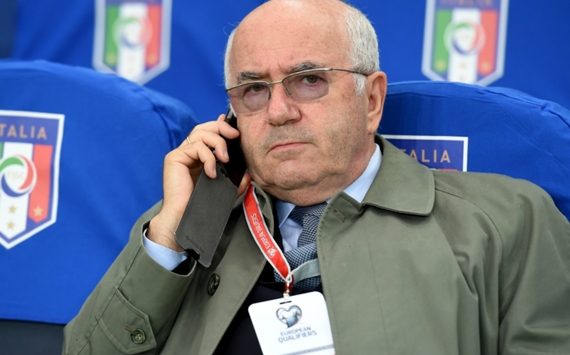 "In England, the non-European Union players have to prove they're worthy of playing in the Premier League. Here, in Italy, we have 'Opti Poba', who was eating bananas yesterday but is now a regular at Lazio."
– Claudio Tavecchio shames the game with his horribly offensive views on foreign players in Serie A. Depressingly, the 71-year-old was still elected as the new president of the Italian Football Federation (FIGC).
"When the national team get a bad result, they start to say there is a little bit too many black people, Muslim people and this kind of stuff. I don't like it. There is no point for me to play for this kind of country."
– Benoit Assou-Ekotto holds nothing back in explaining why he opted to represent Cameroon at international level rather than France.
"I have never seen a slave in Qatar."
– Franz Beckenbauer momentarily pulls his head out of the sand to offer his opinion on reports of slave labour within the nation chosen to host the 2022 World Cup.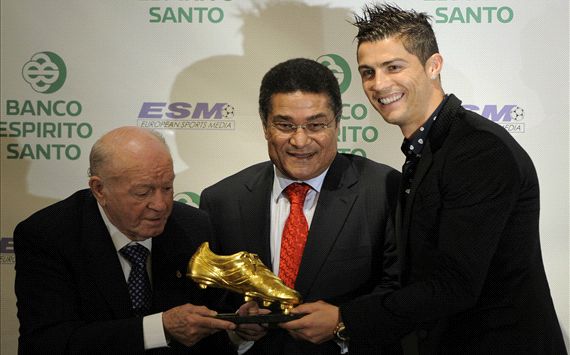 "Don Alfredo leaves us, but his memory will last forever in our hearts. Legends never die. Thanks for everything Maestro."

– Cristiano Ronaldo pays tribute to the immortal Alfredo Di Stefano.
"Di Stefano was the most important player in the history of Real Madrid and the best footballer of all time."
– Blancos president Florentino Perez gives thanks to a true legend of the game.
"The fact he was standing there clapping before running away is a mark of the man."
– Former Manchester United goalkeeper Alex Stepney recalls the fact that Eusebio applauded him for making a crucial save from the Benfica legend in the dying seconds of normal time in the 1968 European Cup final, pointing out that Portuguese was not only a great footballer but also a wonderful sportsman.
"We were opponents and companions in football. The last time I remember meeting we were filming an advert together in England. When we finished up we were asking each other what the future had in store for us … We were very close. He is among the best friends I have ever had."
– The last word on Eusebio's passing goes to Di Stefano. Friends and legends forever.