With the close of the 2014 summer transfer window approaching fast and Liverpool still struggling to sign a world-class striker, then manager Brendan Rodgers went to Steven Gerrard and told his captain that desperate times called for desperate measures.
"You know we've missed out on a couple of signings, so I'm basically left with no option but to have a bit of a gamble," the Northern Irishman stated, before taking a long pause. "The gamble is Mario Balotelli.
Gerrard's immediate reaction? "Uh-oh!"
"I could see that, in the right mood, he was a quality footballer," the former Reds midfielder later explained. "But the rest of his career seemed like a spectacular waste of talent."
Until now perhaps. 
[embedded content]
At 27, Balotelli seems to have finally grown up and, as a result, he is in the best form of his career. 
The Italian striker has scored 18 times in just 24 outings in all competitions this season, taking his overall tally since joining Nice from Liverpool in 2015 to 35 goals – more than he has netted for any of his previous clubs. 
"He is exceptional on the field," Nice chairman Jean-Pierre Rivere recently enthused. "He is changing his style of football and improving. 
"But I don't know if he'll remain with us next season, as it depends on results."
Indeed, while Rivere is adamant that Balotelli will not be sold during the January transfer window, there is every chance that football's enfant terrible will be on the move again in the summer. 
Essentially, if Nice do not manage to qualify for Europe this season – they currently sit sixth in Ligue 1, two places but 12 points off a Europa League berth – they will not be able to afford to hold on to their star striker.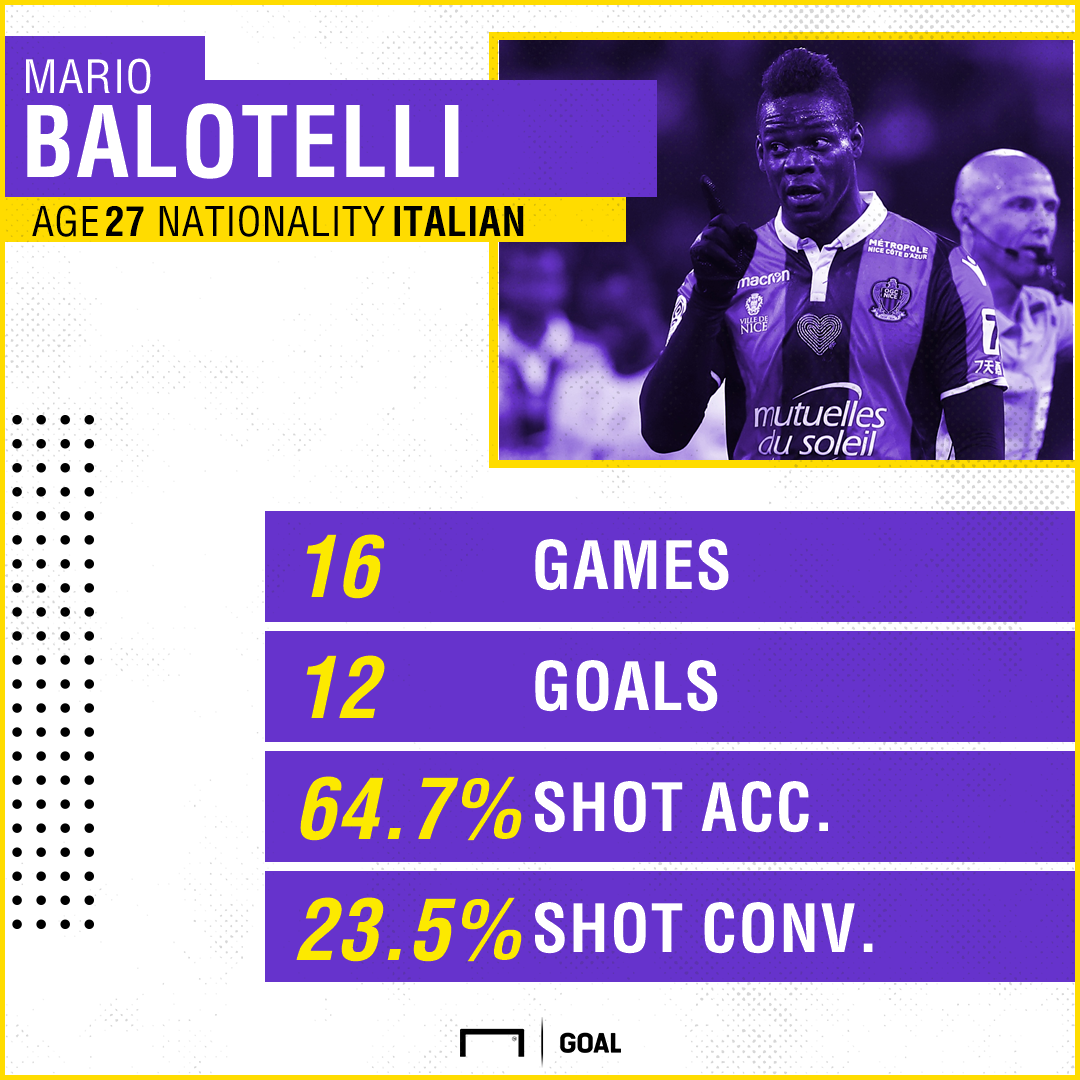 Given Balotelli's contract has just six months left to run, he is about to become one of the most intriguing free agents on the market. And he knows it too. 
"The aim is to go back to a big club," he revealed. "To win something important again. 
"I called [agent] Mino Raiola and asked: 'What am I doing in January?' He said he didn't know. I want to remain, so we'll see.
"Admittedly, I would like to get back to having a strong squad behind me. I want to play in the Champions League and win something.
"I am certainly not thinking about the end of my career yet. I am 27 years old, so I can play another six or seven years at the top level."
Because he is managed by Raiola, there has even been talk of a move to Juventus, given the renowned super-agent took Blaise Matuidi to Turin last summmer, while on-loan Cagliari attacker Moise Kean is another of his clients on the Bianconeri's books.
Goal understands that the Italian champions have yet to make any formal move to sign the former AC Milan and Inter forward but there is a distinct possibility that Balotelli will be given one last chance at a top team.
There has been a noticeable improvement in his attitude and approach to the game, perhaps brought about by the birth of his second child, Lion, last year. 
Whatever the reason for the maturation, Nice boss Lucien Favre is adamant that Balotelli is a changed man.
"He has really improved in his movement," he enthused. "He's becoming more altruistic and effective. He still has a lot of work to do, but we know what that is.
"He works hard in training, he presses when he has lost the ball. It's a little step forward, but it's an important one."
Certainly, the penny seems to have dropped that trophies are far more valuable than money in football, as underlined by the fact that he recently claimed that he would be willing to play for Manchester City for free. 
Of course, there is no chance of Pep Guardiola bringing Balotelli back to the Etihad – his transformation has not been that complete – but, as he is presently proving, when he is fit and focused, one of the stars of Euro 2012 remains a force with which to be reckoned.
Signing Balotelli on a free transfer may still constitute a risk but, for the first time in years, Mario Balotelli represents a gamble well worth taking. 
Let'