Even though the Rossoneri are missing several players through injury, it is painfully obvious that their current squad is desperately short on world-class talent
COMMENT
By Mark Doyle
At the tail end of Massimiliano Allegri's press conference following Wednesday's fortuitous Champions League triumph over Celtic, attention turned to AC Milan's next opponents, Napoli. With the expensively-assembled Partenopei having just kicked off their own European campaign with a win – over last year's runners-up Borussia Dortmund, no less – the Rossoneri coach was asked if he envied Napoli counterpart Rafael Benitez.
"No, I'm not jealous of him," he insisted. "I'm happy with the group I have."
Allegri was fooling no-one. Milan's performance in their thoroughly-undeserved 2-0 defeat of Celtic had merely underlined that the Livorno native is currently in possession of one of the weakest Rossoneri squads in recent memory.
The only reason some 50,000 tickets had been sold for the visit of the Scottish champions had been the promise of seeing Kaka make his San Siro comeback. That the return of a fallen, injury-prone idol had been the sole cause for excitement says everything one needs to know about just how ordinary Milan's line-up has become.
SCRAPING THE BARREL – MILAN'S SUMMER SIGNINGS

Player
Alessandro Matri

Andrea Poli

Matias Silvestre

Luca Ghiringhelli

Kaka

F. Coppola

Valter Birsa

From
Juventus

Sampdoria

Inter

Novara

Real Madrid

Torino

Genoa

Fee
€12m

€3m

€1m Loan

Undisclosed

Free

Free

Free
In truth, the Rossoneri fielded just two world-class players on Wednesday night: Mario Balotelli and Nigel de Jong.
Of course, much was made of the fact that the hosts were without eight players through injury: Kaka (inevitably), Riccardo Montolivo, Stephan El Shaarawy, Ignazio Abate, Daniele Bonera, Mattia de Sciglio, Giampaolo Pazzini and Matias Silvestre all missed the encounter.
However, of that octet, only Abate and De Sciglio could currently be considered of true 'Milan class' (though El Shaarawy is undeniably a player of great potential). We are, after all, talking about one of the great names in world football here; the club that produced one of the finest sides in history to win back-to-back European titles in 1989 and 1990.
Ruud Gullit was, of course, one of the key components in that stellar line-up, so it was telling to see him wistfully lamenting the state of the current Milan side after the Celtic clash. "If they had been playing against a better side, they would have been slaughtered," the Dutch legend opined.
It was difficult to disagree. Milan fielded Sulley Muntari and Antonio Nocerino either side of the impressive De Jong. The industry of both players can never be faulted, but neither man would have got anywhere near Milan sides of the past.
And one doesn't even have to go all the way back to the halcyon days of Arrigo Sacchi to underline the kind of quality that was once synonymous with the club. Just think of the more recent midfield triumvirate of Clarence Seedorf, Andrea Pirlo and Gennaro Gattuso. Not one of those players has been adequately replaced.
Up front, meanwhile, Milan moved Balotelli wide in order to accommodate Alessandro Matri, a striker that only once managed to hit double figures in three seasons with Juventus (10 in 2011-12) and yet one for whom Adriano Galliani felt the need to pay €12 million.
Given the Rossoneri's reluctance to spend big all summer, that was a staggering transfer fee, particularly when one considers that Antonio Conte paid less to replace the Italian with Carlos Tevez.
Balotelli and Matri were supported by Valter Birsa, whom one could easily have forgotten was playing had not he not repeatedly drawn attention to himself by failing to beat the first man with his corners from the right-hand side.
It was galling, then, to think that before the Celtic clash Galliani was patting himself and Genoa president Enrico Preziosi on the back for coming up with the swap deal that saw Birsa move to Milan and Luca Antonini go in the opposite direction.
"Myself and Preziosi laughed," the Rossoneri CEO revealed. "We are two magicians of the market."
A magician? More like a conjuror of cheap tricks.
Of course, Milan's failings in the transfer market could not contrast more starkly with the sound summer spending undertaken by their visitors to San Siro on Sunday evening.
Just like the Rossoneri 12 months previously, Napoli lost a talismanic striker to Paris Saint-Germain this summer. However, the major difference is that Napoli were able to reinvest the profits made from the €64m sale of Edinson Cavani, while Milan could do nothing with the money accrued from Zlatan Ibrahimovic's departure for the French capital except attempt to balance the books.
Having been given the kind of financial backing Inter denied him during his previous spell in Italy, Rafael Benitez has assembled a squad of impressive depth and dynamism, as so wonderfully underlined in their stirring 2-1 defeat of Dortmund.
And that triumph, remember, came on the back of three successive victories in Serie A. The message to Milan is clear: one has to speculate to accumulate.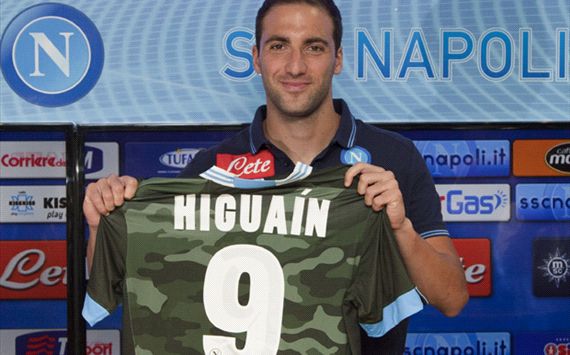 Instant Impact | Napoli have hit the ground running after a summer in which they spent big


However, to listen to Galliani, it seems that seven-time European champions Milan are happy just to be in the Champions League these days. "Despite all the misfortunes of recent years, we have played in this competition for five consecutive years," he said earlier this week.
There's an element of truth there, but the triumph of 2007 looks nothing more than a distant memory now, and of the two Italian sides in action on Wednesday night only one looked capable of going all the way this year – and it was not the one that spent approximately €16 million on players this summer.
It is painfully obvious that Galliani and owner Silvio Berlusconi need to have a serious think about the direction in which Milan are currently heading. And with Inter now on the verge of a potentially lucrative takeover, pretty soon the Rossoneri will be turning their envious glances at Napoli towards something much closer to home.