The Italy international failed to deliver for the Rossoneri against Atletico Madrid in midweek but the statistics underline that nobody should have been in the least bit surprised
COMMENT
By Mark Doyle
At an Italian Football Federation press conference on Thursday, the conversation, as it so often does, turned to Mario Balotelli's state of mind. FIGC president Giancarlo Abete was asked if the AC Milan striker's anonymity in Tuesday's Champions League defeat at Atletico Madrid was further evidence of the forward's much questioned mental maturity.
"I do not think that at this moment the problem is related to his attitude … the problem is related to the expectation of a greater contribution in terms of his ability to affect the game."
The implication was clear: Balotelli is buckling under the pressure.
Of course, it may seem ludicrous to question the big-game temperament of a player who struck two goals for Italy in an upset win over Germany in the semi-finals of Euro 2012, particularly one who has so often converted penalties with the nonchalance of someone enjoying a kick-about with friends in the park.
However, 'Super Mario' no longer seems so super, particularly against the top teams. Indeed, it is worth noting that Balotelli has notched just once in his 12 appearances to date for Milan against what could be construed as top-level opposition, namely the top five sides in Serie A (Juventus, Roma, Napoli, Inter and Fiorentina) and the Rossoneri's seemingly perennial Champions League foes, Barcelona.
Balotelli arrived at Milanello to much fanfare last January. Given he had previously lined out for the Rossoneri's city rivals, Inter, it felt only fitting that his first major outing the following month would be in the Derby della Madonnina. Unsurprisingly, much of the build-up focused on the former Nerazzurri starlet. There was a feeling that he was destined to score. However, try as he might, he just could not find a way past an inspired Samir Handanovic as Milan were held to a 1-1 draw.
Balotelli cut an even more frustrated figure in February's crucial clash with fellow Champions League chasers Fiorentina. Just as in the Milan derby, the only lasting mark the striker made on the game was a booking, this time for a poor challenge on Facundo Roncaglia.
Balotelli then made it a hat-trick of yellow cards in the May meeting with Roma at San Siro, though he would at least alleviate some of his frustration by netting a penalty in the following week's 2-1 win at Siena, a triumph that saw Milan pip Fiorentina to third place.
However, against top opposition this season, Balotelli cannot even be relied on to do what was once taken for granted, namely the ridiculously cool conversion of spot-kicks. Indeed, the enigmatic attacker missed a penalty for the first time in his career as Milan were beaten at home by Napoli for the first time in 27 years. Balotelli managed to beat Jose Reina in open play right at the death but there was no masking the forward's frustration and he was almost inevitably dismissed for dissent after the full-time whistle.
He has not been sent off in his eight subsequent outings against quality sides but he has collected bookings in half of those games, underlining that his mood has hardly improved in the interim, which is hardly surprising, of course, given that that consolation goal against Napoli remains his only strike against a top side since joining Milan.
In his defence, his contribution to October's 1-1 draw with Barcelona at San Siro was hindered by a thigh problem that restricted him to a cameo appearance. However, it was telling that he also started on the bench for the return clash at Camp Nou in November, Massimiliano Allegri's decision having no doubt been influenced by a wretched performance against Fiorentina four days previously in which he was lucky to have escaped with just a caution for a ludicrous challenge on Neto.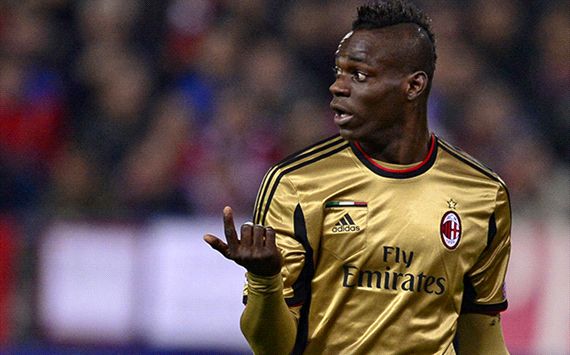 Why never me? | Balotelli has repeatedly failed to deliver in Milan's most important fixtures
Balotelli picked up another booking, as well as squandering a match-winning opportunity, in the 2-2 draw with Roma on December 16 and he saw yellow again as he once more failed to prove Inter were wrong to sell him during another dismal display against his former club just before Christmas.
And then came the breakdown at the San Paolo in February … Substituted after 73 minutes, shortly after missing a great chance to level the game, tears began streaming down Balotelli's face. He had learned that week that he was the father of his ex-girlfriend's daughter, Pia, and it was hard not to escape the conclusion that Balotelli at breaking point, with the Gazzetta dello Sport summing up the mood of nation with the headline: "Are we losing Mario?"
It now seems that Balotelli, after taking the first step on the road to superstardom on that famous night in Warsaw, has already lost his way. Worryingly, after a second successive subdued showing against Atletico Madrid on Tuesday night, it was reported that Balotelli's team-mates were upset by his attitude before and after the game. It seems as if they are now wondering if they can never rely on Balotelli to step up when they need him most, do they really need him at all?
Follow Mark Doyle on