The former Manchester City star endured a miserable weekend as he was sent off for uttering a colloquialism he picked up during his time in England
There can be little doubt that this has been Mario Balotelli's most testing week since moving to France last August.
While his Nice side enjoyed an almost perfect weekend – they beat Lorient 1-0 while both Monaco and Paris Saint-Germain spilled points – it was little short of a nightmare for the Italian.
They were leading 1-0 when he was dismissed after an innocuous challenge with Lorient defender Zargo Toure. The Italian, though, was not sent off for his part in that fracas, but his reaction towards referee Tony Chapron.
"He insulted me in English. I will not say any more, but it was a classic phrase," the match official told the media after the game. At least his time in the Premier League seems to have been useful for something.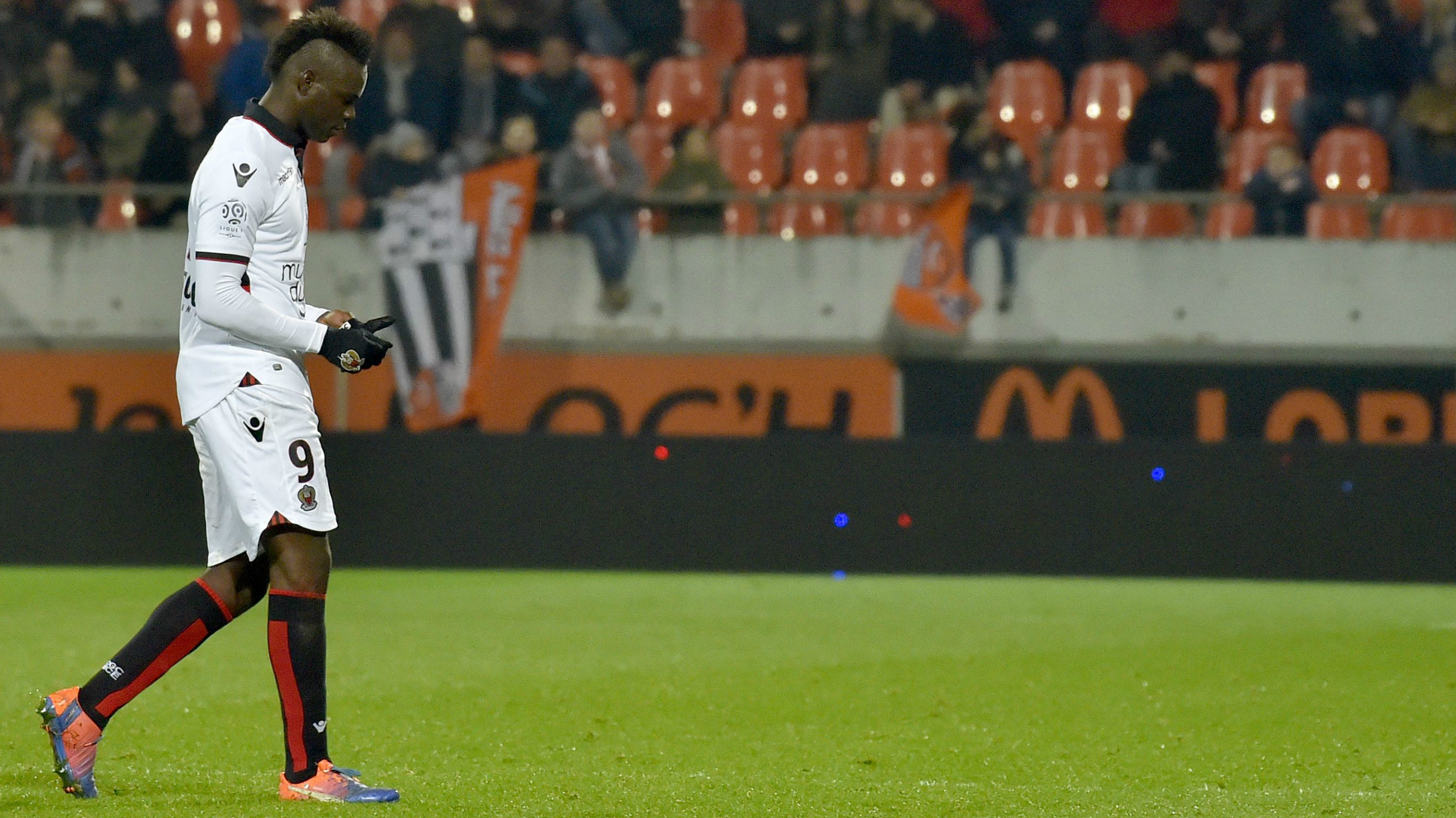 Nice coach Lucien Favre fumed after the game: "Did he pay for his reputation? Do you think that it was only a red because it was Balotelli? That's ridiculous! The referees are perfectly impartial. If they have to send someone off, they do it, if they don't, they will not."
While it seems the forward's reputation is plummenting in the eyes of his coach, who is already without leading attacker Alassane Plea due to injury, the striker did at least gain some support from goalkeeper Yoan Cardinale after the match, though quite how the shot-stopper can be sure of what his team-mate said from such a distance is anyone's guess.
"He didn't say anything great," the Nice No.1 insisted. "Maybe the referee wanted to make him pay. Sometimes they give out cards for nothing."
Cardinale had previously offered the Italy international forward support on Friday, suggesting that he had responded well to the punishment of being dropped, though judging by the attacker's lacklustre display, that may not be the case.
Now Balotelli will be forced to watch on from the stands next weekend against Montpellier as Nice aim to keep up the pressure on Monaco. The irony of the whole situation is that Balotelli's week started on Monday with him posting on Instagram with the slogan "be focussed" – something he totally failed to achieve when given his chance to shine.
Be focused. Be #ForeverFaster. @PUMA

A post shared by Mario Balotelli (@mb459) on
Faced with the prospect of sitting at least one game out, Balotelli will have more time on his hands, which is good news for fans of his social media accounts.
He will have more opportunities to engage with his supporters via posts such as this one, in which some character is kicking a football with a gun in hand.
He's clearly not someone that Mario would like to come across on the field. "When you play against top players defenders .. tag some," he invites fans. Having tagged the likes of Marco Materazzi, Dante, Mamadou Sakho and Vincent Kompany in his post, he clearly feels they offer a unique challenge.
When you play against top players defenders .. tag some.. @iomatrix23 @dantebahia @philippemex5 @zapatacristian @vincentkompany @mamadousakho3

A post shared by Mario Balotelli (@mb459) on
Such posts are not, however, the best for a role model, and good friend Anthony Uberti will want the striker to be on his best behaviour around his new-born baby.
Balotelli offered his congratulations to his mate via an Instagram post that read: "Welcome Stella… And welcome to Anthony Uberti to the world of fatherhood – FINALLY! I hope you can really live with it."
Benvenuta Stella.. @antonyuberti e tu benvenuto nel mondo dei #padri , FINALMENTE Spero tu possa vivertela davvero.

A post shared by Mario Balotelli(@mb459) on
So it's not all been bad, even if Super Mario's World will now include an uphill battle to get back in the Nice team.