The Italy striker returned to Ligue 1 action against PSG on Sunday after revealing that he could return to the Premier League and that he is still targeting a Ballon d'Or
For Italy international striker Mario Balotelli, the last week was about the build up to Ligue 1's top-of-the-table match between Paris Saint-Germain and Nice.
A calf injury had prevented him from playing for the best part of a month, which might have seen Lucien Favre's side move an astonishing seven points clear of the defending champions in the race for the French crown.
Despite the importance of the fixture, Balotelli spent the beginning of the week playing down the game. "Paris Saint-Germain, Toulouse, Lyon… for me, it's not the name that counts," he is quoted as saying by the official Nice website.
"I don't think of things in terms of big matches or small matches. I just want to win every one.
"I'm fit. Playing on Sunday is up to the manager, of course."
Ladies & Gentlemen, @FinallyMario is back. #OGCNKRD pic.twitter.com/94kpFb6pXa

— OGC Nice (@ogcnice) December 8, 2016
Balotelli was indeed back and he made his return four days earlier than expected as he turned out for an almost completely reserve Nice side against Kuban Krasnodar in the Europa League.
Already eliminated, the Cote d'Azur side won 2-1 but there was a serious cloud to their silver lining as Balotelli was forced off after 45 minutes as a precaution due to tightness in his previously injured muscle.
While there was never any real doubt about his availability for Sunday's match, the focus towards the end of the week switched to transfer talk as the January window approaches.
Balotelli admitted that a Premier League return is not impossible and, while he certainly won't be returning to Liverpool, he is not without a preference.
"If I go back to England, for sure it won't be Liverpool," Balotelli told Chinese publication Xinhua. "I found that I performed very badly in Liverpool. I said the team was good and the fans are amazing but I would never go back there.
"The first one I think in England is Manchester City and the second team I always like is Arsenal. That doesn't mean I'll go to play there. I just like them."
Staying in France beyond the end of his contract, which expires next June, is a possibility, Nice president Jean-Pierre Rivere said – but he confessed that it is "really very small".
"You know what the situation is when you make deals for a season, as was the case with Hatem Ben Arfa," he told Telefoot.
"People say: 'Ah, but you did not keep them and did not recover any money in a transfer,' but it is all positive and money is recovered indirectly."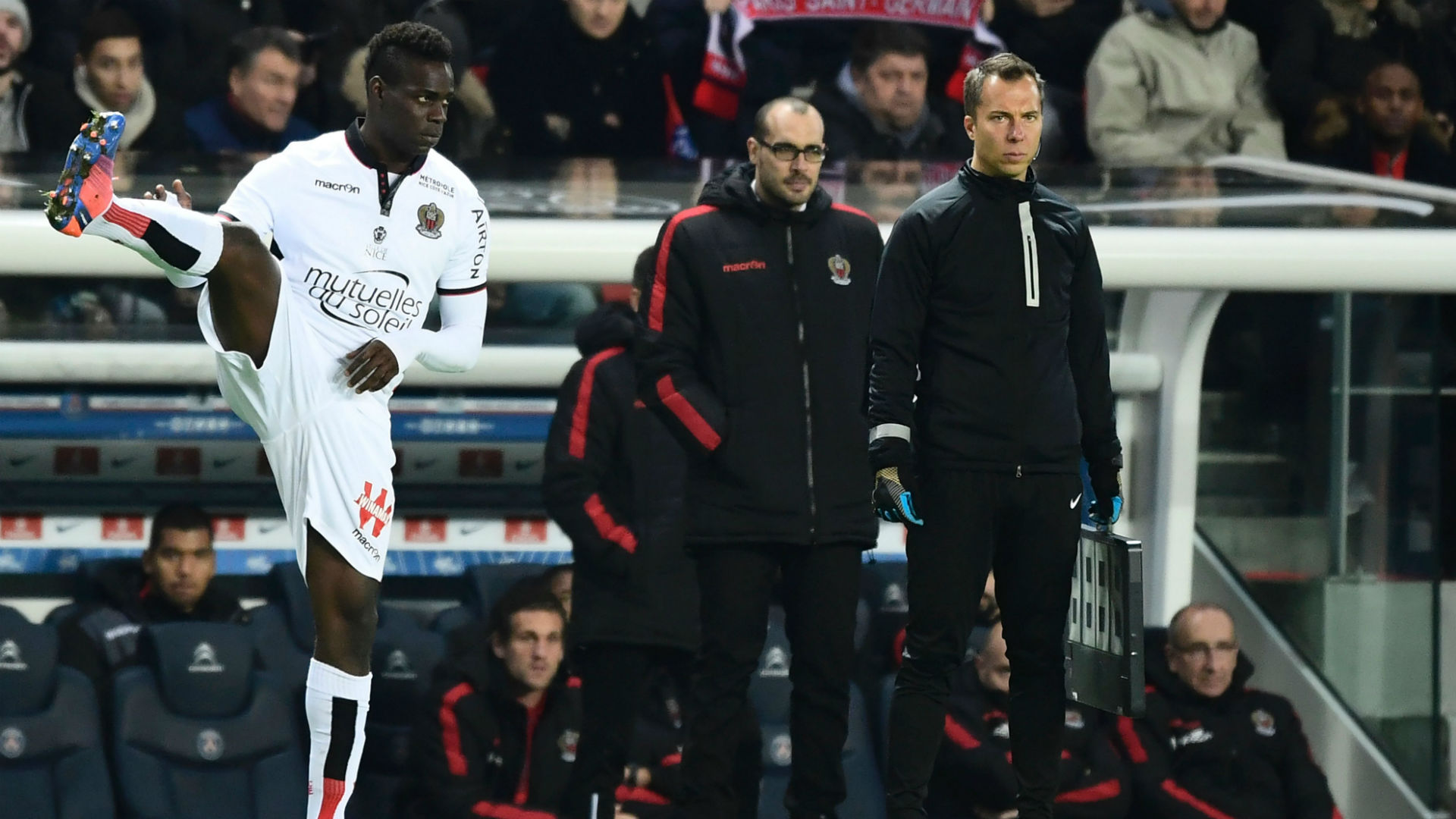 Balotelli is certainly not about to talk down his talents and reaffirmed that he is still aiming to win the Ballon d'Or – although obviously not this year.
"Ronaldo and Messi are at this moment the best and nobody's like them. Impossible," the 26-year-old told Xinhua.
"But if I had a good year, without injury, I think it's not impossible to win the Ballon d'Or."
So what is needed for the Italy international to climb to such heights? Simply staying fit.
"When I was feeling good, I played and I kept scoring," Balotelli continued. "I had just some injuries in the past, which weren't a big deal. The problem was they kept coming. So when I feel good, I score."
He underlined his point on Instagram by posting a clip from the film 'The Pursuit of Happiness', which may well have been targeted towards his team-mates ahead of their big weekend match.
•PERIOD•

A video posted by Mario Balotelli