Xherdan Shaqiri's enigmatic talents mean he could flop for Liverpool like Mario Balotelli, admits Phil Thompson, but there is also a chance he could star in the Sadio Mane mould.
The Reds have not taken much of a financial hit in acquiring the Swiss star, with £13 million ($17m) all that was required to trigger a release clause in the contract of a player relegated with Stoke in 2017-18.
Jurgen Klopp made that move in order to add greater depth to his squad, as first-team attacking berths are already sewn up at Anfield when everybody is fit.
Shaqiri could prove to be a useful option, with his creative ability without question, but Balotelli's ill-fated spell on Merseyside offers a timely reminder of how transfer gambles can backfire.
Former Reds skipper Thompson told Sky Sports of an inconsistent 26-year-old addition: "He's a player, as we know, who is maybe not a workaholic at the moment like Klopp would like.
"But my goodness he's got an assist, he's got a goal, set plays.
"So that's the great thing Jurgen has done with the transfer market. He has identified the areas which he needs to improve his squad and gone for it.
"Shaqiri, yeah maybe a few problems about him, but he's got this in his locker. Set plays, corner kicks, he delivers into dangerous areas.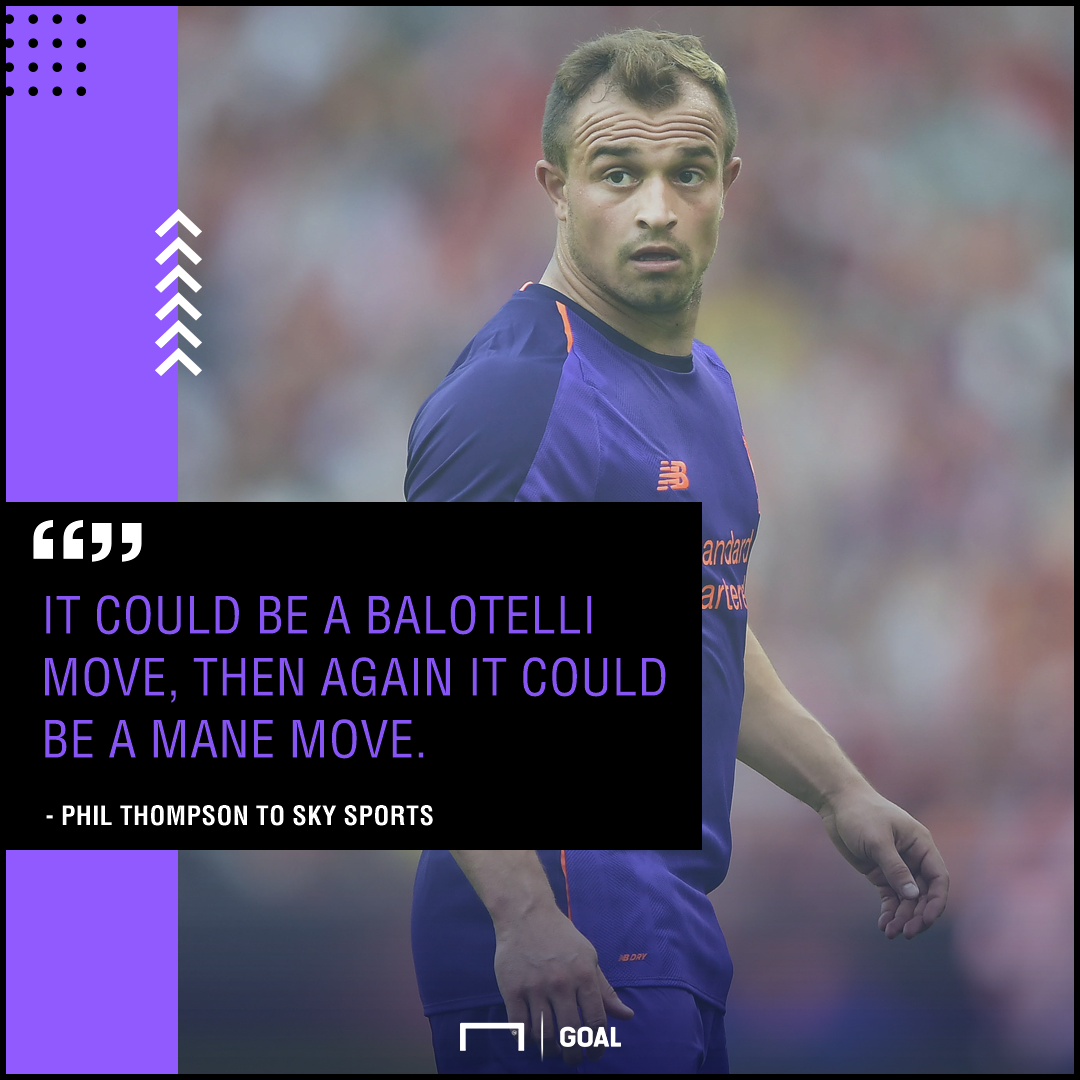 "He's going to a club now which in all intents and purposes is a bigger club than what Stoke is. I think the expectations and the demands on him will be as it should be.
"At £13m it is a snip and I hope upon hope that this goes right for the boy.
"It could be a Balotelli move, then again it could be a Mane move and that is the thing. He's got to learn and that is the only thing, this high-pressure game that Jurgen demands from everybody.
"Everybody has to fit in and Shaqiri has to bring that to the table."
Shaqiri made 92 appearances across three seasons for Stoke, netting 15 goals, and will be hoping to make his Liverpool bow in a Premier League opener against West Ham on Sunday.
Let'