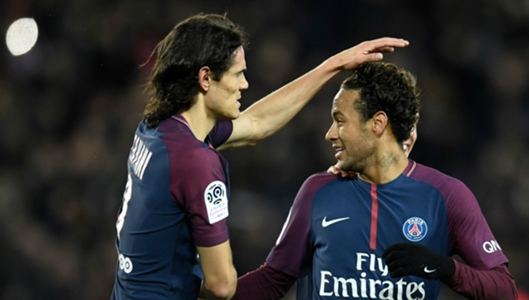 On the face of it, Paris Saint-Germain's 4-0 win over Montpellier on Saturday afternoon may not have seemed that remarkable, yet it proved to be a historic match at Parc des Princes.
Edinson Cavani and Neymar both set goalscoring milestones in the 90 minutes, the Uruguayan by netting his 157th goal for the club, taking him clear of Zlatan Ibrahimovic as the side's record marksman, and the Brazilian by scoring the 2000th goal in PSG's history in their home stadium.
Cavani was presented with a statuette to mark his record, and was clearly delighted to have received such a unique honour.
Gracias por dejarme ser parte de vuestra historia. Merci pour me laisser faire partie de votre histoire.. Thank you for letting me be part of your history. Grazie per permetermi di essere parte della vostra storia

A post shared by Edinson Cavani (@cavaniofficial21) on
Posting on Instagram, he commented: "Thank you for letting me be part of your history."
At times, Neymar and Cavani have not always got on great on the field, with their relationship dogged by the infamous 'penalty gate' incident at the start of the season. However, Neymar was quick to congratulate his team-mate on his achievement.
"Great victory today," the former Barcelona man said. "Congratulations to everyone and congratulations to Edi for his record, he keeps scoring so many goals!!"
Grande vitória hoje, parabéns a todos e parabéns Edi pelo recorde, que siga assim metendo muitos gols !! . . . @nogueirafoto

A post shared by Nj neymarjr (@neymarjr) on
Dani Alves missed the match due to suspension, yet the right-back showed off his unique dress sense on Instagram.
"Good crazy style," he said, using his favourite catchphrase.
"Good crazy style" #GoodCrazymodel

A post shared by DanialvesD2 My Twitter (@danialves) on
Things did not go according to plan for Mario Balotelli on Saturday, as his Nice side were defeated 2-1 against bottom club Metz. The Italian even missed a penalty, and while he scored the rebound, it will not be remembered as one of his finest matches.
Nevertheless, a montage put together by the Cote d'Azur club shows exactly the kind of tricks he is capable of.
#greatdayattheoffice

A post shared by Mario Balotelli (@mb459) on
The maturity levels of the forward have been praised this season, but while he is no longer setting fireworks off in his house, he is not averse to kicking a football around his lounge with friends.
#alwaysworking #innovativework #thinkquick

A post shared by Mario Balotelli (@mb459) on
Meanwhile, Rennes appeared on Twitter displaying a cut-throat approach to nights out. When the squad are dining together, each player puts a credit card into a hat, they are mixed up and the person whose card is drawn is the one who pays the bill for ALL his colleagues.
Le tirage au sort pour celui qui paye le resto >>>>>
Désolé @Sanjin_Prcicpic.twitter.com/oJCGOWk9a6
— Le Twittos du SRFC (@xsregy) January 24, 2018
Midfielder Sanjin Prcic was the unlucky man on this occasion.
Next week, PSG go to Lille on Saturday, while the headline match is Monaco against Lyon on Sunday night.
Let'