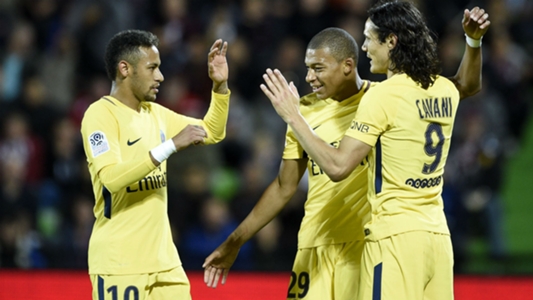 International week is always an awkward time for footballers. Often, it can mean travelling thousands of miles to play two or three games in the space of a week, perhaps even fewer.
Neymar was faced with precisely that challenge as he tackled Ecuador and Colombia with Brazil before returning to France on Friday to start a Ligue 1 fixture against Metz.
At Stade Symphorien, he joined forces with a new team-mate Kylian Mbappe. Between them, it meant that nearly €400m worth of talent was on PSG's wings, so it should have come as little shock that the capital side ran out 5-1 winners, with both of the pair getting on the scoresheet.
Off the field, they seem to be bonding well, with the Brazil ace posting a picture of the two players together on his Instagram account as the pair made their way to the game.
@k.mbappe29 #Repost @psg En route #NeymarJr #Mbappe #PSG #Football #Paris

A post shared by Nj neymarjr (@neymarjr) on
Earlier, Neymar had posted: "May God bless and protect us."
Metz fans will certainly feel PSG had a little something extra on their side as a controversial red card when the score was still poised at 1-1 tipped the balance in the guests' favour.
Que Deus nos abençoe e nos proteja

A post shared by Nj neymarjr (@neymarjr) on
Mbappe was quick to share his delight with his 3 million Instagram followers, posting a picture of himself celebrating what will surely be the first of many goals for the club.
His effort was a smart reaction shot after an attempted pass to Neymar was blocked, and the pair combined expertly throughout.
Victoire 5-1 contre Metz @psg

A post shared by Kylian Mbappé (@k.mbappe29) on
It has been a big week for the young man, who was born and brought up in the French capital.
Paris has celebrated having one of its own make such a high profile move back to the capital, with the player's image projected onto many buildings around the historic city centre. Unsurprisingly, Mbappe has shown many of these cool images on his social media accounts.
@psg

A post shared by Kylian Mbappé (@k.mbappe29) on
Without the problem of a long journey to team-up with his international squad, Mbappe has also been able to give something back to the local community with the Play Bondy project, for which he is an ambassador. "A big thank you to everyone who came out for this exceptional event," he said.
?Un grand merci à toutes les personnes qui ont fait le déplacement pour venir à cet exceptionnel événement #PlayBondy ?

A post shared by Kylian Mbappé (@k.mbappe29) on
?This pair haven't been the only ones celebrating this week, though.
Mario Balotelli has had a difficult start to the season with his Nice side, but after they thumped champions Monaco 4-0 at home for the second campaign in succession, they appear to be back on track.
The Italian was on target twice for the Cote d'Azur club and is looking forward to what's to come, paying particular tribute to teenager Ignasius Ganago, who came off the bench to score a debut goal. "This is just the start," he promised. "Well done boys. Well done Ganago!!"
@ogcnice c'est juste le début.. Bravo le gars… bravo Ganago !!

A post shared by Mario Balotelli (@mb459) on
He also posted a video of the team celebrating in the dressing room after the game, with unfortunate goalkeeper Yoan Cardinale again taking the brunt of Balotelli's joy.
The shot-stopper has often been the striker's punch bag since he arrived a year ago, and Balo seemed to be getting the better of the duel between the two on this occasion, too.
@yoancardi

A post shared by Mario Balotelli (@mb459) on
But has it just been a good week for Mario on the field? He seemed to suggest that there could soon be a new addition to his family with this post.
Loading..

A post shared by Mario Balotelli (@mb459) on
Exciting times all round, it would seem.
Let'