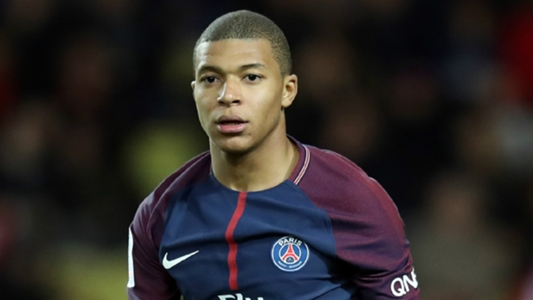 Football fans who want to see Paris Saint-Germain left-back Layvin Kurzawa play in England may be left disappointed – as the defender's mastery of the language is not what it might be.
Indeed, the France international has been ridiculed on social media this week by team-mates Kylian Mbappe and Julian Draxler because his level in the foreign tongue is basic at best.
Mbappe took to Instagram with the Germany midfielder to have a friendly dig at his team-mate. "When your team-mate doesn't know how to say 'three' in English!" he exclaimed, while holding up three fingers on each hand. In truth, it is a dig that Kurzawa seems to have taken in good spirits, and besides, he would get his own back later in the week.
Quand ton collègue ne sait pas dire 3 en anglais @kurzawa_20 @draxlerofficial

A post shared by Kylian Mbappé (@k.mbappe29) on
After Mbappe helped PSG rout Celtic 7-1 in the Champions League in midweek, he returned to Monaco on Sunday, the club where he made his name last season.
Victoire 7-1 contre le Celtic

A post shared by Kylian Mbappé (@k.mbappe29) on
Although his overall performance was of a high level generally, for once his finishing let him down as he missed four great chances to strike against his former side.
All of those were missed – and to compound the issues it was off his head that Joao Moutinho's free kick deflected to give the hosts late hope.
PSG ran out 2-1 winners in the end, but Thiago Silva admitted after the game that the Parisians were teasing Mbappe by reminding him that he does not play for Monaco any more.
His inability to put the ball in the goal will have disappointed the forward, who said prior to the match: "A game as special as it is important."
Match aussi important que spécial… @nikefootball #playfire #mercurial #asmpsg

A post shared by Kylian Mbappé (@k.mbappe29) on
If Mbappe was quiet with his fans after that encounter, which puts PSG nine points clear at the top of Ligue 1, Dani Alves, who had scored a fine goal earlier in the week against Celtic, praised the ethic of his team. "Great work and a big victory my men!" he said.
« Grand travail et grande victoire mon gars » #GoodCrazy

A post shared by DanialvesD2 My Twitter (@danialves) on
A busy week of football means that there has been little time to relax for Ligue 1's biggest stars, including Neymar.
Nevertheless, he has shown a glimpse of his home life by posting a picture of his son on a skiing trip as well as his three dogs, Poker, Truco and Flush.
My little boy

A post shared by Nj neymarjr (@neymarjr) on
Poker Truco Flush

A post shared by Nj neymarjr (@neymarjr) on
And no week would be complete without an offering from Nice striker Mario Balotelli, who found a pirate skeleton in his club's gear to pose beside.
#issanissa

A post shared by Mario Balotelli (@mb459) on
It is another busy week for France's top flight, with midweek matches again set to limit the players' time to enjoy themselves – but no doubt Kurzawa will be brushing up on his English before his next training ground test!
Let'