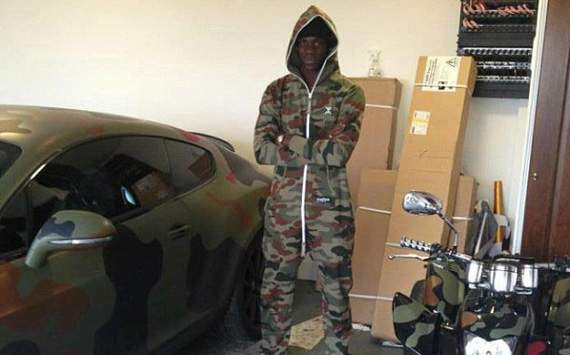 Were you wondering why Roberto Mancini has not picked Mario Balotelli regularly of late? It appears we now have the answer – he couldn't see him.
If you hadn't realised already, that is Balotelli wearing a camouflage 'onesie', surrounded by a similarly decorated car and quad bike for – we are assuming – secret missions around the rolling Manchester countryside.

The pictured was captioned with the line "i am ready for the match today", in relation to Manchester City's home game against Everton on Saturday, although Balotelli came on for a 10-minute cameo at the end of the game as Mancini's men searched for a winner in the 1-1 draw.
The photo was initially thought to be posted by the striker as a way to announce his arrival on Twitter, but City have since denied the legitimacy of the account.
The club tweeted: "Please note, Mario Balotelli does not have a Twitter account.
"All those posing as him are fake. If he joins, we will let you know!"