The ex-Man City team-mates are due to go head-to-head on Sunday, but which of the two has had the greater impact since leaving the Etihad Stadium?
DEBATE
By Stefan Coerts and Kris Voakes
Once upon a time, they were strike partners for a league-winning outfit, but on Sunday night Mario Balotelli and Carlos Tevez will be in opposite camps as AC Milan and Juventus come face to face at San Siro.
While the Italian's presence on the field is in doubt due to injury, his Argentine adversary will be looking to rub salt into Milan's wounds whether or not he comes up against his old team-mate. The Rossoneri currently sit in ninth spot in the Serie A table, 31 points behind leaders Juve.
However, it has not been all sweetness and light this season for the Bianconeri either, with their Champions League campaign ending early after claiming only one win in the group stage. Milan, on the other hand, have progressed to the knockout stage, though they trail Atletico Madrid 1-0 heading into the second leg in Spain.
And individually, the two players have not entirely different records. Balotelli has netted 14 goals in 28 games, Tevez 15 in 34. So which of the two sides got the better deal in their striker signing? Who has had the bigger effect on their club so far? And who will have the greater long-term influence?
Goal's Stefan Coerts and Kris Voakes go head-to-head over the issue …
"HE PAID HIS TRANSFER FEE BACK IN 13 GAMES"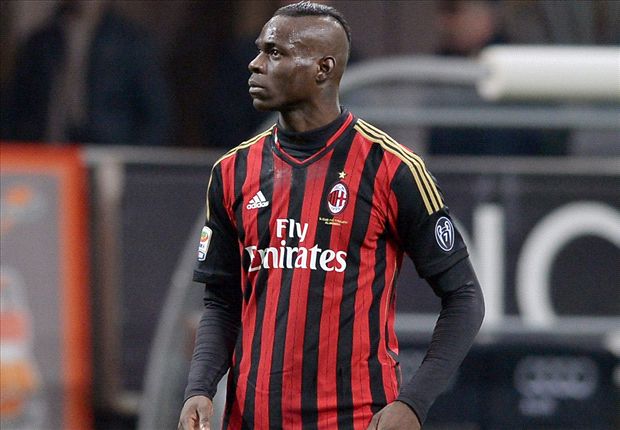 By Stefan Coerts
When Balotelli joined Milan on deadline day of the January transfer window one year ago, the Rossoneri were sitting fifth in the Serie A table, trailing third-placed Lazio by six points. Champions League qualification seemed a rather unrealistic objective after an abysmal first half of the season.
Fast-forward four months, though, and Milan had reason to celebrate as they narrowly pipped Fiorentina to Serie A's third Champions League place, largely thanks to Balotelli's brilliant performances.
With 12 goals and four assists in 13 Serie A appearances, the Italy international single-handedly guided the Rossoneri to European club football's elite competition again, thus pretty much earning back his estimated €20 million transfer fee within half a season.
Admittedly, the flamboyant attacker has been less impressive in 2013-14, but there are plenty of mitigating circumstances. Whereas Tevez at Juventus is part of a superb team that has dominated Serie A for the past two seasons, Balotelli has had to carry one of the poorest Milan sides of the past two decades on his shoulders all by himself. Even then, the 23-year-old has netted 10 goals – many of which were decisive – in 18 league games to keep his side in the race for European football.
His biggest performances arrived at the highest level, too. Unlike Tevez, who failed to do anything of note as Juventus crashed out of the Champions League in the group stages, Balotelli was decisive in Milan's qualification for the knockout stages. The striker netted a crucial equaliser in the away game against Ajax, which would eventually help the Rossoneri scrape through at the expense of the Eredivisie champions, while he played a key role in both wins over Celtic, too.
At the age of 23, Balotelli still has plenty of room for improvement and could become one of the best players in the world with the right guidance. Were Milan to cash in on him this summer, they seem destined to make a healthy profit. Were they to keep him, they have a great player to lead their attack.
Follow Stefan Coerts on

"HE'S MADE JUVE INFINITELY MORE DESTRUCTIVE"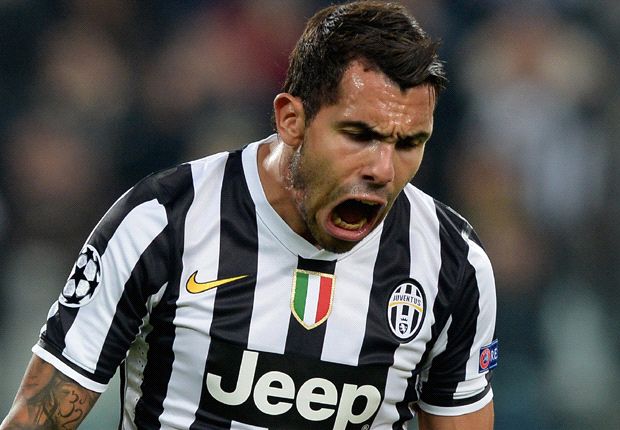 By Kris Voakes
While Juventus won the Scudetto in 2011-12 and then repeated the trick with something to spare in 2012-13, they did so without a goalscorer of serious repute. They didn't have the kind of striker who could truly make something out of nothing.
Alessandro Matri top-scored with just 10 goals in the first of their title wins, and last season Vucinic chalked up the same number to finish level with midfielder Arturo Vidal. But Tevez has changed all of that, netting 15 times to steam to the top of the Capocannoniere charts.
The Argentine has turned a team who drew far too many games over a 24-month period into one who are almost untouchable. His greater energy, power, panache and potency have ensured that the win percentage of his new club has gone up from 66 per cent between 2011 and 2013 to 84% in the current season.
Juve are now more destructive than ever before, and that is thanks in large part to Tevez.
The elephant in the room, of course, is the Bianconeri's poor form in Europe, where they slumped to a December exit after failing to win more than a single game in a group containing Real Madrid, Galatasaray and Copenhagen. However, there were many more factors behind that exit than Tevez's lack of goals.
Following Johan Wiland's Superman performance in their opening group game in Denmark, the Turin side offered nowhere near the overall threat that has become the norm under Antonio Conte. It was an all-round failure in which Tevez played only a minimal part.
While the struggles on the continent mean the Argentine has not been an all-out success, he seems a much better fit for Conte's set-up than Balotelli does at Milan. Already, one coach has bitten the dust at San Siro after failing to find a system that works around the Italy striker and the early signs under Clarence Seedorf are unconvincing. Milan are worse off now than they were pre-Balotelli, with a summer exit looking likely.
Over at the Juventus Stadium, meanwhile, Tevez is revelling in the intensity with which the Bianconeri play their football. He harries, he assists, he scores, and he makes Juve an infinitely better side than they were even in winning two Scudetti. He is much of the reason a revelatory Roma remain way off the pace.
Follow Kris Voakes on