The Italian is used to being the main man, but at Anfield the emphasis is on rotation and team-play, and his arrival threatens to throw off the Reds' attacking balance

ANALYSIS
By Ewan Roberts
Mario Balotelli may not have signed for Liverpool in time to face Manchester City on Monday night, but, as his new club heads to the scene of so many of his previous misdemeanours, he is, as is so often the case, likely to be the main talking point without ever even kicking a ball.
Television crews will be furiously scanning the Etihad crowd in search of the notorious manchild, whose on and off-pitch antics have forged both his icon status and his reputation as an atomic bomb always on the cusp of destruction. His rap sheet, not unfairly, tars him as a gamble, but it also threatens to hijack the discussion of his suitability to Liverpool, and the Italian's arrival carries just as much risk on the pitch as off it.
The Merseysiders' unexpected title charge last season was built on a frenzied, 100mph attack that interchanged and dovetailed joyously, with Brendan Rodgers unshackling his side and granting his forwards enormous freedom – Balotelli, ironically, is more used to managers trying to reign him in than letting him off the leash.
Although there is a very clear need to replace Luis Suarez in the attacking line – and some might say Liverpool have taken that particular modus operandi a little too literally by signing the equally controversial Balotelli – it is already obvious that the electrified Reds are an effervescent, dynamic attack even without the Uruguayan.
The bark may now be different, but the bite is very much the same; against Southampton, Daniel Sturridge and Raheem Sterling, the new 'SAS' attack, both netted to elevate an otherwise mediocre team performance, showing predatory instincts and clinical finishing, while a week prior they dismantled a Borussia Dortmund side who would later beat Bayern Munich in the German Supercup.
The spark, even without the presence of a so-called marquee forward (though Sturridge would disagree), still exists and in fact Liverpool have rarely struggled without Suarez, with their win percentage increasing by 14 per cent when the Uruguayan is not in the side – though admittedly their goals per game drops by 18%.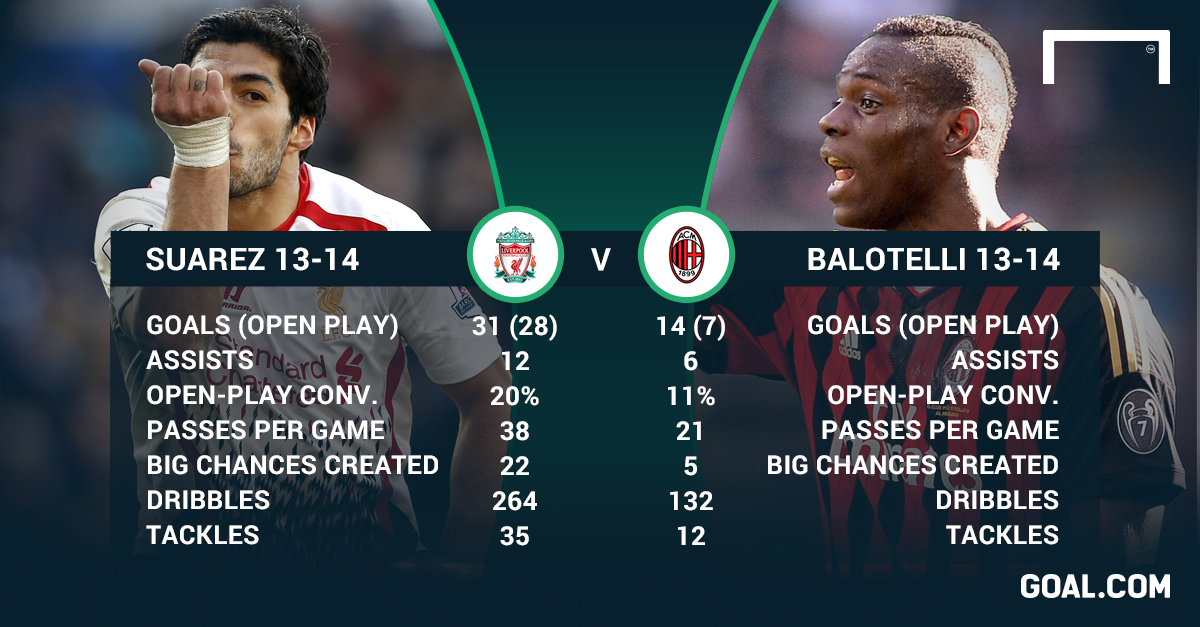 As such, Monday's game lays down an important marker: a final glimpse of Liverpool before Balotelli is introduced to the line-up; the point after which he either adds to or hampers their attacking cohesion and fluency. Given his languid, stroppy style, which is virtually the antithesis of the Reds' lightning-quick, rotating offence, initial fears are that he could be a hindrance – at least until he adapts.
Balotelli does things at his own pace, which is decidedly less intense than his new team-mates are used to and far removed from the man he has been brought in to replace. Suarez led Liverpool's off-the-ball pressing, he set the tone and tempo of their relentless waves of attacks and he always looked to get on the ball and drive the side forward.
His Italian successor is far less conscious of his responsibilities when not in possession. He is more static – a fixed point of attack rather than a cog in an interchanging unit – and more prone to drifting out of games as his frustration turns to isolation, indifference and, more notably, flashes of rage.
It is a worry, too, that Balotelli needed almost twice as many shots from open play to score as Suarez did last season. Despite having outscored every other player in Serie A since making his Milan debut in January 2013, Balotelli's strike rate is considerably more modest when penalties are removed – and it is unlikely that he will take over spot-kick duty while Steven Gerrard is still at Anfield.
Since the start of the 2012-13 season, Balotelli has netted just 13 goals from open play, with his tally heavily propped up by penalties and free-kicks. Last season he bagged just seven open-play goals, fewer than Sterling and new recruits Rickie Lambert and Adam Lallana managed.
Across the last two seasons, his conversion rate from open play stands at a meagre 8.3%, significantly less than both Suarez (20.3%) and Sturridge (24.7%). That chances-to-goal ratio would rank Balotelli 68th and last of any player who scored five or more goals from open play last season in the Premier League. It is worth adding the caveat, however, that Milan have struggled hugely in recent years and Balotelli has only been presented with a big chance every 255 minutes compared to 91 for Sturridge.
NOT SO SUPER MARIO | Balotelli attempted 13 shots against Genoa, the joint-most in any single Serie A game last season, though failed to score – the most shots taken by a player in a single Premier League match last term was 11
That could be either the cause or the result of Balotelli's astonishing number of shots from outside the box. He may have scored more times from range (six) than any other player in Serie A – and his ability to produce something out of nothing should not be undersold – but he took an astonishing 94 shots from outside the box, producing just two goals from open play.
It is hard to see how such a blinkered, largely self-serving style of play can cohabit within Liverpool's existing structure, which is so entwined with an awareness and appreciation of better-placed team-mates. Last season, for example, 79% of Sterling, Suarez and Sturridge's assists were for another member of that trio. It is a unit that meshes together and works as one, while Balotelli so often goes it alone.
Of course, he may play that way because, as pointed out by his agent Mino Raiola, he was forced to carry a dire Milan side's goalscoring burden almost singlehandedly last season, whereas he will no longer be a lone talisman at Liverpool. Yet there is a huge fear that Balotelli and specifically Sturridge cannot co-exist – and getting the best out of the latter should be a priority.
While the old SAS dynamic was a largely two-sided affair (Sturridge's back-heel assist for his old partner against Cardiff won't easily be forgotten), Suarez was always the more creative. He worked harder off the ball, he dropped deep, he played almost twice as many passes and he created an enormous amount of space for his team-mates by committing defenders. Balotelli does not, and nor does Sturridge.
It is still rare to see sides play with two strikers in the Premier League, which is largely why Liverpool scored so many goals last season, but Suarez was capable of being more than just a finisher to help counteract the shortcomings of playing two up top. Sturridge and Balotelli, though, two such like-minded players who thrive off the service of others and often contribute little beyond goals, are not.
There is little doubt that Balotelli has consistently flirted with world-class status, even if he's never been quite as titanic as he was at the 2012 European Championships, but his signing presents Rodgers with a dilemma. Liverpool's mesh of attacking venom, which swirls and swaps, could be diluted by the profligate Italian lone ranger, but equally he could bring the explosiveness and unpredictability they will miss in Suarez's absence. For better or worse, that trade-off will begin after Monday's trip to the Etihad.
Follow Ewan Roberts on