Sacked Manchester United manager Jose Mourinho is not the only boss to have failed to harness a high-profile player for the benefit of his club this season.
While Paul Pogba appears to have come out on top in the clash of personalities at Old Trafford, around 1,500 kilometres to the south east, former Arsenal midfielder Patrick Vieira has tried and failed to get a handle on the mercurial Mario Balotelli in Nice.
It has been a campaign in which nothing has gone right for the Italian, who got off on entirely on the wrong foot with his new coach in the summer when he appeared late and out-of-shape for pre-season training. 
Vieira, a former team-mate of the striker at Manchester City and Inter, was quick to pounce on the 28-year-old, who under erstwhile boss Lucien Favre had shown genuine signs of growing maturity in the two previous campaigns in which he had scored 15 and 18 Ligue 1 goals respectively, elevating him back to the level of Italy international.
But the last time he found the net was for the Azzurri against Saudi Arabia in May, and Vieira has simply had enough.
Officially injured for last weekend's 1-1 draw against Saint-Etienne, he was left out of the goalless Coupe de la Ligue clash against Guingamp in midweek, which Nice lost on penalties, while the coach will not include him in the team to travel to Strasbourg on Saturday.
A World Cup winner in 1998, Vieira had envisaged a leadership role for Balotelli in his Nice side, but that proved too much of a burden for a player who has performed at his best when he has only had to worry about himself. 
Speaking last year, Balotelli revealed what is required to get the best from players like himself: "I would try to limit my compliments. Instead, try to break his balls, because I know when all seems calm, it's a problem.
"When someone treads on my toes, then I get angry and I do more. It's important to learn from your mistakes."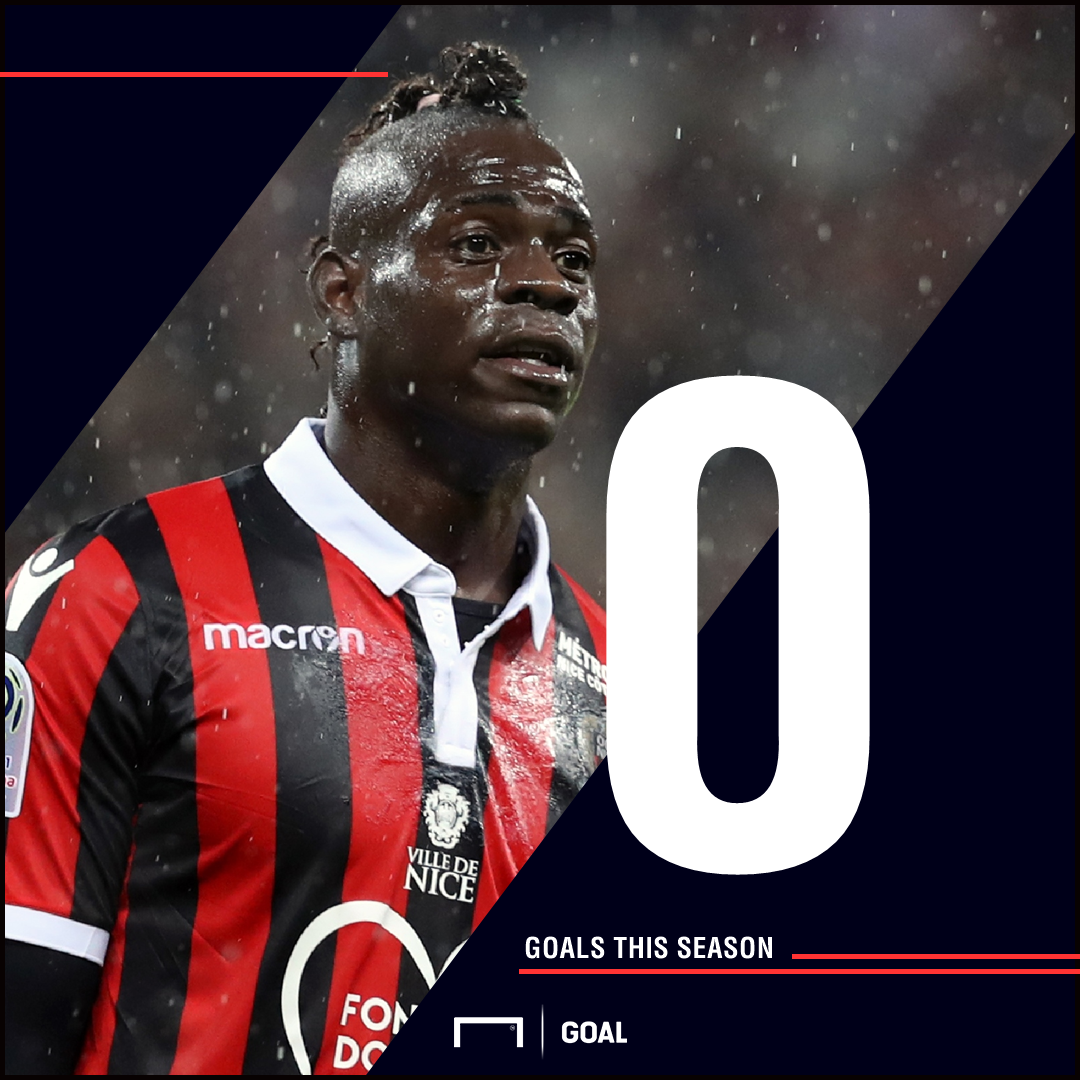 While there have been elements of a hard-line approach in Vieira's management of the player, he has tried to be understanding, too.
Canal +'s 'Mister Vieira' programme captured an intimate conversation between the two men that helped reveal their relationship following a training session.
"We didn't put two passes together. It's hard to play like that," the Italian complained. "There were four metres between us and I only had four good passes in 20 minutes work."
"And what did you say?" asked the coach softly.
"Nothing," the striker replied.
"That's not good."
"Today, for example," the Italian added, "I missed a shot. I sent the ball well over the bar. I get angry because I want to score. They miss and tell you: 'It'll be fine next time.' No, f**k you! You miss, you get angry!"
"You're like that – that's why you played for these big clubs," Vieira said.
"I want to go back and play with these teams," the striker interjected.
His coach replied: "I know, and it's still possible. But you need the help of your team-mates. And to have that help, you must be an example, you must be the one who is an example to others that to do well you have to get involved."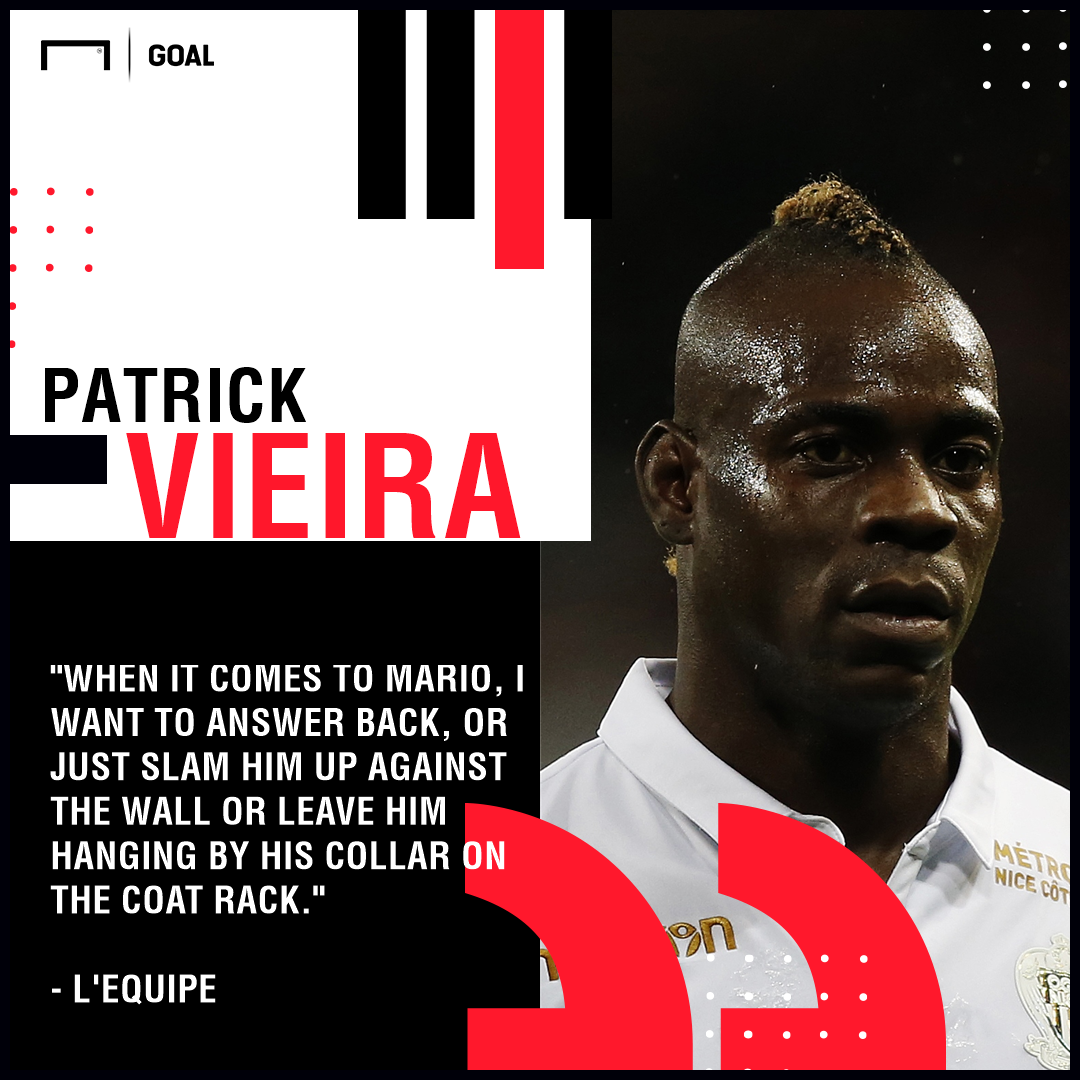 Balotelli, though, has not provided the example that his coach wanted.
In fact, the opposite is true, with reports of the Italian squaring up to the coach during a friendly against Frejus in November, throwing the tactics board to the ground after his substitution in Nimes, and visiting the toilet during a team talk against Guingamp.
Just as in Manchester, where Mourinho and Pogba exchanged blows in public, the same scenario has played out on the Cote d'Azur. 
Vieira has branded his star player's performances as "average", while Balotelli has responded with persistent shows of petulance that have undermined the coach, who is undertaking his first major role in Europe after cutting his teeth with New York City in MLS.
"When it comes to Mario, I want to answer back, or just slam him up against the wall or leave him hanging by his collar on the coat rack, but I can't, as I'm no longer a player," Vieira told L'Equipe .
"I have to think twice before I say anything, because it can have an impact and I risk losing a great player. I don't want to say something I'll regret.
"I am trying to be constructive in my comments to him."
Nice excelled in recent seasons under Lucien Favre, who departed in the summer and has since taken Dortmund storming to the top of the Bundesliga, precisely because they were able to get the best from the striker, who at a reported €500,000 per month is comfortably the club's highest earner.
Yet to score this season, Balotelli is not providing anything close to value for money, and while a departure in the summer is inevitable, recent developments mean that Nice would be open to offloading the misfiring attacker sooner.
"Officially he's under contract with us," Vieira said on Thursday, "but anything is still possible." 
If Pogba won his battle of wills at Old Trafford with Mourinho, there have been no winners on France's south coast: Nice, Vieira and Balotelli have all suffered in this frustrating stalemate, regardless of the outcome. 
Let'