The Rossoneri striker excelled up front on his own for the Azzurri against Mexico, casting further doubt on Manchester City target Stephan El Shaarawy's future at San Siro
COMMENT
By Mark Doyle | Italy Expert
Andrea Pirlo dominated the game. Again. But Mario Balotelli dominated the headlines. Again. That was wholly unsurprising, of course.
Just two weeks after leaving the field at the Generali Arena to a cacophony of boos following his typically senseless dismissal in a 0-0 draw with the Czech Republic, the Italy forward exited the field at the iconic Maracana stadium to a standing ovation after scoring the decisive goal in a 2-1 win over Mexico.
It was a hugely significant display from Balotelli. Not quite on the same level as his two-goal salvo in the Euro 2012 semi-final success over Germany 12 months ago, but momentous nonetheless. Indeed, it was no surprise that he had responded to his winner in the same manner as his second strike against the Germans: with a gratuitous pec-flex.
TIME TO DITCH OLD GUARD?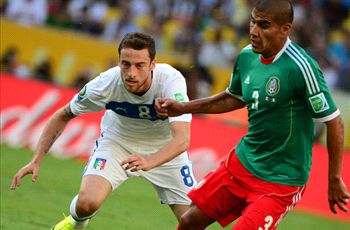 THE MEXICO PERSPECTIVE

"The performance against Italy of veterans Francisco "Maza" Rodriguez and Carlos Salcido again brought into question manager Jose Manuel de la Torre's insistence on maintaining the old guard, while young Olympic-winning hopefuls are chomping at the bit for their chance.

"Former Stuttgart player Rodriguez – who was rolled too easily by Mario Balotelli for Italy's winner – is feeling the pressure for his place from 20-year-old Club America team-mate Diego Reyes, who has all the qualities to be the next Rafael Marquez. In place of Salcido, Jorge Torres Nilo is 25-years-old, already has almost 30 caps and is more dynamic on the left flank.

"Even in midfield, Gerardo Torrado put in a solid performance, but Hector Herrera is more expansive and would benefit from high profile games at the Confederations Cup."

– Tom Marshall | Mexico Expert
Balotelli's ecstasy was understandable, of course. The build-up to the game had been dominated by yet another debate over his undeniably suspect temperament in the wake of the sending off against the Czechs, for two bookings in the space of four minutes, and the seemingly inevitable tirade on Twitter that followed.
Ronaldo urged him to ignore on-field provocation and warned him against throwing his career away. Adriano, who knows a thing or two about wasting talent, claimed Balotelli can be as good as Messi – if only he gets his act together. Dunga, meanwhile, compared 'Super Mario' to Pele.
Then, two days before Italy's Confederations Cup opener against Mexico, it emerged that Cesare Prandelli had decided to switch to a 4-3-2-1 'Christmas tree' formation with 'Super Mario' as the star.
The pressure on Balotelli going into the Azzurri's tournament opener was, therefore, immense. Early in the second half, he appeared ready to blow. Again. He squared up to Gerardo Torrado after a robust challenge from the midfielder. Just three minutes later, Balotelli lashed out – at his own boot, which had come off after he had been hauled down in the area by Hector Moreno. Balotelli had reached his notoriously low breaking point.
But then something unusual happened: Balotelli heeded Ronaldo's advice by responding to provocation in the best possible fashion: with a goal. With 12 minutes remaining, he turned a hopeful lob into the area from Emanuele Giaccherini into a through-ball by out-muscling Francisco Javier Rodriguez before driving the ball home. It was the perfect riposte to Mexico's manhandling.
It was also vindication for Prandelli. The change of formation, coming as it had on the eve of a major tournament, had been a bold move. But a necessary one.
Nobody had been more excited by the news that Mario Balotelli would be joining Stephan El Shaarawy at AC Milan in January than Prandelli, as it meant that the two forwards he wanted to lead his attack at the 2014 World Cup would be playing alongside one another on a weekly basis.
However, while Balotelli has excelled at San Siro, El Shaarawy has suffered. The 20-year-old scored 15 goals before Balotelli's arrival – but has managed just one since. It could be argued that El Shaarawy has simply experienced a dip in form, but it is more likely that the pair are incompatible, simply because no striker is compatible with Balotelli.
There is a reason why Milan refuse to start Balotelli and Giampaolo Pazzini alongside one another. There is a reason why Balotelli, even at this early stage of his career, has yet to forge a great rapport with any of the forwards whom he has played alongside. Balotelli has many wonderful natural and technical attributes, but his movement is poor. He is revered for the part he played in Sergio Aguero's title winner for Manchester City last year, but he is not yet particularly adept at linking well with others.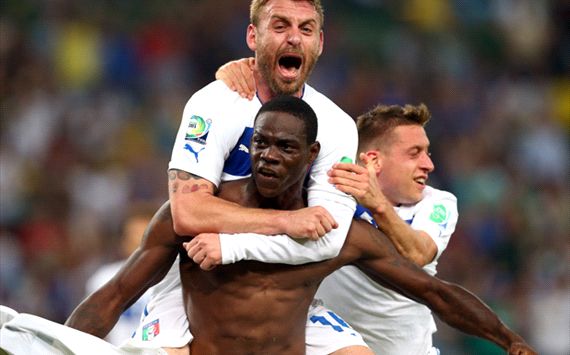 Lone ranger | Balotelli impressed at the head of the Italy attack
The only player with whom he has gelled is Antonio Cassano, but the Barese was not positioned alongside Balotelli at Euro 2012, operating instead in a free role which effectively left Italy's No.9 to lead the line on his own. Just as he did against Mexico.
Therefore, Balotelli's performance at the Maracana can only have cast more doubt over El Shaarawy's future at San Siro. With City keen on signing the forward, Rossoneri CEO Adriano Galliani has already rather tellingly admitted that the 20-year-old is not "unsellable" and, on the evidence of the last five months, Milan might well be better off cashing in on one of their most valuable assets and using the money generated to build an attack around Balotelli.
As he demonstrated against Mexico, Balotelli is not only capable of getting the better of opposition defences, he is also, far more importantly, capable of getting the best out of himself. That is precisely why Prandelli has already sacrificed El Shaarawy for the good of Italy, and why Galliani might decide to do likewise for Milan.