The Rossoneri have a long off-season of upheaval ahead, with many players needing to be offloaded ahead of moves for new faces as the club look to get back on the right track
ANALYSIS
By Kris Voakes | International Football Correspondent
It has been a fair old rollercoaster of a season at AC Milan. Having only qualified for the Champions League with a late, late double at Siena on the final day of 2012-13, they failed to capitalise on their good fortune and found 2013-14 an even tougher proposition.
The sacking of Massimiliano Allegri came after a horrific run in the opening half of the campaign, while things have been rather topsy-turvy since Clarence Seedorf took the reins at Milanello. There has also been disappointment in the Champions League and Coppa Italia to overcome.
With no hope of a return to the top table of Europe and a race against time to squeeze into the Europa League, the Rossoneri know they will have to bounce back strong next term but have little extra capital to spend on the market as they look to strengthen an ailing first-team squad.
Funds need to be recouped in the market and quality needs to be injected, with a leading Curva Sud ultra claiming to Diretta Stadio: "Seedorf told us a week after arriving that he doesn't want three quarters of the current Milan players in the squad."
But who should stay and who should go? Goal looks at the current first-team squad and shorts wheat from the chaff…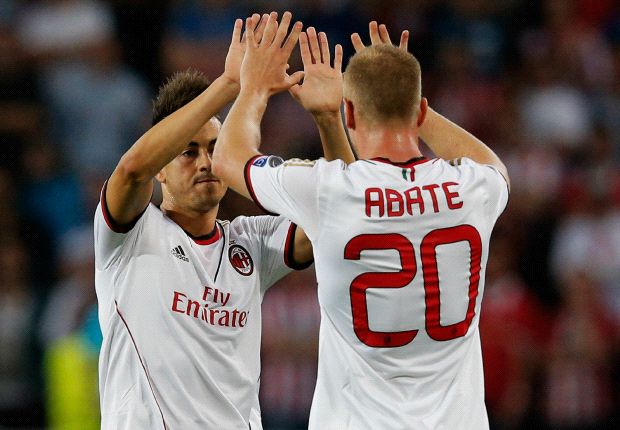 Much has been said about the possibility of Mario Balotelli moving on in order for the club to recoup whatever they can for the star striker on the transfer market, but right now may not be the best time to sell. If the Italy front man has a great run at the World Cup then interest may rise, but for now it would make more sense for the club to keep their best player unless they receive a particularly attractive offer.
Fellow forward Stephan El Shaarawy has not had a particularly positive 18 months since his Azzurri colleague arrived at Milanello, but his return from injury will hopefully result in an opportunity for the two to gel better than has previously been evidenced. His excellent run at the start of 2012-13 showed that il Faraone has what it takes in the Milan jersey and so deserves further chances to show his undoubted talent.
Another youngster who has excelled in the first team is Mattia De Sciglio, who is worthy of a long run in one of the full-back slots with quality additions around him, while Ignazio Abate has shown over a period of three or four years that he can more than hold his own in the Rossoneri XI.
Club captain Riccardo Montolivo has not exactly been on fire since arriving from Fiorentina, but he has enough talent to at least keep pushing for a first-team slot, while Nigel De Jong has proven to be a key component of the Diavolo setup and should be allowed to continue in Seedorf's side for 2014-15 at the very least.
Another midfielder who should be wearing red and black beyond the summer is Andrea Poli, who is growing further as a player at Milan and has the potential to be an Italy regular in years to come. Bryan Cristante deserves a long-term deal as he represents the future of the club's midfield, while Riccardo Saponara should be given more game time in seasons to come. However, fellow engine-room star Adel Taarabt needs to be considered for next term only if it makes financial sense.
The QPR man has been a big hit since arriving on loan in January, but any deal to make his transfer permanent could be costly and Seedorf, Adriano Galliani and Barbara Berlusconi may decide that the money can be better spent elsewhere.
The same can be said of Adil Rami, who has also shown positive signs since his temporary switch from Valencia but could also come at the expense of a more appropriate signing in the longer term.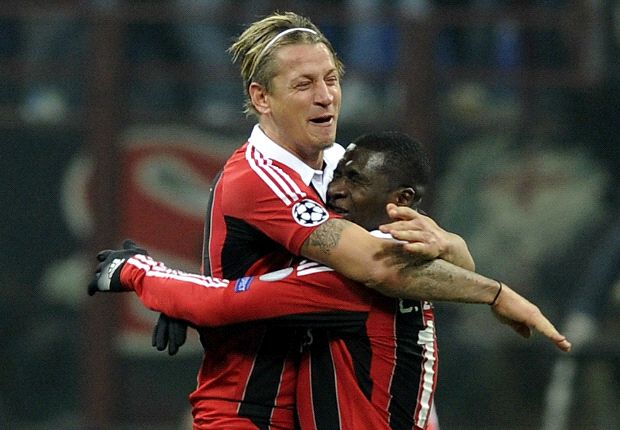 There are plenty of players in the squad who have either seen better days or have simply proven not to be of Milan quality, and the offloading of such men can only be for the club's betterment.
Christian Abbiati has been hanging on gamely to the starting No.1 jersey over the past couple of years, but with his contract up in the summer it is time to say goodbye. Marco Amelia should go with him after proving incapable of ousting the more experienced incumbent and by extension not being of the quality needed to be Milan's full-time goalkeeper.
The defence is stacked with players who need shipping out, starting with the man who secured qualification to the Champions League last May. Philippe Mexes may have come up with a couple of memorable goals in a Milan shirt – the acrobatic effort at Anderlecht being chief among them – but as a defender he has simply fallen short of the mark. The same is true of Cristian Zapata, while Daniele Bonera has long been short of the quality needed and should finally be bidden farewell this summer.
Kevin Constant has achieved a modicum of success in his time in a Milan shirt, particularly as a left wing-back under Allegri, but the clear truth is that he is not of the standard required and new stocks should be sought for the flanks ahead of next term. Cristian Zaccardo should never have been signed and has failed to make any impression at Milanello.
Across the midfield there are countless candidates to be shipped out. Sulley Muntari needs to refind his level at a lesser club, while the experiment of adding Michael Essien to the ranks was never going to pay off. Meanwhile, Urby Emanuelson has done his best to become a useful member of the first-team squad, but his salary could be spent better elsewhere. Valter Birsa is another player who has been peripheral in an underachieving Milan side, so cannot be expected to have a great impact in a winning Rossoneri outfit.
The club hierarchy have been attempting to offload Robinho for some time now, and it is to be hoped that they can find a buyer this summer. Vice-captain Kaka has had a positive impact since returning to Lombardy, but if Milan are to make the next step up they need an injection of something new, and the Brazilian is already thought to be lining up a move to the MLS.
Finally, the signing of Keisuke Honda has had a positive impact on the bank balance, but on the pitch his better performances have so far been on show only sporadically. Giampaolo Pazzini has had relative success in a Milan shirt, but is another who does not represent a step in the right direction. It is time for the club to decide whether they are serious about succeeding on the field of play.
Follow Kris Voakes on