Former Reds defender Jamie Carragher branded the Italian a panic buy and expects him to be gone by next season, while Jamie Redknapp cannot understand why he was signed at all

Former Liverpool heroes Jamie Carragher, Jamie Redknapp and Graeme Souness have launched an amazing tirade against struggling striker Mario Balotelli, branding him a "panic buy" who could be sold by the start of next season.
Balotelli has endured a difficult start to life at Anfield since joining from AC Milan for €20 million this summer, and came under fire for a poor showing against Queens Park Rangers on Sunday.
The Italian was substituted at half-time in Wednesday's Champions League defeat to Real Madrid, and drew the ire of manager Brendan Rodgers by swapping shirts with Pepe at half-time.
Carragher, working alongside the other men as a pundit for Sky Sports, says that while Balotelli would not have burnt any bridges by swapping shirts, he could well be sold after just one season on Merseyside.
"Maybe it's a bit early for that but I can't change the way I feel about Balotelli, and that's nothing to do with what he's done in a Liverpool shirt, it's what he's done at Manchester City, it's what he's done at AC Milan," he said.

"Do I think he's going to be here long-term? No. I'd be surprised to see him here next season, if I'm being honest. Rafa Benitez was here a few years ago and bought Robbie Keane, and he sold him in January, he was here three or four months, it may not be that quick but I would be surprised if he's here next season."
Carragher's former team-mate Redknapp picked up the baton, insisting the former Manchester City man cannot even match up to Reds flop Keane: "It's a bit harsh to compare Robbie Keane to Balo because at least Robbie had a go, he tried and worked hard."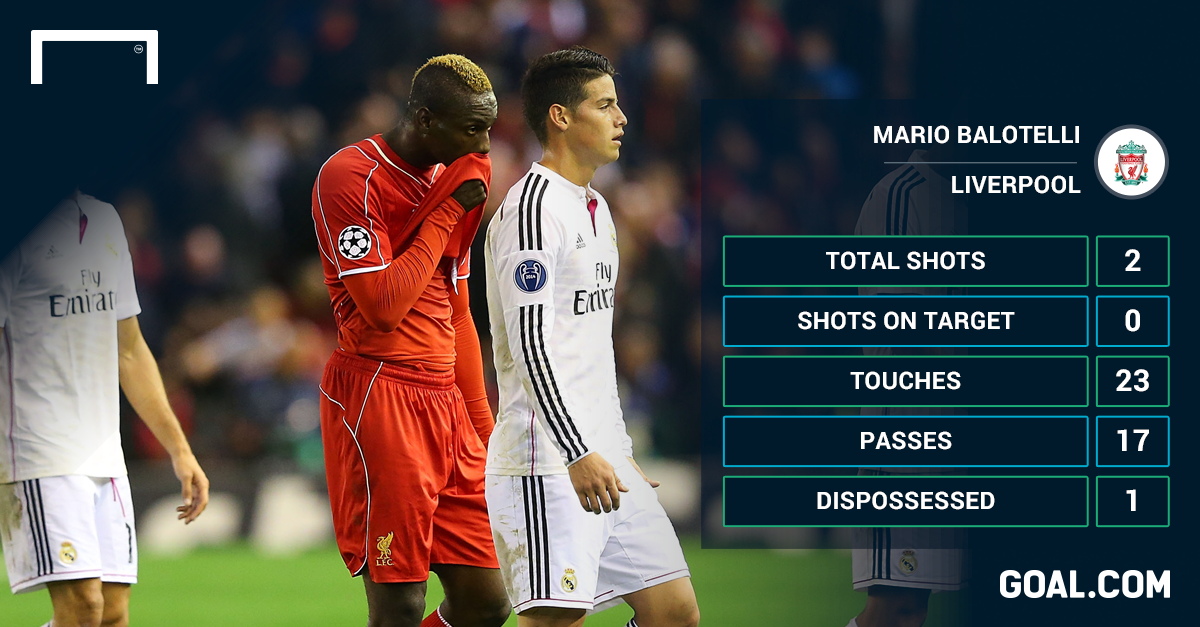 Redknapp also said he cannot explain why Reds boss Rodgers signed Balotelli in the first place.
"But what I mean is I don't blame Mario Balotelli, I blame Brendan Rodgers for bringing him here," he continued. "How he thought that he could turn around a player that Mourinho, Mancini, Prandelli have all washed their hands of … there's a reason when you go to the supermarket and things are half price.
"Why on earth they went for him I'll never know, they should have just left him alone. Even if Rodgers said 'You know what I'm going to stick with Rickie Lambert, keep Borini and have Sturridge …' but the fact that he went and got him doesn't make any sense to me."
Carragher continued: "It was a panic. Who knows who Brendan Rodgers went for, his scouting staff, but they left it too late and they've bought different players in different positions instead of going out and, not spending all the [Luis] Suarez money on one player, but buying maybe two or three big players, because at the moment a lot of players have come in and are doing a decent job here and there but nobody's really done anything.
"They bring Balotelli in late on, it's obviously a panic, you think you can get something out of him… £16m, but I agree with Jamie: these players who are continually moved on, it's for a reason."
Souness, who won five league titles and three European Cups as a Liverpool player before winning the FA Cup as a manager, was also angry with Balotelli's performances.
"There's every chance he's lost him," he said. "There could be a rift now.
"Would I want to play with Balotelli? I'm in midfield, I'm scrapping away and I've got the ball, I've got my head up and I see him standing behind the centre-half, I have to take another touch and the ball is taken off the end of my toes.
"If I'm a manager do I want to have to spend so much time explaining to people why I signed Balotelli, and then your eye is taken off the ball with the rest of the group.
"It's a really brave decision by Brendan Rodgers to take him into the football club given the quality of manager who thinks 'No thanks'."
But Carragher did stand up for the former Manchester City striker over the shirt-swap row which underscored his night.
"I'm going to defend him a little bit here," he added. "Brendan Rodgers said he'd deal with it. He's coming off, he's three yards from the tunnel, he's being asked by Pepe to swap shirts, he's not ran to another player asking to swap.
"He's naïve and he should have said 'I'll do it at the top of the tunnel', [but] he can't say no to the lad if he's asked him, I think if Brendan Rodgers sees that … I don't think it's that wrong."